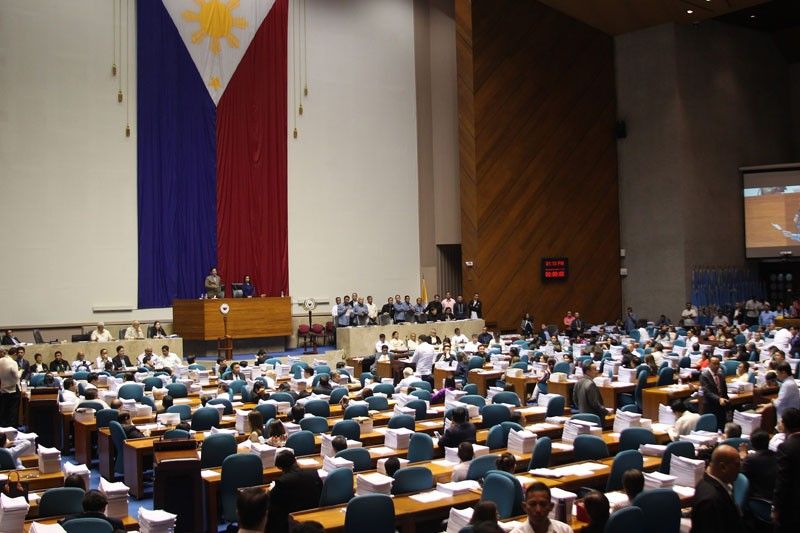 We need more creative solutions to address festering issues. Expanding the bureaucracy and increasing the cost of government cannot be the useful response.
STAR/Michael Varcas
For every problem, a department!
DEMAND AND SUPPLY
-
Boo Chanco
(The Philippine Star) - August 9, 2019 - 12:00am
That's the problem with professional government officials who have never spent a day really working for a living in the private sector. Their solution to every public concern is to expand the bureaucracy.
They have just created a Department of Housing, but tarried in getting it going due to budget problems. Putting all housing related agencies under one roof may work. But lack of good ideas, as well as the prevalence of corruption among current housing officials, are the real problems.
They are now talking of creating a Department of Water to respond to a looming water crisis. We have a National Water Resources Board, but I guess they think a Cabinet level department gives water concerns more oomph.
A Department for OFWs is also now on the table. Its functions will most likely overlap with the Department of Foreign Affairs and Department of Labor. But creating a Cabinet level department makes it look as if our officials are concerned about the welfare of our workers.
Then there is this proposed Department for Disaster Management. It is supposed to prepare the country for adverse effects of typhoons, earthquakes and tsunamis. The bigger disasters begging for management are manmade... in Congress.
I am not sure a Cabinet level department is necessary. Joey Salceda, when he was governor of Albay, did everything to disaster-proof his province and got international recognition. A disaster agency on the national level will prove useless unless LGU officials are as good as Joey had been.
Other suggestions I have heard for Cabinet level departments include a Department of Culture and History and a Department for Sports Development. I heard there is a proposal for a Department of Fisheries, as if that will make a difference in our fish production.
I will not be surprised if someone proposes a Department for Gender Equality… or a Department for Extraterrestrial Beings.
Before Congress creates another department, PIDS, the government think tank should study the absolute necessity of creating it. The optics of a new department may be attractive at the start, but lack of performance quickly renders it useless.
We should be shrinking the bureaucracy. If we really need a new department to handle water, maybe we should abolish an existing department that has outlived its usefulness. The Department of Energy and its agencies like the PNOC comes to mind. Free market, Epira, and ERC have made the energy bureaucracy redundant.
Or maybe there should be a moratorium on hiring of new government personnel other than teachers and countryside doctors and nurses. New departments should get their personnel from overstaffed agencies and from those that should be dismantled.
Things could get worse if the politicians ram through federalism. That means there will be another layer of bureaucrats that mirrors the national bureaucracy. More mouths to feed from our taxes.
According to NEDA the additional cost for this new layer of bureaucracy is upwards of P200 billion a year. They are probably underestimating it.
The ARMM used to have its own secretary of education, for instance, among others. I guess the new Bangsa- moro set-up is the same thing. Too many bureaucrats give rise to red tape as they all want to make their presence felt, and their existence justified.
Rather than expand the number of people in government, we will be better off if we slimmed it down. It is not only Dick Gordon who needs to lose weight, the bloated Philippine bureaucracy's need is even more urgent.
Alex Magno, my colleague in the op/ed section, made a good suggestion last week. "If we close down Congress tomorrow and redeploy the budget it allocated for itself, we will have more than enough money to fund Universal Healthcare. This institution is literally unhealthy for our people."
Before I hear cries that such a move would deprive our people a voice in government, our rubber stamp Congress isn't giving democracy any favors. Congress, notably the House is bunch of choir boys and girls singing hallelujah to the great leader.
In reality, we are a virtual one-man rule pretending to still be democratic. Malacañang controls all branches of government now, a situation so similar to the Marcos martial law days.
So, why not save a great deal of money and abolish Congress? Let us deprive the executive branch of the excuse that Congress is not acting fast enough on programs to explain why key projects are not moving.
We need more creative solutions to address festering issues. Expanding the bureaucracy and increasing the cost of government cannot be the useful response.
Of course, the government is the employer of choice for many. A lot of people depend on a government job because otherwise, they have to really work and produce results in private sector jobs. Creating government jobs is how presidents fix the unemployment problem.
A better way is to have good policies that will entice the private sector to create jobs that create goods and services that people actually need and will pay for. That's too difficult to do, it seems.
On the contrary, it should be easy for our officials to stop passing new laws that make it more difficult to do business in this country. Even barangay officials demand their pound of flesh before an entrepreneur can get going.
If the President really wants to break away from the horrible past, he needs to deliver the message that government must be effective, and for that to happen it must shrink.
His span of control, any manager's span of control, is limited. The number of people he must deal with at Cabinet meetings must decrease, not increase.
No more new departments. Let the Cabinet clusters do all the necessary coordination. Only a lean and mean bureaucracy can deliver the public service we need and deserve. I am sure the President knows that only too well.
Boo Chanco's e-mail address is bchanco@gmail.com. Follow him on Twitter @boochanco