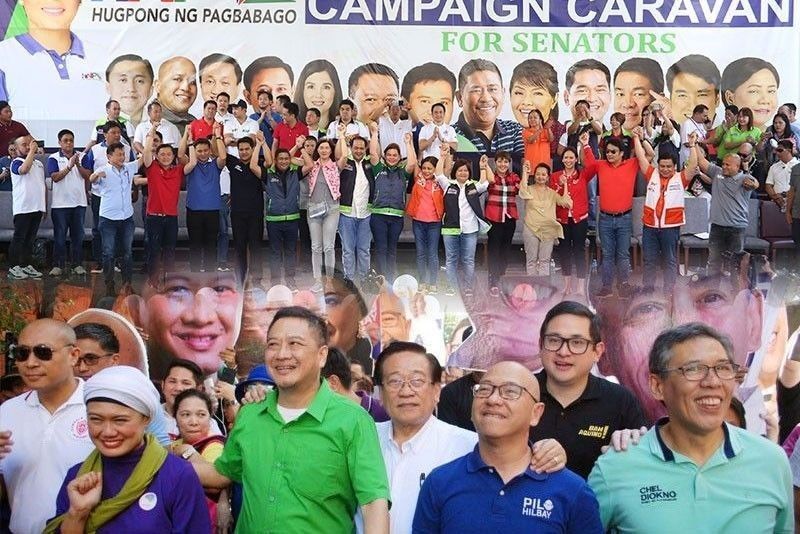 DEMAND AND SUPPLY
-
Boo Chanco
(The Philippine Star) - June 12, 2019 - 12:00am
Politics is our country's largest industry. If we can only export our politicians, we would be rich beyond our dreams. But the politicians don't leave the country. It is the engineers, doctors, and other tech people who leave for abroad.
That explains why we are what we are.
A lot of Filipino parents want their children to become lawyers and eventually public officials.
During the Spanish era, Pinoys were proud to become gobernadorcillos or small governors in their localities, the highest government position open to non-Spaniards.
During the American era, Pinoys could be elected president, as Quezon was, but had to bow to the authority of the US government.
In the years after the Americans officially left, politicians were all powerful and amassed much wealth, a large part due to corruption.
They appropriated proceeds from Japanese war damage reparations for themselves. Money was made peddling influence to businesses for dollar and import quotas. Rent seeking via mining and lumber concessions was rampant.
Today, the government is the preferred employer for the powerfully connected and the employer of last resort for those on the lower rungs of the social ladder. If in the course of his public service career a politician is able to produce some public good, it is mostly unintentional.
Many people live for the election every three years. Money from contributions of business interests and proceeds from corruption while in public service are used to buy votes, boosting the consumer buying power for a short period of time. Many candidates run for the funds of it.
But even this is changing. During the last election, 34 congressional seats were uncontested. Hundreds more local seats from governors to mayors were also unopposed. Political dynasties are removing even the semblance of democracy in our flawed political system. Public office has become hereditary… a family business.
In the hours after Comelec proclaimed the winning senatorial candidates, the grapevine started vetting and betting on the potential contenders for the next election. The presidency is at stake.
While senatorial topnotcher Cynthia Villar quickly denied she has presidential ambitions, political handicappers noted that she said nothing about the plans of her husband, once presidential candidate Manny Villar.
The last time I asked Manny, he sounded definite in ruling out any more political ambitions for himself. He said he was happy in his role as a businessman, and why wouldn't he? He may have lost the presidential contest to P-Noy, but he overtook the family of the late Henry Sy from the number one position in the list of richest Filipinos today.
But it is difficult to rule out another try for the presidency for Manny Villar. Having recovered the estimated P5 billion he was speculated as having spent the last time, he has earned enough over the last nine years to try again and not have to ask a centavo from those who control our economy.
There is talk Sara Duterte is preparing to succeed her father. Ping Lacson seems to be gearing up for another try too. Then, there is Grace Poe who shouldn't be ruled out.
A dark horse few have considered is Senate President Tito Sotto. A lot of folks who think they are intelligent voters rule him out right away. But he is proving to be quite astute in surviving as Senate president.
It is possible he may just be able to keep the Senate more or less independent despite the results of the last election. If he saves the Senate from being abolished in a cha cha, he may become an alternative in the absence of a viable opposition candidate.
But enough of this focus on politics and see how the current president will spend his political capital in the three years left in his term.
The President must not disappoint the huge expectations that he will use his "exceptional executive influence" over the legislature to advance the economic reform agenda. The President's all-out support for the more difficult pieces of reform legislation to make the economy more flexible and competitive is very much needed.
Or, the President may come up with what an economic think tank calls "mistargeted subsidies, regulatory uncertainty in long-term infrastructure contracts and continuing grassroots consultations on the subject of charter change to shift to a federal form of government."
I agree with the impression of this New York-based think tank that "hope and fear accompany the results, which many have taken as a referendum on the highly popular President and his policies."
There is fear the President will ride roughshod over opposition to his policies and carry out his extreme measures for achieving law and order. One other fear is the proposal to shift to a federal form of government. It is divisive and may dominate the legislative agenda leaving Congress little time and energy for other priority reforms.
But there are hopes the administration will use political capital to speed up projects upgrading infrastructure and push longstanding proposals to increase the economy's competitiveness.
The business sector is in general agreement with the NEDA priority bills: Reforms that reduce cost of doing business; amendments to the Foreign Investment Act; amendments to Public Service Act; amendments to the Retail Trade Liberalization Act; creation of a central authority on water resource management; liberalization of the sugar industry and exemption of line-itemized government projects from election spending ban.
As we can see, there is much work to be done before we can indulge in our favorite pastime of speculating who will run in 2022. If we tone down on politics for the next year or two and focus on economic reforms, there will surely be a lot that President Duterte can rightly claim to be his legacy that improved the lives of our people.
Boo Chanco's e-mail address is bchanco@gmail.com. Follow him on Twitter @boochanco