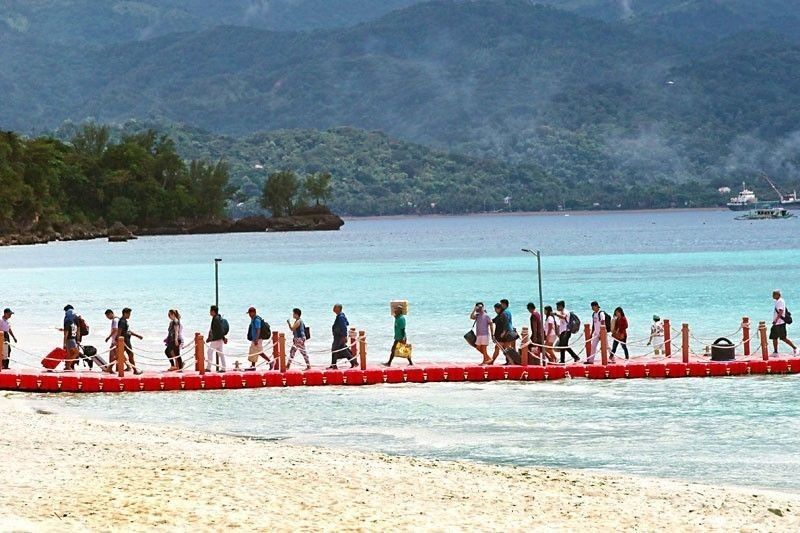 President Duterte recently signed Republic Act 11262, which extends the granting of incentives to TEZs for another 10 years until 2029 by the Tourism Infrastructure and Enterprise Zone Authority (TIEZA).
Walter Bollozos/File
Tourism perks to spur hotel development outside Metro Manila
MANILA, Philippines — The extension of the grant of incentives to tourism enterprise zones (TEZs) for another 10 years is seen to drive the development of hotels outside Metro Manila, a property consultancy firm said.
"This should entice more investments into the leisure sector resulting in more hotels especially in key areas outside Manila," Colliers International Philippines Research Manager Joey Roi Bondoc told The Star.
President Duterte recently signed Republic Act 11262, which extends the granting of incentives to TEZs for another 10 years until 2029 by the Tourism Infrastructure and Enterprise Zone Authority (TIEZA).
Bondoc said the new law should also result in the entry of more foreign brands and refurbishment of existing accommodation facilities.
"This is particularly important especially given the modernization of Cebu and Clark airports for instance where we see hotel operators capturing gains from increased arrivals," Bondoc said.
"So the additional supply due to extension of incentives should bridge the projected gap in hotel room supply given the influx of tourists," he added.
Bondoc said this could also spur the development of convention centers which are needed in some parts of the country.
"Overall it should improve the Philippine leisure sector's competitiveness," Bondoc said.
The TIEZA said extension of the availment of the fiscal incentives until 2029 is projected to generate P222 billion in capital investments and 160,000 direct and indirect employment opportunities in the next 10 years.
Under the original Tourism Act of 2009, the TIEZA only has until August to grant incentives to TEZs despite the six-year delay in the implementation of the law due to its late implementing rules and regulations, which was only released in November 2016.
In 2017, the Bureau of Internal Revenue clarified that the incentives for TEZ under Republic Act 9593 may be enjoyed by investors even beyond 2019 until these incentives are fully realized.
Among the incentives to be granted to TEZ developers and tourism enterprises are the six-year income tax holiday that may be extended for another six years, five percent preferential tax on gross income in lieu of national taxes except for real property tax and fees of TIEZA, a net operating loss carry over scheme, import tax exemptions for capital goods and equipment needed for TIEZA-registered activities, and import tax exemptions for transport equipment and spare parts needed for TIEZA-registered activities.
They will also be exempted from value-added tax and excise tax goods imported by TIEZA-registered activities, tax credit equivalent to taxes paid on locally sourced goods, and tax deduction of up to 50 percent of cost of environmental protection and cultural heritage preservation activities, as well as of sustainable livelihood programs of the registered tourism enterprises.
"Now that the sunset provision has been finally extended until 2029, TEZ operators and Locators no longer need to worry about matters related to the availment of TIEZA's incentives," TIEZA chief operating officer Pocholo Paragas said.
"This is also great news for TIEZA as the incentives we offer are more than necessary to continuously attract investments, generate employment, and promote inclusive growth for our country," Paragas said.
Paragas earlier said he expects more TEZ applications this year, given the support from the government to extend the grant of incentives.
"Now there's proof already that there's support from government. The people who were saying let's see what happens are now saying, can we start to apply?" Paragas said.
At present, there are five flagship TEZs across the country. These are the 883.11-hectare Long Beach area of San Vicente, Palawan; the Rizal Park Complex in Manila; Mt. Samat Shrine in Bataan; Panglao Bay Premiere in Bohol; and Bucas Grande in Surigao del Norte.
TIEZA also has a total of six registered tourism enterprises namely Philippine Arena; Kingdome Stadium inside Kingdom Global City; Magikland inside Aton Land and Leisure Zone; Signature Suites in Boracay, Aklan; Kabote Beach Resort and Lazuli, both of which are located inside the flagship TEZ in San Vicente, Palawan.