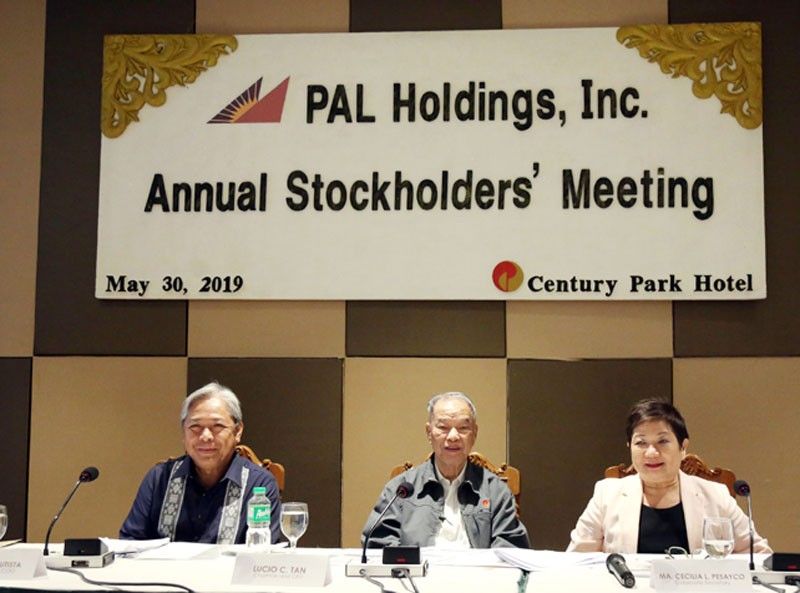 In photo (from left) are PAL president and COO Jaime Bautista, chairman and CEO Lucio Tan and corporate secretary Cecilia Pesayco during the PAL Holdings Inc. 2019 annual stockholders' meeting held yesterday at Century Park Hotel in Manila.
Russell Palma
PAL raising capital stock ahead of re-IPO
MANILA, Philippines — PAL Holdings, the operator of flag-carrier Philippine Airlines, has taken off with its plans to do a re-initial public offering (re-IPO) with a move to increase its authorized capital stock.
PAL yesterday secured stockholders approval to raise its authorized capital stock to P20 billion from P13.5 billion.
"This is in preparation for a possible re-IPO because for us to be able to do that, we'll have to prepare a prospectus. We'll have to prepare all the terms and conditions of the IPO," PAL president Jaime Bautista said.
"When the articles of incorporation is amended, now we can work with the increase in capital stock and for us to be able to implement it, there should be somebody who will subscribe. It's a requirement by the SEC that there should be at least 25 percent subscription so this we will work with our financial advisor," he said.
Bautista said the planned equity offering is unlikely to happen this year and may take place by next year.
A re-IPO is a follow-on offering on an already listed stock. PAL became a publicly-listed company after it did a backdoor listing in 2007. Its public float currently stands at 10.32 percent.
After two consecutive years of net loss due to "high operating costs and very stiff competition," PAL is hoping to return to profitability this year.
"In Asia, there are many carriers that continued to lose money, although low cost carriers remain profitable. But legacy carriers are losing in Asia except for some," Bautista said.
"This year, we hope that we will be able to improve our operations, our profitability, as we are managing capacity. We will reduce flights to destinations where there is excess capacity like Middle East. We will also stop flying to some domestic routes where we are not able to recover all our expenses. We will implement strict cost saving measures so we will at least reduce expenses and be profitable this year," he said.
PAL also welcomed the appointment of new member of the company's board of directors.
Ryuhei Maeda, senior advisor at ANA Holdings Inc. and member of the board of Japanese carrier All Nippon Airways Co. Ltd., completed the 15-member PAL board.
Maeda was also elected into the board of directors of PAL Holdings, the flag carrier's parent firm.
Maeda represents ANA Holdings following its acquisition of 9.5 percent PAL Holdings shares last Jan. 29.