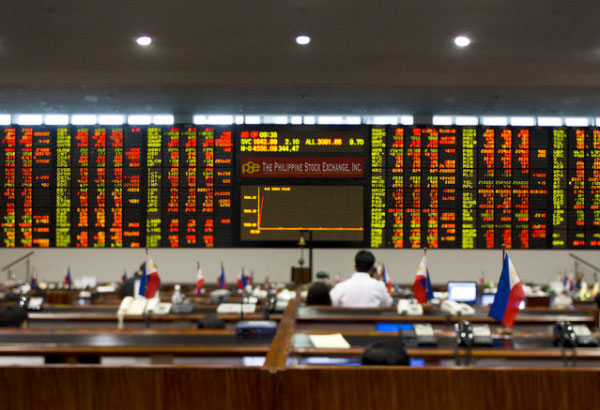 Index may drop further this week
MANILA, Philippines — The benchmark Philippine Stock Exchange index is having difficulty moving past the 7,800 levels and thus, may decline further this week, traders said.
At the same time, they said that the stock market may still attempt to try to surpass the 8,000 level again especially as local investors have started coming back.
"The week's close at 7,747.09 signals that the market is having difficulty sustaining itself above the 7,800 to 7,850 levels. There is still some room for further decline toward the 7,000 to 7,300 levels in the near-term," said Jonathan Ravelas, chief market strategist at BDO.
Last week, market barometer PSEi climbed by 2.15 percent week-on-week to 7,747.09 despite the risk-off sentiment arising from the escalating trade war between the US and China.
Experts said the move of the Bangko Sentral ng Pilipinas to cut smaller banks' reserve requirement ratio helped perk up the market last week.
Michael Ricafort, lead economist at Rizal Commercial Banking Corp., said financial markets, in general gained last week after the BSP's RRR cut.
ING Bank senior economist Nicholas Mapa said the move would boost growth, which would indeed help the market.
"With the one-two punch of the RRP and RRR reductions unveiled, we can look forward to a rebound in growth in the second half as capital formation gets a shot in the arm. With the move telegraphed and expected by the market, pressure on the peso will likely be muted, as the BSP learns from the recent 2018 episode," Mapa said.
Moving forward, the market may still try to go past the 8,000 mark, said Christopher Mangun of Eagle Equities.
"The PSEi bounced off support at 7,590 and tried the 7,800 resistance level, but failed. It continues within this 500-point range between 7,500 and 8,000. We may see it try for the 8,000 level again in the coming weeks as local investors have started coming back into this market in the last couple of weeks. We have seen massive foreign selling in the last two weeks which means local investors have been picking up the slack and buying equities at much attractive prices than they have been for months," Mangun said.
He said that as economic fundamentals continue to improve and government spending starts to pick up, investors may gain more confidence which would continue to bring them back into the market and fuel the rally as it breaks above the heavy resistance level at 8,000.