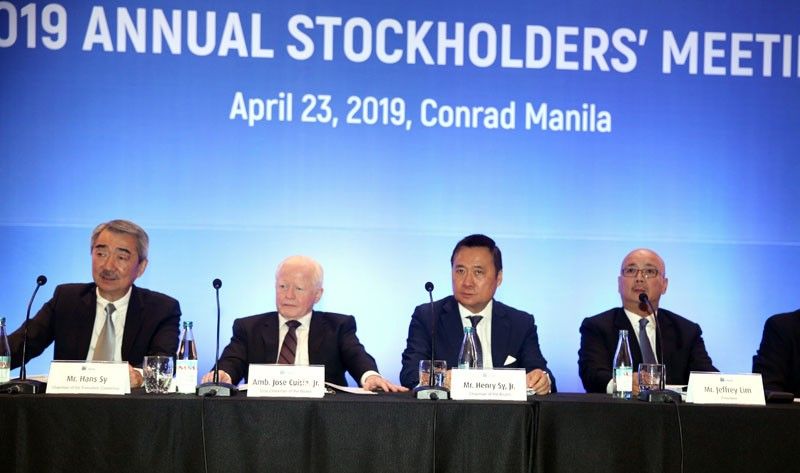 SM PRIME ANNUAL STOCKHOLDERS MEETING : Top executives of SM Prime Holdings Inc. accommodate queries from shareholders during the property firm's annual meeting yesterday. In photo (from left) are Hans Sy (director), Jose Cuisia Jr. (vice chairman), Henry 'Big Boy' Sy Jr. (chairman) and Jeffrey Lim (president and CEO).
Joey Viduya
SM Prime expands China footprint
MANILA, Philippines — SM Prime Holdings Inc., the Sy family's listed integrated mall developer, is expanding its mall footprint in China and is looking at other sites in Southeast Asia as well.
In a press briefing after the company's annual stockholders meeting, SM Prime president Jeffrey Lim said the company is pouring in P4 billion to build its eighth mall in China, which will be in Yangzhou City in the province of Jiangsu.
"Construction will start before the end of the year," Lim said.
The new mall, targeted for opening in two years, will have a size of 80,000 square meters.
Aside from this, SM Prime is also expanding SM City Xiamen in Fujian province by 60,000 square meters.
SM City Xiamen currently has a size of 300,000 sqm. The company is also looking to spend roughly P3 to 4 billion to expand the Xiamen mall.
SM Prime is also looking to expand in the Southeast Asian region in the next few years, SM Prime chairman Henry Sy Jr. said yesterday.
Possible sites for expansion are Ho Chi Minh in Vietnam, Thailand, Malaysia and Myanmar, he said.
SM Prime has set around P80 billion for capital expenditures this year to support the company's landbanking efforts and various expansion plans in key cities in the Philippines.
The amount also includes the funding needed for the China expansion, Lim said.
"The year 2019 marks another era for SM Prime as we celebrate our 25th year of being a publicly listed company in the Philippines. Moving forward, we will continue to deliver world-class products to our communities which will also translate into sustainable growth for our shareholders. Along with this continuous growth, we will keep in mind the vision Mr. Henry Sy, Sr. has set for the company and its dedicated employees," Lim said.
SM Prime is set to expand its footprint in the Philippines with four new malls this year. These malls will add 200,000 sqm of gross floor area (GFA) and will be located in developing provincial cities like SM Center in Dagupan in Pangasinan, SM City Olongapo Central in Zambales, SM City Butuan in Caraga Region, and SM Mindpro Citimall in Zamboanga.
The company's primary residential business, SM Development Corp., is targeting to launch around 15,000 to 20,000 residential units this year.
These projects will be composed of mixed high-rise and mid-rise buildings, as well as single-detached houses to address the growing demand among local and foreign buyers.
Lim said there would also be simultaneous projects a under development in several of the company's properties to transform its malls sites into mixed-use, integrated developments that will showcase SM Prime's core strength.