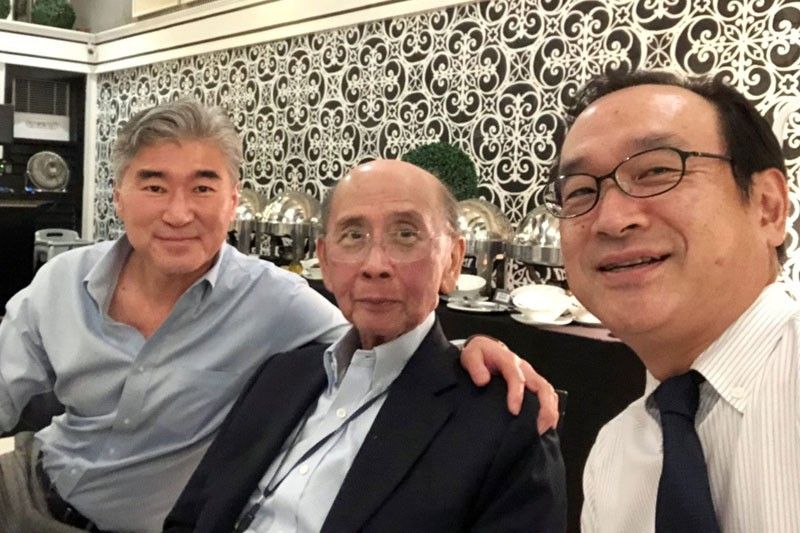 With US Ambassador Sung Kim and Japanese Ambassador Koji Haneda
Megacities at risk: Earthquakes
FILIPINO WORLDVIEW
-
Roberto R. Romulo
(The Philippine Star) - March 15, 2019 - 12:00am
The Philippines, Japan, Chinese Taipei, and the United States are situated within the Pacific Ring of Fire making them vulnerable to earthquakes and tsunamis which historically have claimed more lives than weather related hazards like typhoons and flooding.
Manila, Tokyo, Taipei, and San Francisco are among the mega cities that lie along the ring.
The Philippines has only one megacity which serves as both the national economic and political center. The Greater Manila Area is exposed to several active faults, although the Marikina Valley fault system, particularly its western branch, is expected to have the severest impact on lives and property as it cuts through the Metro Manila area.
The metro area has been heavily damaged at least six times in its 400-year historical record with the latest occurring in July 1990. The Department of Science and Technology-Philvolcs estimated in 2013 that economic losses from an anticipated 7.2 magnitude earthquake from the movement of the West Valley Fault to be P2.6 trillion (equal to two thirds of the 2019 national budget). It would be a crippling blow to the economy that would be felt for decades. The estimated four million informal settlers in the region and small and medium businesses are expected to bear the brunt of its impact.
It is in this context that I approached the American and Japanese ambassador, as well as Chinese Taipei authorities, with the request that they participate in a conference cum workshop on earthquakes next month. The objective is to share knowledge gained from experience and current research from this shared vulnerability which can help the national and local governments and the private sector to prepare for such an eventuality so as to minimize loss of lives, cope with the disruption, and recover quickly.

With NEDA director general Ernesto Pernia, NRC co-chairs Hans Sy of SM Prime Holdings, Defense Secretary Delfin Lorenzana, and DFA Secretary Teodoro Locsin during the signing of the NRC partnership agreement. Standing are Malu Erni, executive director of NRC, NEDA Undersecretary Adoracion Navarro and Toni-Yulo Loyzaga, president of the NRC.
The conference will serve to provide knowledge exchange to determine the status-quo of seismic risk in Metro Manila, Tokyo Metropolitan area, Taipei and San Francisco. The workshop that will follow will identify lessons learned and priorities for science, policy, and practice, and draw up a framework for future collaboration with a preliminary work plan. There will also be follow-up multi-stakeholder consultation for detailed action plan development with possible field trips.
The "Megacities at risk" conference and workshop will be hosted by the Carlos P. Romulo Foundation and the National Resilience Council, co-chaired by Hans Sy and DND Secretary Delfin Lorenzana and with the cooperation of the Departments of Science and Technology, National Defense, Local Government, NEDA and Foreign Affairs. Other participants will be local business organizations, foreign chambers, regional organizations (APEC Business Advisory Council, US-ASEAN Business Council, ASEAN Business Advisory Council), multilateral organizations (World Bank, ADB, UNISDR), civil society organizations and the academe (Ateneo, UP).
I am pleased to inform that professor Haruo Hayashi and associates of the National Research Institute for Earth Science and Disaster Resilience of Japan (NIED) has confirmed participation. Dr. Wei-Sen Li and associates of the National Science and Technology Center for Disaster Reduction of Chinese Taipei (NCDR) and the APEC Emergency Preparedness Capacity Building Center (APEC-EPCC) have agreed to join as conference partners. We have also invited Dr. Laurie Johnson, the president of EERI in California. The US Embassy and US AID will coordinate American participation.
Quite often friends relate to earthquakes with a "bahala na attitude." It is time we take earthquake seriously. Earthquakes do not discriminate. It will impact all of us, individuals and businesses alike.