Philippines starts free trade talks with US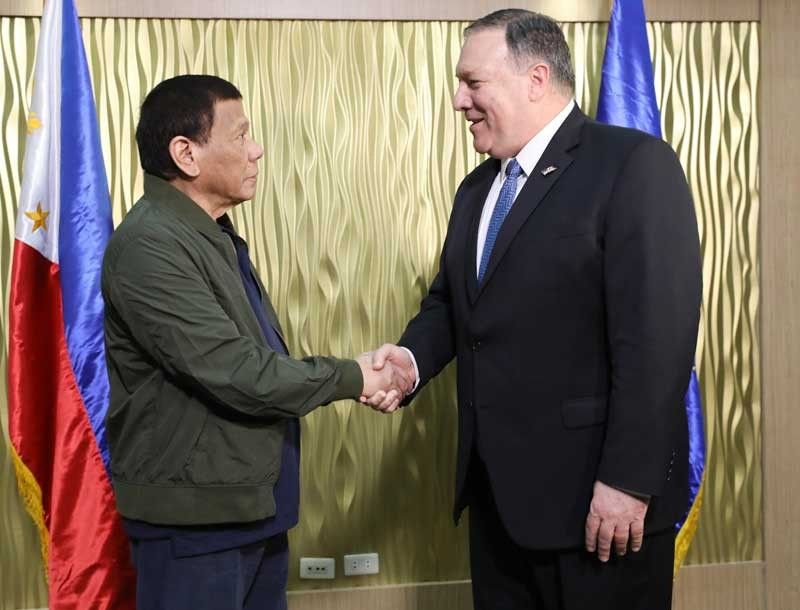 MANILA, Philippines — The Philippines and the US will start talks on forging a free trade agreement even as both sides vowed to deepen and expand bilateral economic ties.
Foreign Affairs Secretary Teodoro Locsin met yesterday with visiting US Secretary of State Mike Pompeo behind closed doors for about 40 minutes during which they discussed various security, cultural, and economic concerns shared by the two countries.
"We discussed our people-to-people engagements. We both agreed to deepen and expand our bilateral economic relations, including pursuing negotiations for a future free trade agreement (FTA)," Locsin told a joint press conference with Pompeo after their meeting at the Department of Foreign Affairs.
"We had a very productive meeting with frank exchanges on the future of the longest standing alliance in Asia, that between our two countries; on bilateral relations in a variety of fields; and on regional issues of security and economy," he said.
Trade between the Philippines and the US was valued $27 billion in 2016, of which merchandise goods accounted for $18 billion and services at about $9 billion.
The two officials did not give details about the looming FTA talks.
Locsin's statement came after a series of meetings between trade officials from both countries last year and the resolution of long-standing issues between the Philippines and the US in their Trade and Investment Framework Agreement, which is expected to facilitate the forging of an FTA.
Local groups earlier pushed for more US investments in the country and the forging for a FTA.
US-Philippine Society (USPS) co-chair John Negroponte earlier pushed for a FTA between the two countries.
USPS co-chair Manuel Pangilinan also said it would be beneficial for the Philippines to consider the FTA with the US.
"I think this is something the Philippines should seriously consider taking up because the US is one of the big markets available to us," Pangilinan said in a press conference last month.