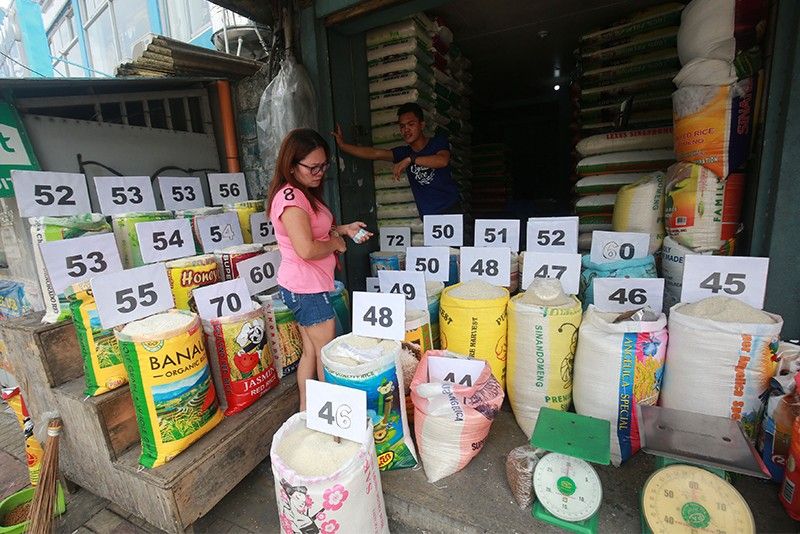 In this Oct. 21, 2018 file photo, a woman checks rice prices in Quezon City.
The STAR/Michael Varcas
Business groups press Duterte to sign rice tariffication measure
(Philstar.com) - January 22, 2019 - 7:36pm
MANILA, Philippines — Business groups on Monday urged President Rodrigo Duterte to sign into law a bill lifting the more than two-decade-old caps on rice imports to bring relief to consumers.
Rice is a Filipino main staple and pivotal political commodity in the Philippines. It is a heavy item in the basket of goods and services used to compute inflation and accounts for 20 percent of the consumption of low-income households.
The Bangko Sentral ng Pilipinas and the country's economic managers have repeatedly stressed the importance of replacing rice import limits with a system of tariffs to bring inflation back inside the government's 2-4 percent target band.
In a statement, nine major business organizations pressed Duterte to sign legislation on his desk liberalizing rice imports to address supply disruptions.
"Consumers must be freed of food supply apprehension and provided with price stability at an affordable level. This measure will address those concerns through free and open competition," they said.
"At the same time, rice farmers will be accorded protection from unfair competition through the imposition of import tariff duty," they added.
The business groups that issued the statement were the Management Association of the Philippines, the American Chamber of Commerce of the Philippines, the Bankers Association of the Philippines, the Financial Executives Institute of the Philippines, the Foundation For Economic Freedom, the Judicial Reform Initiative, the Makati Business Club, the Philippine Investment Funds Association and the Semiconductor And Electronics Industries in the Philippines, Inc.
Congress last year passed the Rice Tariffication Bill, which seeks to amend the Agricultural Tariffication Act of 1996.
Under the measure, individuals and businesses can import additional volumes of the crop from Southeast Asian countries like Thailand and Vietnam but will have to pay a 35-percent tariff. The collected tariffs will be used to fund mass irrigation, warehousing and rice research.
Based on the central bank's estimate, scrapping import caps on rice could reduce annual inflation by 0.7 percentage points in 2019.
While the measure is expected to give households reeling from soaring prices a reprieve, farmer groups said replacing rice import limits with a system of tariffs would drive down prices for their produce and hurt their business.