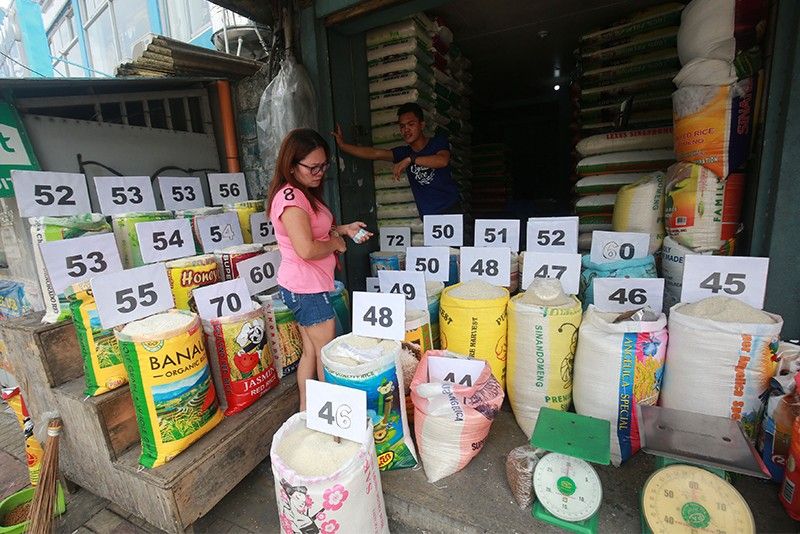 In this Oct. 21, 2018 file photo, a woman checks rice prices in Quezon City.
The STAR/Michael Varcas
'Rice tariffication won't solve Philippines' inflation problem'
(Philstar.com) - December 8, 2018 - 4:13pm
MANILA, Philippines — Lifting the more than two-decade-old caps on rice imports would not solve the Philippines' inflation problem, Deutsche Bank said, adding that the country's "overheating" economy must lose steam to "stably" tame stubbornly high prices.
Households reeling from soaring prices since the beginning of the year finally got their much-awaited reprieve in November, which saw a four-month low inflation rate of 6 percent on the back of slower price increments for food and tumbling oil prices.
READ: Inflation cools down for the first time in 2018 in November
The Bangko Sentral ng Pilipinas and the country's economic managers have repeatedly stressed the importance of replacing rice import limits with a system of tariffs to bring inflation back inside the government's 2-4 percent target band.
In a report sent to reporters on Friday, Deutsche Bank, however, said liberalizing rice imports "will help, but will not solve the Philippines' inflation problem."
Rice is a Filipino main staple and pivotal political commodity in the Philippines. It is a heavy item in the basket of goods and services used to compute inflation and accounts for 20 percent of the consumption of low-income households.
"At nearly 10 percent of the [consumer price index], such a decline in retail prices could put the inflation rate back inside the central bank's target," Deutsche Bank said.
"The problem with this simple logic, though, is that it might take an infeasibly large volume of imports to drive rice prices down, especially since the prospect of cheaper imports will drive out local producers," it added.
Congress last month passed the Rice Tariffication bill, which seeks to amend the Agricultural Tariffication Act of 1996.
Under the measure, individuals and businesses can import additional volumes of the crop from Southeast Asian countries like Thailand and Vietnam but will have to pay a 35-percent tariff. The collected tariffs will be used to fund mass irrigation, warehousing and rice research.
Based on the central bank's estimate, scrapping import caps on rice could reduce annual inflation by 0.7 percentage points next year. In the first 11 months of 2018, inflation averaged 5.2 percent, still above the BSP's target range.
Food prices moderated in November, showing signs that the Duterte administration's efforts to ease food supply bottlenecks are starting to work.
READ: Duterte wields tools in inflation battle
'Slow down'
In the same report, Deutsche Bank said headline inflation is unlikely to fall below the upper end of the government's target range until 2020, adding that the central bank should further raise key rates to douse the "overheating" Philippine economy.
Overheating occurs when production in a fast-growing economy is not able to keep up with rising demand, leading to sharp rise in prices.
READ: Deutsche Bank: The Philippine economy is overheating
"The central bank is pinning a lot of its hopes for declining inflation on the rice tariffication scheme, another piece of delayed legislation that might pass before year-end," Deutsche Bank said.
"Ultimately, though, to get inflation stably back inside the target band, the economy needs to slow down to below potential and stay there for a few quarters. With a few more rate hikes, we think that will happen although we don't see headline inflation below 4 percent until 2020," it added. "Slower external demand, the weaker currency and higher interest rates will slow the economy down enough to put inflation on a downward trend."
In a bid to fight inflation, the BSP has delivered back-to-back interest rate hikes of 1.75 percentage points since May, among the most forceful actions in Asia.
The central bank will meet to review rates on December 13.
READ: Philippine economy grows slower in Q3 | Despite slowing growth, BSP continues rate hike salvo amid inflation
— Ian Nicolas Cigaral