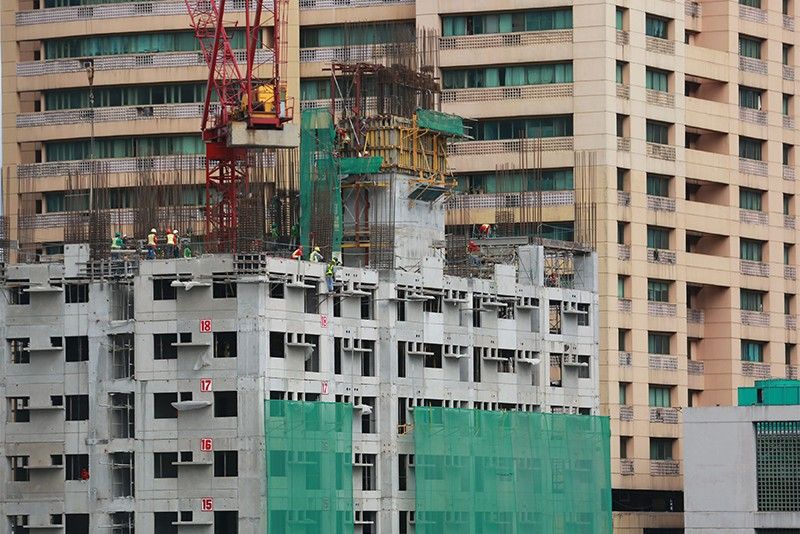 This Nov. 9, 2018 file photo shows the Mandaluyong-Makati skyline. The Philippine economy will likely post a sluggish growth this year, according to the latest projections of a regional think tank and economists at HSBC Private Banking.
The STAR/Michael Varcas
Philippine economy seen slowing down in 2019
MANILA, Philippines — The Philippine economy will likely post sluggish growth this year, according to the latest projections of a regional think tank and of economists at HSBC Private Banking.
In its latest regional economic outlook, ASEAN+3 Macroeconomic Research Office (AMRO) said it expects the domestic economy to expand 6.3 percent this year, slower than the estimated 6.4 percent gross domestic product growth in 2018.
If realized, AMRO's forecasts would fall below the government's downwardly revised target of 6.5-6.9 percent for 2018 and 7-8 percent goal for 2019.
Soaring prices and surging borrowing costs have already weighed on consumer spending, which has traditionally been the driving force behind growth in the Philippines, and crimped economic expansion to a three-year low of 6.1 percent in the third quarter last year.
Socioeconomic Planning Secretary Ernesto Pernia earlier said the economy would need to expand by at least 7.0 percent in the fourth quarter to attain the low end of the government's target for 2018.
In its report, AMRO noted that "the Philippines maintained the policy rate at 4.75 percent, following four rate rises since May, as the Peso has strengthened slightly while inflation has started to moderate."
The regional think tank also forecasts Philippine inflation to ease to 3 percent in 2019, settling within the state's 2-4 percent target range. Inflation averaged 5.2 percent last year.
'Private consumption to remain robust'
Separately, HSBC Private Banking said it projects Philippine GDP growth to moderate to 6.0 percent in 2019 from an estimated 6.2 percent in 2018, "attributable to tight domestic liquidity and higher interest rates."
But the global bank said private consumption will likely rebound this year as soaring prices cool down and as a possible spike in remittances give Filipino households more cash to spend, in turn fueling overall economic growth.
"We expect private consumption in the Philippines to remain robust this year due to easing inflationary pressures and a potential pick-up in remittances growth," HSBC Chief Market Strategist Cheuk Wan Fan said.
"The Philippine peso is projected to stay stable and trade at 54 against the USD at the end of 2019. We expect the Philippine stock market to perform in line with the regional benchmark on the back of 12 percent earnings growth in 2019," Fan added.