HIDDEN AGENDA
-
Mary Ann LL. Reyes
(The Philippine Star) - January 13, 2019 - 12:00am
Despite the acrimonious public debate that accompanied its bid to secure the congressional franchise for the distribution and sale of electricity in Iloilo City, businessman Enrique Razon Jr.'s MORE Electric Power Corp. is exploring all avenues to work out an agreement with its rival Panay Electric Co. (PECO) for a smooth transfer of operations between the two utility firms.
MORE Power is supposed to take over the distribution of electricity in Iloilo City when PECO's current franchise expires on Jan. 19. But despite the short time remaining, MORE Power president and CEO Roel Castro said his company is ready to work out a smooth transition with PECO and to absorb the outgoing utility's workers to ensure there is no displacement of employees.
Razon is pouring an initial P2 billion in capital into MORE Power which earlier secured a congressional franchise to distribute and sell electricity in Iloilo City. PECO sought to renew its franchise, but both chambers decided to grant it instead to MORE Power.
The consolidated bill granting the franchise for Iloilo City to MORE Power is currently awaiting the President's signature.
The Department of Energy, according to director Mario Marasigan of the DOE's Power Bureau, is hopeful that an agreement for a smooth transfer of operations could be worked out by MORE Power and PECO during this transition period.
During his briefing for the Iloilo City Council, Castro said MORE Power is interested in buying from PECO its transmission lines, particularly those in the new business district in Iloilo City where PECO was forced to expand to accommodate the new buildings and establishments in the area which used to be the site of Iloilo's airport.
MORE Power plans to install new transmission poles or rehabilitate existing ones so they could be safer to the public and nearby establishments.
Castro said MORE Power is seeking the cooperation of PECO so that the necessary improvements in the city's transmission system could be put in place as soon as possible. To carry out its commitment to ensure safe and cheap electricity for Iloilo City, MORE Power is initially spending P700 million for programs to replace or rehabilitate existing transmission lines, substations, transformers, and to put in place other safety measures.
Razon's managers aim to reduce system losses from the current 9.3 percent to below the 6.5 percent loss cap set by the Energy Regulatory Commission (ERC). To reduce this, MORE Power plans to immediately rehabilitate metering points and service drops (230V) and wage an anti-power pilferage campaign.
To achieve lower rates, Castro said MORE Power would secure majority of its power requirements from new bilateral contracts, including VAT-free renewable energy sources, as well as from the Wholesale Electricity Spot Market (WESM) especially when market prices are low.
But observers note that PECO is just not ready to give way to MORE Power. According to reports, it wants to prove that the signatures in a petition submitted to Congress by two Iloilo City councilors seeking the denial of PECO's renewal of its franchise were fake.
Sources close to Razon say that despite this, he is still hopeful that PECO's owners would soften and agree to a settlement that would lead to a smooth delivery of service to Ilonggos.
Manila Bay clean-up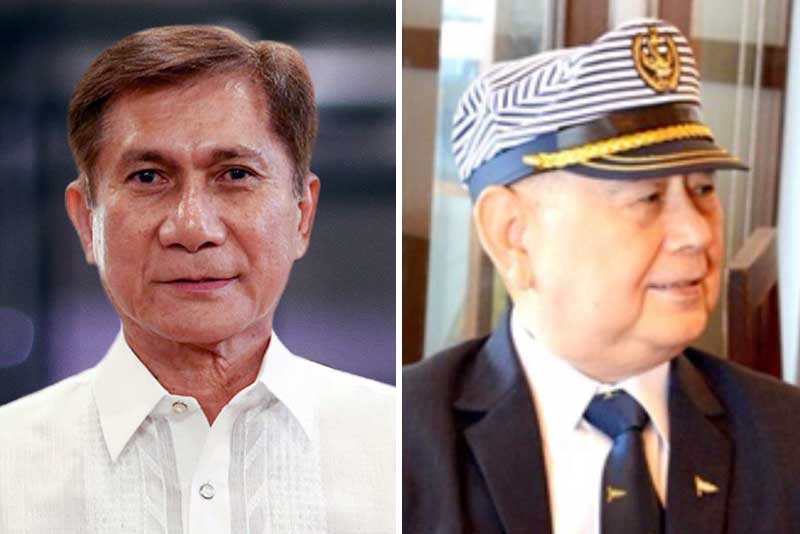 Cimatu, Joseph
The Manila Yacht Club and Rotary Club of Manila are working with the Department of Environment and Natural Resources (DENR) to finally save the highly polluted Manila Bay and bring back its old glory.
DENR has identified a number of programs in connection with Manila Bay's cleanup. Some of these projects are: first, for Manila Water and Maynilad to construct sewerage treatment plants; second, for the private sector to implement waste treatment and the conduct of a survey to determine those that have not complied; third, an educational program in collaboration with the private sector, academe, and the Department of Education to help train barangay chairmen in Metro Manila on waste segregation; fourth, coordination with other government agencies for the conduct of environmental management assessment; and fifth, relocating all those dwelling near waterways within three years and giving them priority in terms of housing grants.
DENR Undersecretary Sherwin Rigor is in charge of supervising the Manila Bay Coordinating Office (MBCO) together with Manila Yacht Club commodore Robert Lim Joseph Jr., environment lawyer and advocate Antonio Oposa Jr., an international environmentalist, and other non-government organizations.
According to Joseph, DENR Secretary Roy Cimatu is prioritizing the 'Save Manila Bay' project and has vowed to use all the resources of his department to clean up the bay once and for all.
Aside from coordinating with all government agencies to turn this into a success story within one year, Cimatu is tasking all stakeholders to be part of the solution, Joseph said.
To support Cimatu, Joseph revealed that they will be asking their colleagues at the Manila Yacht Club to use their boats to assist a team from DILG, DENR, COA, and other agencies that will conduct compliance assessments for seaside cities and LGUs.
The Rotary Club of Manila has also given its full support to the Save Manila Bay project.
For comments, e-mail at mareyes@philstarmedia.com.