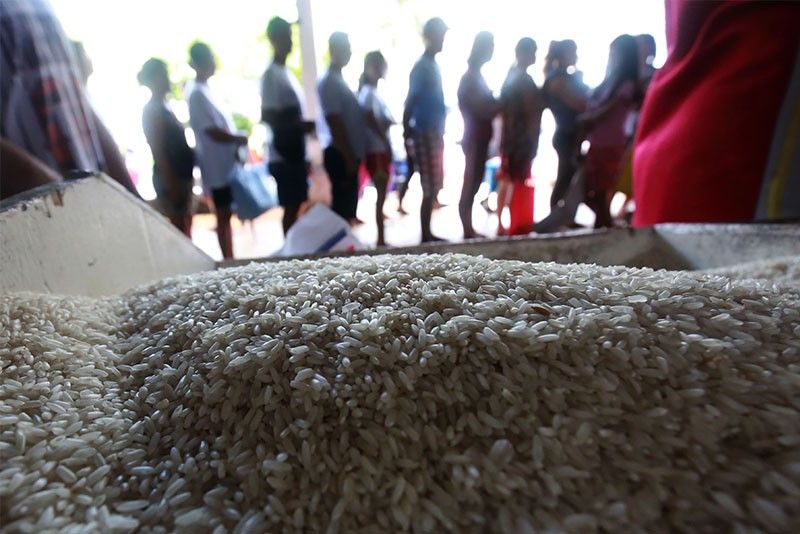 People line up at Pasig Mega Market for NFA rice which is sold 5 kilos for every buyer for P32 last Sept. 9, 2018.
The STAR/Michael Varcas
Duterte wields tools in inflation battle
MANILA, Philippines — President Rodrigo Duterte has issued orders that seek to expedite entry and delivery of imported agricultural commodities in a bid to fight runaway Philippine inflation that is now higher than most emerging economies in Asia.
Inflation jumped to 6.4 percent in August, the highest level in almost a decade, amid persistent food supply bottlenecks. Broken down, data show the highest contributors to inflation in August were electricity, gas, fuels, fish, rice, personal transport, vegetables and meat.
Some analysts expect Philippine inflation to jump higher in September after Typhoon Ompong flattened vast swathes of farmland in northern Luzon, which produces much of the nation's rice and vegetables.
In four orders, all dated September 21, Duterte directed additional importation of rice beyond the 805,200 metric tons that the government previously committed to import with lower tariff.
The president likewise ordered the National Food Authority to immediately release to local markets approximately 230,000 metric tons of rice stocks in its warehouses.
The staple grain accounts for nearly a tenth of the basket of basic goods and commodities a Filipino purchases. Latest government data show retail prices for regular-milled rice have hit P45.71, 20.26 percent higher than the same period last year. This reading does not account for the projected crop damage caused by "Ompong."
Other measures
In the same presidential order, Duterte directed the government to streamline the accreditation of food importers, "reduce or remove" fees for agricultural imports and temporarily allow direct sugar importation.
The president also instructed concerned agencies to import "adequate volumes" of fish, hasten unloading of essential food items in ports and the creation of a surveillance team to prevent price manipulation.
"There is an urgent need to tame price spikes of basic agricultural commodities by adopting measures that remove non-tariff barriers and streamline administrative procedures to allow importation that will address shortfall on supply and ensure prices of agricultural products in the domestic prices," Duterte said.
The Bangko Sentral ng Pilipinas has raised its policy rates by a cumulative 100 basis points from May to August with the intention of tempering consumer demand that likely lifted commodity prices.
The central bank has also vowed to undertake "strong monetary action" in the upcoming rate-setting meeting on September 27.
But some analysts have said monetary policy tightening alone is not enough to rein in inflation, as higher consumer prices in the Philippines are still supply-driven.