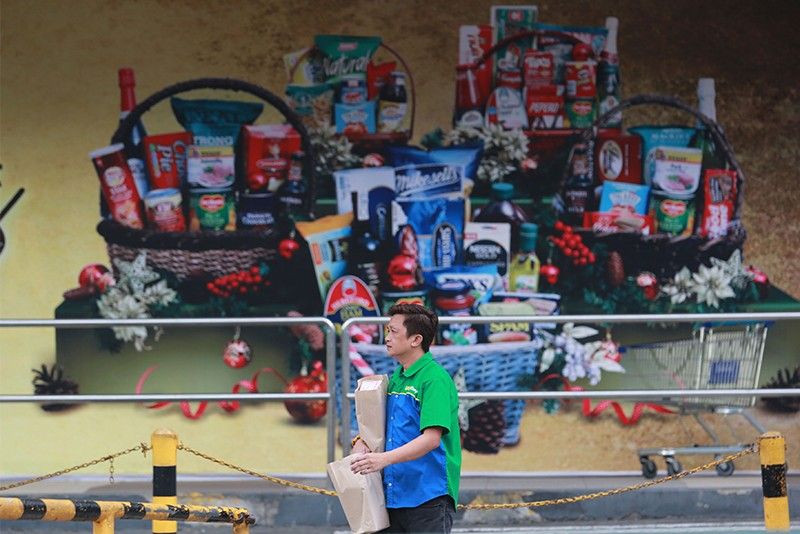 A man passes by an advertisement for common holiday commodities at a mall in Pasig City, October 9 2018.
The STAR/Michael Varcas
Inflation still elevated in October but steady at 6.7%
MANILA, Philippines (Update 2, 1:01 p.m.) — Inflation continued to be a problem in the Philippines in October, although it steadied from the previous month's level, the country's statistics agency reported Tuesday.
Inflation clocked in at 6.7 percent in October, unchanged from September's clip but still the fastest pace in nearly a decade. It was the first time this year that soaring prices in the country have steadied.
Year-to-date, inflation averaged 5.1 percent, well above the government's 2-4 percent target band.
The latest inflation print fell within the Bangko Sentral ng Pilipinas' 6.2-7 percent forecast range for the month, but higher than the Department of Finance's 6.5 percent estimate.
Broken down, high fuel prices, costlier utilities and surging transport costs offset gains from slower price spikes recorded in food items, which accounted for 55.4 percent of the headline inflation for October.
The National Capital Region felt an inflation rate of 6.1 percent in October, lower than the previous month's 6.3 percent. Meanwhile, inflation in areas outside the capital steadied at 6.8 percent, with Bicol region posting the highest price increment at 9.9 percent albeit slower than September's 10.1 percent.
Excluding items with volatile price movements, core inflation — often used as an indicator of long-term inflation trend — accelerated to 4.9 percent in October from 4.7 percent in September, government data showed.
Euben Paracuelles, analyst at Nomura, pointed out that whether the Philippines has already seen the peak of inflation or not remains uncertain, noting that the uptick in core inflation suggests that demand conditions "remain strong."
Paracuelles also said the case for further interest rate increases stays "intact," adding that the central bank will likely fire off another 100-basis point hike over the next six months including a 25-bps adjustment at the next policy meeting on November 15.
'A chance to save bullets'
In a bid to temper consumer demand that likely lifted prices, the BSP has delivered rapid-fire interest rate hikes of 1.5 percentage points since May, its strongest action against inflation since 2000.
Monetary authorities have likewise conceded to missing their 2-4 percent target band for inflation this year and next, with rising prices seen averaging 5.2 percent in 2018 and 4.3 percent in 2019.
BSP Governor Nestor Espenilla said inflation data for October show "price pressures are finally moderating." Month-on-month, inflation cooled down 0.3 percent in October from 0.8 in September.
"It's a significant deceleration although the headline figure remains elevated. Second round effects are also muted so far. That augurs well for a return to inflation target by 2019," Espenilla said.
"The Monetary Board will take into account these and other incoming data including GDP (gross domestic product) at its next policy meeting when it determines if there's still need for further policy rate adjustments," he added.
In a commentary, HSBC economist Noelan Arbis said the BSP can now afford to pause its policy tightening amid the "slowdown" in inflation momentum.
"Risks to inflation remain tilted to the upside in the future. As such, we believe it would best serve the BSP to save its monetary policy bullets until we see further signs of demand-side pressures and/or a catalyst that could lead to higher inflation expectations in the future," Arbis said.
Separately, analysts at ANZ Research believe inflation has already peaked but added that more policy response is needed to bring inflation back on target.
"We expect a final rate hike of 25 bps to 4.75 percent at their December meeting," they said.