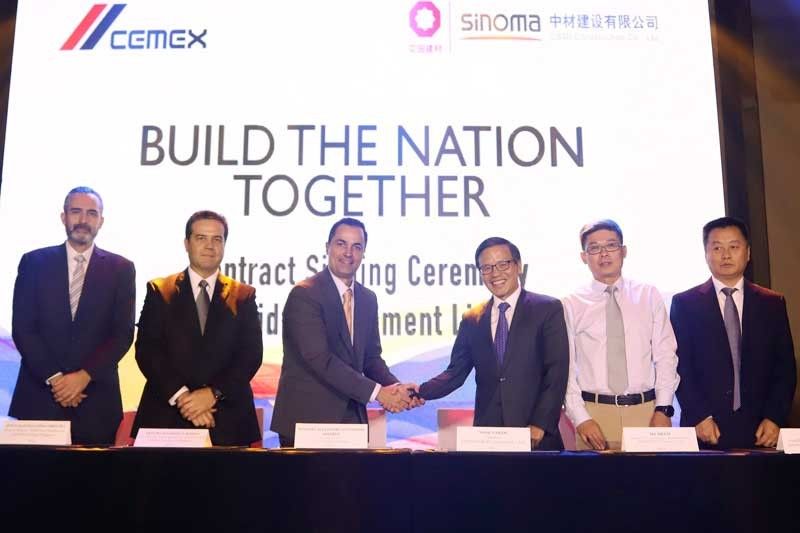 CEMEX Holdings Philippines and SINOMA CBMI Construction Co. officers ink the partnership for the construction of the Solid New Cement Line in Antipolo City. In photo (from left) are CEMEX project director for solid new cement line Jesus Alonso Lopez, vice president for operations and technical Arturo Manrique, president and CEO Ignacio Mijares and SINOMA officers led chairman and general manager Tong Laigou, legal representative to the Philippines Wang Yuwu and assistant to the general manager Ma Aiguo.
CEMEX to build $235 million integrated cement line
(The Philippine Star) - November 2, 2018 - 12:00am
MANILA, Philippines — Strengthening its commitment to help build a better future by providing advanced building solutions in the country, CEMEX Holdings Philippines Inc. recently announced the commencement of its expansion project in the city of Antipolo, Rizal – the construction of the Solid Plant New Cement Line. This was formalized during the signing of the principal project agreements with CBMI Construction Co. Ltd. of China (SINOMA) held last Oct. 18 at The Fairmont Hotel Makati.
The milestone was led by CEMEX Global VP for operations and technology Ernesto Alonso Felix Sandoval and CEMEX Philippines president and CEO Ignacio Mijares, together with SINOMA chairman and general manager Tong Laigou and regional managing director for Asia Wang Yuwu.
The event was witnessed by key officials from the Department of Trade and Industry, Department of Environment and Natural Resources, as well as the Embassy of Mexico in the Philippines and the local government units of Antipolo and Rizal.
With an investment cost of around $235 million, the new integrated cement line will add 1.5 million tons of cement to the annual capacity of the Solid Cement Plant, thereby increasing the total output to 3.4 million tons.
The massive five-year Build Build Build infrastructure program of Philippine President Duterte calls for strategic solutions from the building and construction materials industry. In response to this tall order, CEMEX committed the construction of the Solid Cement New Line.
The Solid New Cement Line is the second undertaking between CEMEX and SINOMA in the Philippines. In 2015, they inaugurated the $20-million waste-heat-to-energy facility also in Solid Cement Plant, under the full undertaking of SINOMA-EC. This facility is a technology built to capture Solid Cement Plant's by-product of heat into usable energy and will likewise be implemented in CEMEX's APO Cement Plant in the City of Naga, Cebu in the near future.