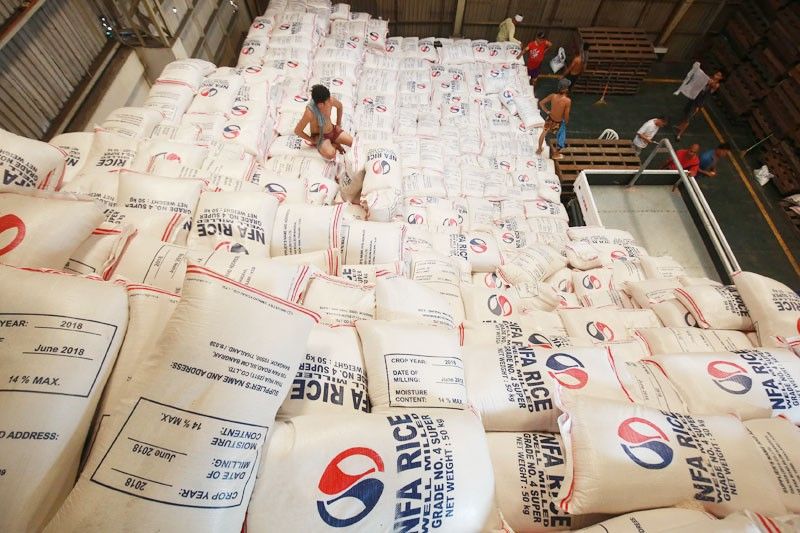 "Rice tariffication and reforms in food policy are needed to address the repeated rice supply problems," Dominguez said.
Michael Varcas)
Rice multiplies inflation weight 10-fold
MANILA, Philippines — The contribution of rice to inflation multiplied tenfold this year amid issues on supply and importation, underscoring the need to implement reforms in the government's agricultural policies, according to the Department of Finance (DOF).
In his presentation to members of the Cabinet, Finance Secretary Carlos Dominguez said rice has become one of the major drivers of inflation in 2018, with its contribution to inflation growing 10 times from 0.1 percentage point last year to one percentage point in September.
Overall, Dominguez said food items in the consumption basket accounted for more than half of the 6.7 percent inflation rate recorded in September.
On the other hand, the finance chief said the increase in prices of non-food items, including electricity, gas and other fuels, had slowed down since July this year.
Baring these figures to the Cabinet, Dominguez reiterated his call for the implementation of reforms in policies to ease rice importation and distribution.
"Rice tariffication and reforms in food policy are needed to address the repeated rice supply problems," Dominguez said.
Once passed into law, the rice tariffication bill is expected to liberalize the importation of rice in the country. It is also seen to help lower the retail price of rice by as much as P7 per kilo and reduce inflation by 0.4 percentage points.
The measure has been certified as urgent by President Duterte.
Meanwhile, Dominguez also recommended for the Department of Agriculture (DA) to undertake steps to bring down food prices.
Finance Assistant Secretary Antonio Lambino, for his part, said some measures are already in place to empower the DA to achieve this goal.
"Food inflation is a main driver of inflation, especially in recent months. The DA, which is key to bringing down food prices, has been empowered under several presidential directives to put in place measures to increase food supply and bring down food prices," Lambino said.
These presidential directives include Administrative Order 13, which removed administrative restrictions on the importation of agricultural products, and Memorandum
Order 26, directing the DA and the Department of Trade and Industry to implement measures to reduce the gap between the farmgate and retail prices of agricultural products.
Duterte also signed MO 27, which calls for the adoption of measures to ensure the efficient delivery of imported agricultural and fishery products from ports to markets; and MO 28, which directed the National Food Authority to immediately release existing rice stocks in its warehouses.
Over the medium term, Lambino said the country needs to increase agricultural productivity to stabilize food prices. To do this, he said the government should individualize collective titles under agrarian reform to improve property rights and incentivize farm production, and reallocate the budget to more broad-based farm infrastructure, research and development, and support services.