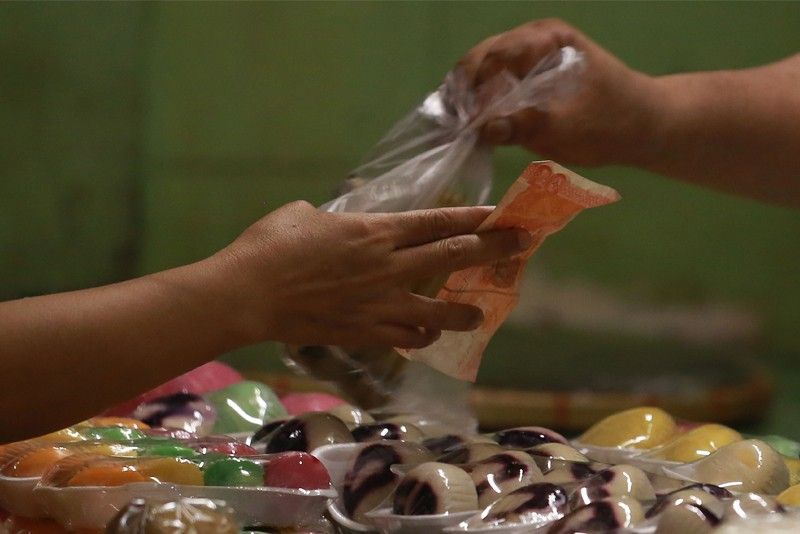 In a statement, the BSP said inflation in September likely settled at around 6.8 percent. If realized, this month's inflation rate would be the fastest since the 7.2 percent recorded in February 2009.
Michael Varcas
BSP: September inflation likely at 6.8%
Fuel prices, weak peso, 'Ompong' aftermath affect inflation
MANILA, Philippines — Filipino consumers bearing the brunt of soaring prices likely felt the sting of inflation even more in September, according to the Bangko Sentral ng Pilipinas.
In a statement Friday, the BSP said inflation in September might have settled at around 6.8 percent. If realized, this month's inflation rate would be the fastest since the 7.2 percent recorded in February 2009.
The low end of the central bank's inflation outlook for September was at 6.3 percent, while its worst-case-scenario estimate for the month was at 7.1 percent.
The BSP's 6.8 percent inflation forecast was higher than the prediction of the Department of Finance, which expects this month's figure to be unchanged from August's 6.4 percent.
According to the central bank, higher local pump prices, a weak peso and surge in prices of farm products due to Typhoon Ompong's onslaught added to the country's inflation woes.
'Partial offset' due to lower power rates
Nonetheless, the BSP said price pressures in September could be "partly offset" by downward adjustments in electricity rates in areas served by power distributor Manila Electric Co., the largest in the country.
"Looking ahead, the BSP will continue to remain on guard to evolving inflationary conditions to ensure that the monetary policy stance remains consistent with our price stability mandate," the central bank said.
In a Pulse Asia survey released on Thursday, 65 percent of respondents believe inflation is an urgent concern for the government.
In a bid to temper consumer demand that likely lifted prices, the BSP has delivered rapid-fire interest rate hikes of 1.5 percentage points since May, its strongest action against inflation since 2000. Monetary authorities have likewise conceded to missing their 2-4 percent target band for inflation this year and next, with rising prices seen averaging 5.2 percent in 2018 and 4.3 percent in 2019.
To address food supply bottlenecks, President Rodrigo Duterte recently signed four orders seeking to streamline the entry and delivery of imported farm products.
Philippine policymakers have been concerned about threats posed by soaring prices on the economy, which posted a sluggish growth of 6 percent in the second quarter, the slowest pace in three years.
Some analysts expect economic growth to continue to decelerate over the second semester of the year as tighter monetary policy and higher inflation weigh on consumer spending, which accounts for about seven-tenths of the Philippine economy.
More rate hikes
Analysts say the BSP's tightening episode is not yet finished, as monetary officials wield their tool kit to protect the central bank's inflation target.
"We expect the BSP to hike its policy interest rate again by 25bps to 4.75 percent before the end of 2018 and by 75bps to 5.50 percent in 2019," economists at Fitch Solutions said.
"Inflation is likely to remain broad-based and elevated given higher oil prices, sustained high credit growth, and a weaker currency," they added.
Separately, ANZ research said the BSP's upwardly revised inflation forecasts for this year and next suggest that "further tightening is on the table."
Meanwhile, both HSBC Global Research and London-based Capital Economics also expect further rate hikes from the BSP to cool down inflation, adding that prices will remain above-target in 2019 unless key reforms to curb inflation are passed.
PHILSTAR'S PHILIPPINE INFLATION COVERAGE: Inflation watch