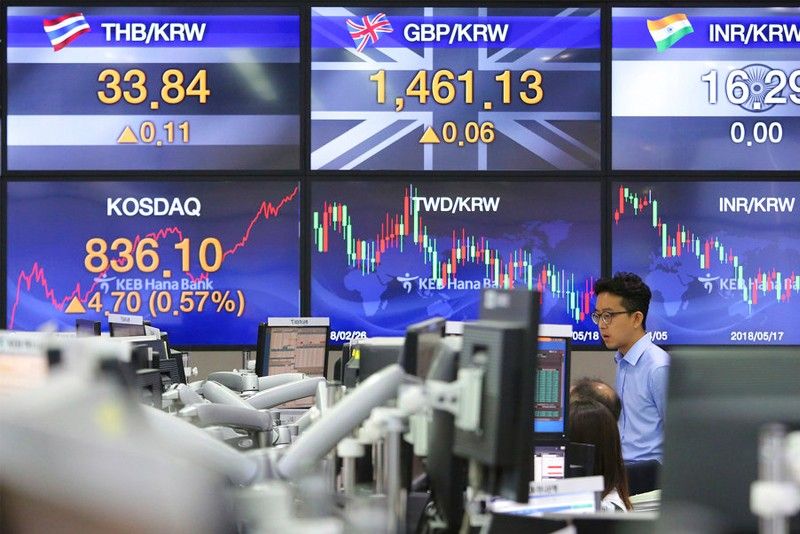 A currency trader works at the foreign exchange dealing room of the KEB Hana Bank headquarters in Seoul, South Korea, Wednesday, June 27, 2018. Asian markets were mostly lower on Wednesday as jitters over trade conflicts between the world's major economies lingered.
AP Photo/Ahn Young-joon
China leads Asian markets lower as trade concerns linger
SEOUL, South Korea — China led Asian markets mostly lower on Wednesday as jitters over trade conflicts between the world's major economies lingered. The prices of oil extended gains as the U.S. pushed other countries to cut oil imports from Iran.
KEEPING SCORE: Chinese stocks were the biggest losers with Shanghai Composite Index sinking 0.9 percent to 2,818.75. The index is the global market's worst performer this year, down 14 percent since the start of this year. Hong Kong's Hang Seng fell 0.8 percent to 28,640.52. Japan's Nikkei 225 fell 0.3 percent to 22,283.34 and South Korea's Kospi was flat at 2,352.24. Australia's S&P-ASX 200 edged up 0.1 percent to 6,201.00. Stocks in Taiwan were lower but Singapore and other Southeast Asian markets were higher.
CHINESE BEARS: China's market benchmark has tumbled into bear territory as trade tensions with Washington spook investors. The Shanghai Composite Index closed down Tuesday just over 20 percent below its Jan. 24 peak. The South China Morning Post newspaper in Hong Kong noted that has wiped out $1.6 trillion in stock value — bigger than Canada's annual economic output. The biggest decliners have included telecoms and tech companies that might be hurt by President Donald Trump's proposed restrictions on access to U.S. markets and technology. Analysts said that a combination of factors such as jitters over trade conflicts, Beijing's move to tighten liquidity and signs of growth momentum losing steam also contributed to the sell-offs.
ANALYST'S TAKE: "To a large extent, the Chinese market is one driven by speculation," said Jingyi Pan, a market strategist at IG in Singapore, adding that "with sentiment rolling over itself of late, particularly over the escalating trade tensions that seems to have no end, it should be of little surprise to find the market crumbling." Pan added: "the growth momentum presents the image of stalling in China that altogether amalgamates to an attack on investors' confidence."
CHINA-US TRADE: China announced a tariff cut for imported soybeans and some other grains from Asian countries in a possible measure to replace U.S. supplies in the event Beijing's trade dispute with Washington escalates. Beijing has announced plans to hike tariffs on U.S. soybeans, for which China is the biggest export market, in response to Trump's threat of import duty increases on Chinese goods. The tariff on soybeans will be cut by half to 1.5 percent effective July 1 and those on some other crops such as rapeseed will fall from as much as 9 percent to as low as zero.
WALL STREET: U.S. stocks finished slightly higher Tuesday, a day after heavy sell-offs. The S&P 500 index gained 0.2 percent to 2,723.06. The Dow Jones Industrial Average gained 0.1 percent to 24,283.11. The Nasdaq composite added 0.4 percent to 7,561.63. The Russell 2000 index picked up 0.7 percent to 1,668.53.
OIL: Benchmark U.S. crude gained 21 cents to $70.74 per barrel in electronic trading on the New York Mercantile Exchange. The contract added 3.6 percent to finish at $70.53 a barrel in New York on Tuesday. Brent crude, used to price international oils, added 20 cents to $76.34 per barrel in London. It rose 2.1 percent to settle at $76.14 per barrel in the previous session. President Trump who withdrew the U.S. from the Iran nuclear deal in May, is pushing foreign nations to cut their oil imports from Iran to zero by November when sanctions on Iran's energy sector will kick in again.
Currencies: The dollar fell to 109.92 yen from 110.03 yen. The euro gained slightly to $1.1647 from $1.1646.