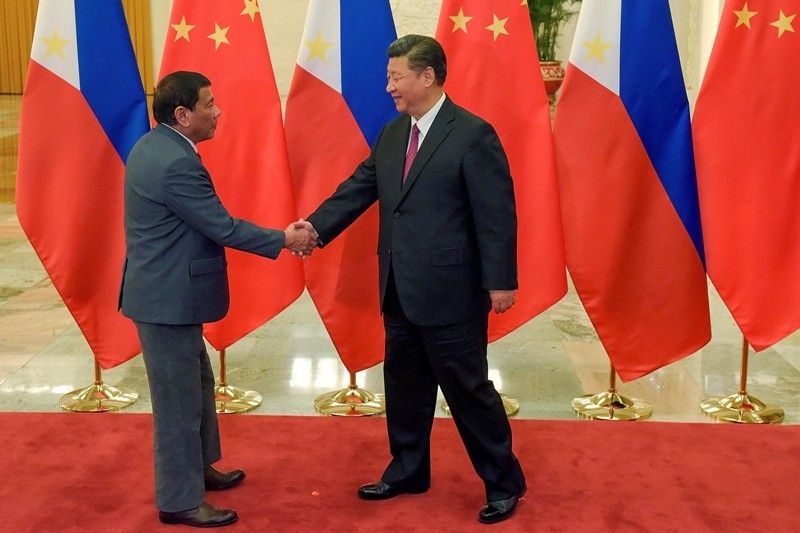 Philippine President Rodrigo Duterte, left, is greeted by Chinese President Xi Jinping prior to their bilateral meeting held on the sidelines of the Belt and Road Forum for International Cooperation at the Great Hall of the People in Beijing, Monday, May 15, 2017.
Etienne Oliveau/Pool Photo via AP
China's Belt and Road Initiative poses risks — experts
(Philstar.com) - June 25, 2018 - 3:25pm
MANILA, Philippines — Despite the opportunities that China's Belt and Road Initiative (BRI) has to offer, the Philippine government should be wary of dealing with Chinese contractors.
Geopolitical experts have warned of risks surrounding the multi-billion dollar infrastructure project of Chinese President Xi Jinping, which seeks to revive the so-called Silk Road in Asia.
Dindo Manhit, president of independent think tank Stratbase ADRi, noted that the initiative has been criticized for being "too ambiguous and murky, prompting states to exercise more caution in screening Chinese contractors and applying strong safeguards to prevent being trapped into 'debt diplomacy.'"
Richard Heydarian, a fellow of the think tank, noted that the objectives of the BRI are aligned with geopolitical goals.
In his special study titled "The 21st Century Silk Road: Perils and Opportunities of China's Belt and Road Initiative," Heydarian listed China's geopolitical goals such as:
Facilitating long-term plans of developing landlocked hinterlands and developed regions
Outsourcing internal productive glut and infrastructure overcapacity
Assisting and promoting troubled state-owned enterprises
Developing trading partners' basic infrastructure to reverse anemic growth in global trade
Gaining foothold across strategically located nations
Locking in rare commodities to Chinese long-term development
Globalizing Chinese technological and industrial standards across emerging markets
The study, however, warned that the Philippines' engagement with China would be meaningless and unsustainable if the BRI would not be able to promote inclusive growth and provide jobs for locals.
The initiative should not rely on Chinese supply of capital, technology and labor, Heydarian said.
Heydarian also noted that the World Bank had blacklisted some Chinese contractors that the Philippine government engaged with in the past.
In past administrations, Chinese projects became controversial due to corruption, lack of transparency and problems in accountability.
It is the Philippine government's responsibility to ensure a competitive bidding process and to uphold strict standards in good governance and environmental sustainability, according to the study.
For example, two Chinese companies that the Philippines had tapped for the rehabilitation of war-torn Marawi City have previously been debarred by the World Bank for attempting to rig procurement process.
In 2009, China State Construction Corp. and China Geo-Engineering Corp. were blacklisted for being involved in collusive bidding schemes for a World Bank-funded project in the Philippines.
The Philippine government, however, defended the two Chinese companies previously debarred by the World Bank, pointing out that the blacklisting had been lifted.
"They deserve to be given a second chance. Usually, the World Bank disqualifies (a company) if there is bid rigging. For me, they have been sanctioned by the World Bank. So maybe, everyone is entitled to a second opportunity," presidential spokesperson Harry Roque said. — Patricia Lourdes Viray