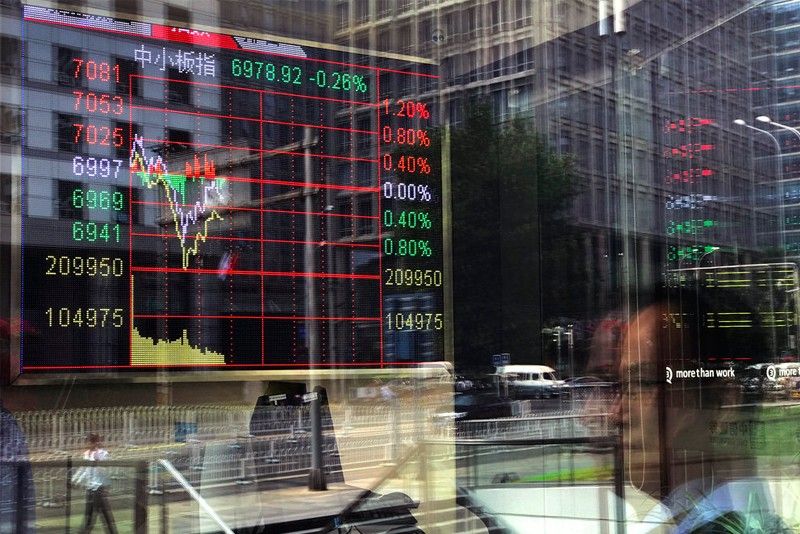 People and office buildings are reflected on a brokerage house's window as an electronic board displaying stock trading index in Beijing, Tuesday, June 12, 2018. Asian shares were mostly higher Tuesday but little changed as market players tried to digest the summit between President Donald Trump and North Korean leader Kim Jong Un in Singapore.
AP Photo/Andy Wong
Asian shares mostly higher with all eyes on Trump-Kim summit
TOKYO — Asian shares were mostly higher Tuesday but little changed as market players tried to digest the summit between President Donald Trump and North Korean leader Kim Jong Un in Singapore.
KEEPING SCORE: Japan's benchmark Nikkei 225 was up 0.3 percent in early trading at 22,867.41. Australia's S&P/ASX 200 was also up nearly 0.3 percent at 6,061.30. South Korea's Kospi was virtually unchanged at 2,468.37 after fluctuating earlier in the day. Hong Kong's Hang Seng's rose 0.2 percent to 31,120.23, while the Shanghai Composite index recouped earlier losses to be up less than 0.1 percent at 3,054.22.
WALL STREET: The Dow Jones industrial average rose 5.78 points, or less than 0.1 percent, to 25,322.31. The Standard & Poor's 500 index rose 2.97 points, or 0.1 percent, to 2,782.00 and the Nasdaq composite rose 14.41 points, or 0.2 percent, to 7,659.93.
SUMMIT WATCH: Investors have been waiting for the meeting between Trump and Kim, aimed at settling a standoff over the North's nuclear arsenal. Trump and Kim shook hands warmly in Singapore and then moved into a roughly 40-minute one-on-one meeting, joined only by their interpreters, before including their advisers. North Korea has reportedly said it is willing to deal away its entire nuclear arsenal if the United States provides it with reliable security assurances and other benefits.
CENTRAL BANKS: The Federal Reserve will start a two-day meeting on interest rates on Tuesday, wrapping up on Wednesday. Investors expect the nation's central bank to raise interest rates from their current level of 1.75 percent to 2 percent, but most attention will be on how many rate hikes Fed officials are considering doing later this year. On Friday, the Bank of Japan is due to give its latest policy update.
ANALYST'S TAKE: "Deal or no deal? Just don't ask what comprises a 'deal' and we are fine. At the risk of sounding a tad frivolous, that appears to be the truth of the matter," said Vishnu Varathan of Mizuho Bank in Singapore of the Trump-Kim summit.
ENERGY: Benchmark U.S. crude rose 3 cents to $66.13 a barrel. It was up 36 cents to $66.10 per barrel Monday in electronic trading on the New York Mercantile Exchange. Brent crude, used to price international oils, lost 9 cents to $76.37 per barrel in London.
CURRENCIES: The dollar rose to 110.24 yen from 109.48 yen late Monday in Asia. The euro fell to $1.1769 from $1.1799.
As It Happens
LATEST UPDATE: July 8, 2020 - 5:55pm
The United States formally concluded that North Korea ordered the murder of Kim Jong-Nam, a half-brother and potential rival to ruler Kim Jong-Un, with the VX nerve agent.
"This public display of contempt for universal norms against chemical weapons use further demonstrates the reckless nature of North Korea and underscores that we cannot afford to tolerate a North Korean WMD program of any kind," US State Department spokeswoman Heather Nauert said.
The finding triggered another layer of US economic sanctions against Pyongyang, just as South Korea reported that the regime is ready for talks to end a nuclear standoff.
July 8, 2020 - 5:55pm
US Deputy Secretary of State and North Korea envoy Stephen Biegun pour cold water on reports Washington had sought a meeting with Pyongyang officials, with nuclear discussions at a standstill.
Biegun is on a four-day trip to Seoul and Tokyo to discuss North Korea's denuclearisation.
The visit triggered speculation in the South that Washington was trying to rekindle diplomacy with Pyongyang ahead of the US presidential election in November -- even though the North has repeatedly said it had no interest in talks. — AFP
July 4, 2020 - 5:55pm
A senior diplomat says North Korea does "not feel any need" to resume talks with Washington, days after Seoul called for a summit as it seeks improved ties with Pyongyang.
The statement by the North's vice foreign minister Choe Son Hui comes after former US national security advisor John Bolton reportedly said President Donald Trump might pursue another meeting with leader Kim Jong Un in October. — AFP
April 28, 2020 - 9:58am
US President Donald Trump appears to confirm that North Korean leader Kim Jong Un is alive, saying he wished him well after days of speculation over the dictator's whereabouts.
Asked if he had new information about Kim's health, Trump says "yes, I do have a very good idea, but I can't talk about it now. I just wish him well."
"I hope he's fine," Trump continues, speaking at a White House press conference. "I do know how he's doing, relatively speaking." — AFP
December 31, 2019 - 4:44pm
State media says North Korean leader Kim Jong Un has called for "diplomatic and military countermeasures", ahead of a year-end deadline for Washington to change its stance on stalled nuclear talks with Pyongyang.
His latest comments, made during a meeting of top ruling party officials in Pyongyang on Monday, came ahead of his set-piece New Year speech that could flesh out a threat to seek a "new way" forward after the expiration of the year-end deadline.
He spoke for seven hours during the ruling Workers' Party meeting, the North's official KCNA news agency said in a report released Tuesday, calling for measures to rebuild its economy and "diplomatic and military countermeasures for firmly preserving the sovereignty and security" of the isolated nation. — AFP
December 21, 2019 - 4:42pm
North Korea on Saturday warned Washington would only aggravate tensions and "pay dearly" for criticising Pyongyang over human rights, with nuclear negotiations between the two deadlocked.
The international community has frequently condemned North Korea for political repression, and for decades of prioritising its military and its nuclear weapons programme over adequately providing for its people.
Criticising Pyongyang's human rights record would only aggravate the "already tense situation" on the Korean peninsula, "like pouring oil over burning fire", a North Korean foreign ministry spokesperson said, according to the official Korean Central News Agency (KCNA).
The statement was in response to concern expressed by a US state department official over North Korea's human rights situation, KCNA said. — Agence France-Presse