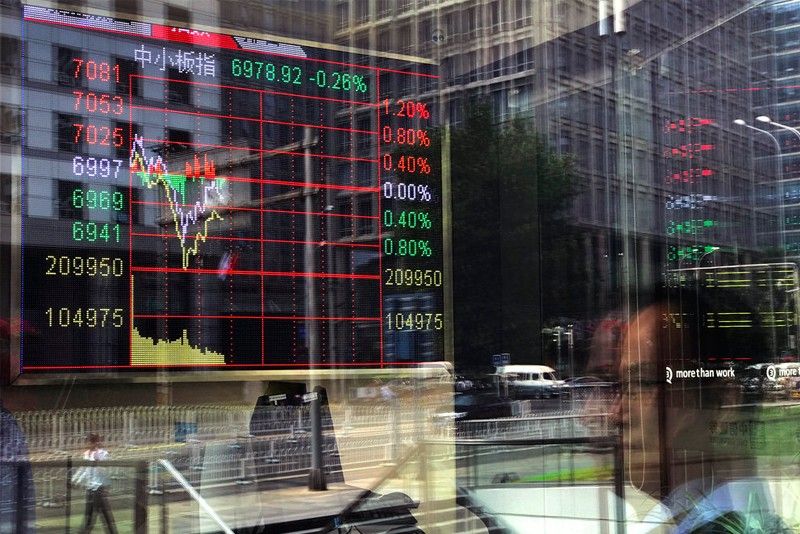 People and office buildings are reflected on a brokerage house's window as an electronic board displaying stock trading index in Beijing, Tuesday, June 12, 2018. Asian shares were mostly higher Tuesday but little changed as market players tried to digest the summit between President Donald Trump and North Korean leader Kim Jong Un in Singapore.
AP Photo/Andy Wong
Asian shares mostly higher with all eyes on Trump-Kim summit
TOKYO — Asian shares were mostly higher Tuesday but little changed as market players tried to digest the summit between President Donald Trump and North Korean leader Kim Jong Un in Singapore.
KEEPING SCORE: Japan's benchmark Nikkei 225 was up 0.3 percent in early trading at 22,867.41. Australia's S&P/ASX 200 was also up nearly 0.3 percent at 6,061.30. South Korea's Kospi was virtually unchanged at 2,468.37 after fluctuating earlier in the day. Hong Kong's Hang Seng's rose 0.2 percent to 31,120.23, while the Shanghai Composite index recouped earlier losses to be up less than 0.1 percent at 3,054.22.
WALL STREET: The Dow Jones industrial average rose 5.78 points, or less than 0.1 percent, to 25,322.31. The Standard & Poor's 500 index rose 2.97 points, or 0.1 percent, to 2,782.00 and the Nasdaq composite rose 14.41 points, or 0.2 percent, to 7,659.93.
SUMMIT WATCH: Investors have been waiting for the meeting between Trump and Kim, aimed at settling a standoff over the North's nuclear arsenal. Trump and Kim shook hands warmly in Singapore and then moved into a roughly 40-minute one-on-one meeting, joined only by their interpreters, before including their advisers. North Korea has reportedly said it is willing to deal away its entire nuclear arsenal if the United States provides it with reliable security assurances and other benefits.
CENTRAL BANKS: The Federal Reserve will start a two-day meeting on interest rates on Tuesday, wrapping up on Wednesday. Investors expect the nation's central bank to raise interest rates from their current level of 1.75 percent to 2 percent, but most attention will be on how many rate hikes Fed officials are considering doing later this year. On Friday, the Bank of Japan is due to give its latest policy update.
ANALYST'S TAKE: "Deal or no deal? Just don't ask what comprises a 'deal' and we are fine. At the risk of sounding a tad frivolous, that appears to be the truth of the matter," said Vishnu Varathan of Mizuho Bank in Singapore of the Trump-Kim summit.
ENERGY: Benchmark U.S. crude rose 3 cents to $66.13 a barrel. It was up 36 cents to $66.10 per barrel Monday in electronic trading on the New York Mercantile Exchange. Brent crude, used to price international oils, lost 9 cents to $76.37 per barrel in London.
CURRENCIES: The dollar rose to 110.24 yen from 109.48 yen late Monday in Asia. The euro fell to $1.1769 from $1.1799.
As It Happens
LATEST UPDATE: November 5, 2019 - 11:25am
The United States formally concluded that North Korea ordered the murder of Kim Jong-Nam, a half-brother and potential rival to ruler Kim Jong-Un, with the VX nerve agent.
"This public display of contempt for universal norms against chemical weapons use further demonstrates the reckless nature of North Korea and underscores that we cannot afford to tolerate a North Korean WMD program of any kind," US State Department spokeswoman Heather Nauert said.
The finding triggered another layer of US economic sanctions against Pyongyang, just as South Korea reported that the regime is ready for talks to end a nuclear standoff.
November 5, 2019 - 11:25am
Pyongyang says the possibility of talks between nuclear-armed North Korea and Washington is "narrowing" after the US State Department reaffirmed its designation as a state sponsor of terrorism.
Last month the North walked away from working-level nuclear talks with the US in Sweden, saying it was disappointed at the lack of "new and creative" solutions offered by Washington.
The process has been deadlocked since the Hanoi summit between leader Kim Jong Un and US President Donald Trump broke up in February amid disagreement over sanctions relief and what the North would be willing to give up in return. — AFP
October 27, 2019 - 11:14am
North Korea says Sunday the United States must not exploit the "close personal relations" between Kim Jong Un and US President Donald Trump as negotiations over Pyongyang's nuclear arsenal remain deadlocked.
Talks between Pyongyang and Washington have stalled since a second summit between Trump and Kim in Hanoi in February broke down without an agreement.
The two have since blamed each other for the failure of the summit, with the North demanding the US bring forward a "new method" by the end of the year.
Kim Yong Chol, who served as the North's counterpart to US Secretary of State Mike Pompeo until the collapse of the Hanoi meeting, credited Trump and Kim's close ties for salvaging the diplomacy, but warned they were not enough.
"There is a limit to everything," Kim, now the chairman of the Korea Asia-Pacific Peace Committee, said in a statement carried by the official KCNA news agency. -- Agence France-Presse
October 24, 2019 - 1:08pm
A top Pyongyang official says North Korean leader Kim Jong Un and US President Donald Trump have a "special" relationship, echoing remarks this week by the American head of state.
Analysts said the comments were an indication Pyongyang still hoped to reach a deal directly with Trump over its nuclear programmes, despite Washington's longstanding insistence it give up its weapons before sanctions are lifted.
In a statement carried by Pyongyang's official news agency KCNA, foreign ministry adviser Kim Kye Gwan says he had met the North Korean leader "a few days ago", and "he said that the relationship between him and President Trump is special". — AFP
October 22, 2019 - 1:01pm
The United States was awarded ownership of a North Korean cargo ship that was seized for violating international sanctions, the US Justice Department says.
The Wise Honest — the first North Korean vessel to be seized by the US for sanctions violation — was caught carrying a $3 million shipment of coal in Indonesian waters last year and later handed over to the US.
The latest ruling by the Southern District of New York finalizes the US government's seizure of the North Korean vessel and ends its use in a "criminal scheme," the Justice Department says in a statement.
"This order of forfeiture sinks the Wise Honest's career as one of North Korea's largest sanctions-busting vessels," says Assistant Attorney General for National Security John Demers. — AFP
September 27, 2019 - 5:07pm
North Korea says US aggression and an obsession with disarmament mean another summit between Washington and Pyongyang is looking doubtful, even as it praised US President Donald Trump as "bold" and "wise".
Washington has "done nothing for the implementing the joint statement" from the first US-North Korea summit held in Singapore last year, Kim Kye Gwan, advisor to North Korea's foreign ministry, writes in a statement carried in Pyongyang's official news wire KCNA.
The official then slammed Washington for its joint military drills with the South, which it has long considered rehearsals for invasion. — AFP