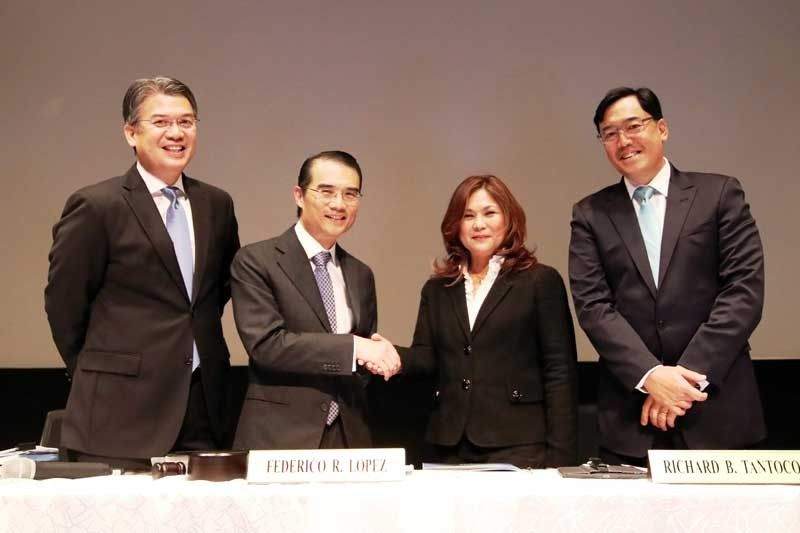 First Gen Welcomes New Independent Director: First Gen Corp. chairman and CEO Federico Lopez (second from left) welcomes new independent director Alicia Morales (second from right), with two other top company officials after they were reelected by stockholders during the company's annual stockholders' meeting on May 9. Morales is a former chairman of the Philippine Stock Exchange. Together with Lopez are fellow directors Francis Giles Puno (first from left), concurrent president and COO of First Gen; and Richard Tantoco (first from right) who is also president and COO of subsidiary Energy Development Corp., the world's largest vertically integrated geothermal company.
Lopez Group readies partnerships for $1-billion LNG terminal
MANILA, Philippines — The Lopez Group plans to start developing its $1 billion liquefied natural gas (LNG) terminal in 2019 as it looks to close partnerships and engineering, procurement and construction (EPC) contracts within the year.
In a briefing, First Gen Corp. president and COO Francis Giles Puno said the company has set a goal to finalize partnerships within the year
"Ideally, we'll bring in maybe at least one foreign partner and potentially local partners as well. We don't have to solely underwrite this. It's an important infrastructure for the country," Puno said.
Puno said they are open to having a minority interest in the LNG terminal.
"We don't mind a strong minority. It does not have to be 60 percent. We have to bring in partners who will really feel they have skin in the game. They will really need a material ownership into these assets before they proceed," he said.
First Gen also hopes to finalize the EPC contractor for the LNG terminal.
"Our objective is to make those decisions this year. We want to start construction next year and it will take roughly about four years for the facility to be completed," Puno said.
The planned LNG terminal, which will have a capacity to supply a minimum five million tons of natural gas equivalent to 5,000 MW, will be located within the Lopez Group's clean energy complex which houses the 1,000-MW Sta. Rita, 500-MW San Lorenzo, San Gabriel and 97-MW Avion gas plants.
The Lopez Group's proposed LNG terminal presents a real option for the country because it is currently the most advanced.
Puno said the company went through years of technical feasibility and has already completed site preparations in order to begin construction of the terminal.
The proposal was presented to the government through the Department of Energy (DOE) as a viable option to jumpstart the country's LNG industry.
It also submitted its intention to participate in the DOE's Philippine Downstream Natural Gas Regulation (PDNGR) issued in December 2017.
First Gen had previously disclosed that it submitted an unsolicited proposal to state-run Philippine National Oil Co. (PNOC) to participate in its onshore storage and regasification terminal to be constructed within the First Gen clean energy complex.