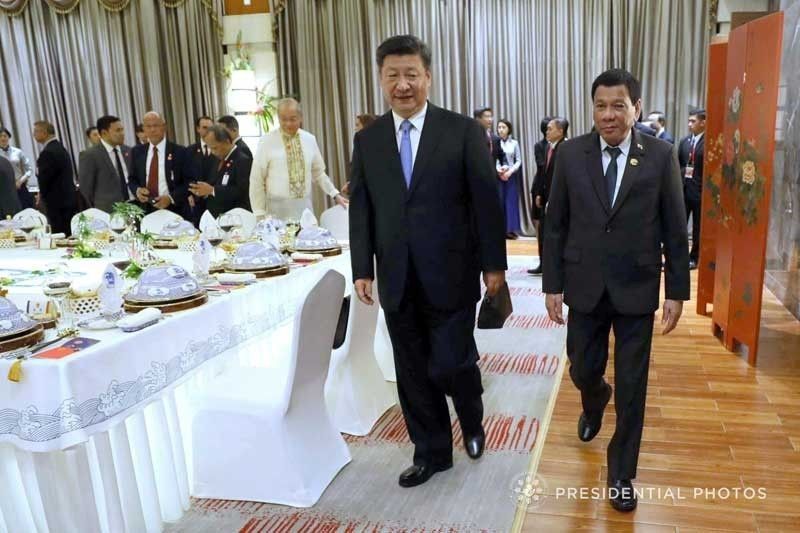 Despite President Rodrigo Duterte's warm relations with China,the two countries continue to spar over the South China Sea.
Presidential Photo
Philippines gets China loan for Chico River Pump Irrigation Project
MANILA, Philippines — The Philippines on Tuesday signed a loan agreement with China to help fund the construction of the Chico River Pump Irrigation Project in Northern Luzon, and a separate accord on economic and technical cooperation.
In a statement on Thursday, the Department of Finance said the loan deal, which was sealed on the sidelines of the four-day Boao Forum for Asia in Hainan, China, is worth $62 million (about P3.135 billion).
The interest rate on the US-dollar denominated loan is 2 percent per annum with a maturity period of 20 years, inclusive of a seven-year grace period, the DOF said.
The agreement, which covers 85 percent of the total contract amount of $73.04 million (approximately P3.689 billion), will be implemented by the National Irrigation Administration.
The project's total cost is $86.57 million (P4.372 billion).
The irrigation project will provide a stable supply of water to around 8,700 hectares of agricultural land, benefit 4,350 farmers and their families, and serve 21 barangays in the provinces of Cagayan and Kalinga in Northern Luzon.
Socioeconomic Planning Secretary Ernesto Pernia earlier admitted that Chinese soft loans, which carry 2-3 percent interest rates "at best," are more expensive than Japanese loans that only have 0.25-0.75 percent rates.
But Pernia pointed out that although higher than Japan's offer, Beijing's interest rate is still "much better" than lending rates imposed by commercial banks.
READ: For friendship's sake: Philippines falling into China's debt-trap? | Pernia sees China-Japan rivalry for Philippine infrastructure push
Aside from the Chico River Irrigation Project, Manila is looking to tap Chinese funding for two other projects:
P10.9-billion New Centennial Water Source-Kaliwa Dam Project
P151.3-billion Philippine National Railway South Commuter Line
Meanwhile, the DOF said the separately signed accord on economic and technical cooperation will provide for a $79 million grant for at least four other projects undertaken by the Philippine government in cooperation with China.
The agreement involves a RMB500 million grant (approximately $79 million or P4.13 billion) to finance the following projects and activities:
The Binondo-Intramuros and Estrella Pantaleon bridges in Metro Manila of the Department of Public Works and Highways (RMB 264.8 million, partial funding)
The feasibility study for the Davao City Expressway Project of DPWH (RMB25.83 million)
The provision of radio and broadcasting equipment to the Presidential Communications Operations Office (RMB17.82 million)
The Philippine-Sino Center for Agricultural Technology-Technical Cooperation Program Phase III of the Department of Agriculture(RMB 27.52 million)
"The total grant for these four projects amounts to RMB335.97 million," the DOF said.
"The remaining amount of RMB164.03 million under the RMB500 million grant will be used to finance other projects," it added.
Despite President Rodrigo Duterte's warm relations with China, the Philippines has a long history of mistrust of it as the two countries continue to spar over the South China Sea.