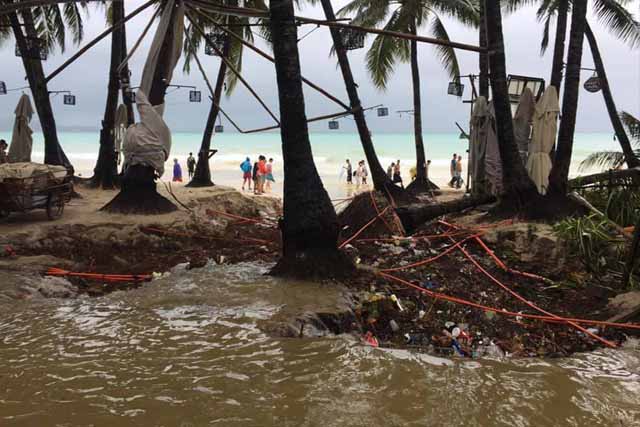 President Rodrigo Duterte threatened to file complaints against officials of the island for "making Boracay a fishpond or a sewer pool." File photo
Duterte's threat to close Boracay 'unjust' — businessmen
MANILA, Philippines — A group of Boracay traders called on the government to shut down business establishments violating laws and local ordinances instead of closing the entire island.
In a statement Monday, Boracay Foundation Inc. welcomed the six-month ultimatum given by President Rodrigo Duterte to fix Boracay.
"Now that Malacañang is keen on fixing Boracay, we are hopeful that Boracay's issues may finally be addressed as agencies and departments concerned will be pressured to urgently fix the island's problem," BFI said.
But it expressed alarm over Duterte's statement that he will shut down the world-famous island over garbage menace, saying the president has been fed with "misinformation and unverified data."
"While indeed there are many violators, most of the island's business establishments are strictly in compliance with prevailing ordinances and regulations. BFI sees it unjust to close the entire island at the expense of the compliant establishments," the group said.
It called on the national government to strictly implement existing environmental laws and local ordinances and close all erring establishments.
"To close the island would be an easy way out and too much to bear for the residents who depend on the island's tourism for their livelihood," BFI said.
It also urged its members to follow the necessary policies to be implemented.
"We can help restore Boracay—but its restoration cannot happen overnight and on its own. We need everyone to set aside their personal interests and together make this happen for the future generations," BFI added.
Duterte on Monday also threatened to file raps against officials of the island for "making Boracay a fishpond or a sewer pool."
The chief executive earlier called Boracay a "cesspool."