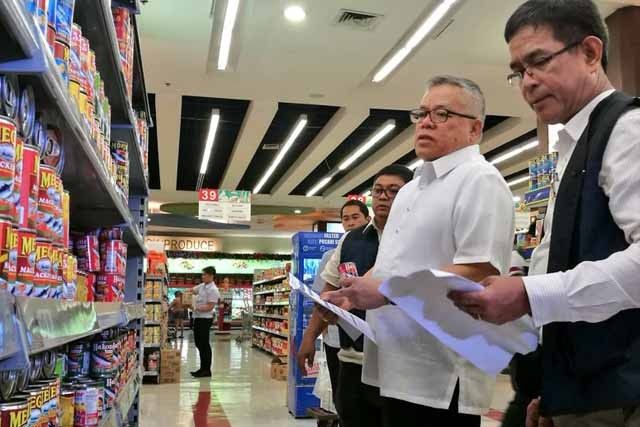 Trade chief Ramon Lopez monitors prices of canned goods in a grocery.
DTI/Twitter
DTI chief: Price hike on basic goods should not take effect yet
MANILA, Philippines — The head of the Department of Trade and Industry on Thursday assured the public that there should be no price movement on basic commodities in effect yet despite the recently approved Tax Reform for Acceleration and Inclusion law.
DTI chief Ramon Lopez said the agency has yet to decide whether to implement the price hike two or three weeks from now or on January 15 or 21 as he cited that distributors of products still have old stocks which are being sold as of the moment.
"Dapat wala pang nag-increase diyan. Kung mayroon na, profiteering na 'yun (There should be no increase yet. If there was, that's already profiteering)," Lopez said in a televised press briefing.
"Dahil kung titignan natin ang laman ng imbentaryo ng distributors usually iyan naglalaro sa three weeks – 'yung iba pa nga one month (Because if we are going to look into it, the inventory of distributors has estimated three weeks to one month worth of stocks)," he added.
Lopez said groceries and stores should continue to follow the suggested retail prices or they would be investigated.
The DTI chief said his agency has formed monitoring teams to check if groceries and supermarkets maintain the old prices to avoid abuse and profiteering.
For the general product categories, Lopez said that once the TRAIN law takes effect, there would only be minimal or no change at all in SRPs or production cost.
"It will only bring minimal effect," Lopez said in Filipino, adding that fuel and sugar-sweetened beverages are the most affected products.
Last December 19, President Rodrigo Duterte signed into law the first package of the tax reform program. The law seeks to generate revenue to fund a multibillion-dollar infrastructure program that is central to the government's economic agenda.
It would also increase the take-home pay for most wage earners. However, the law compensates for the lost revenue through excise taxes on fuel, cars and sugar-sweetened beverages, among others.