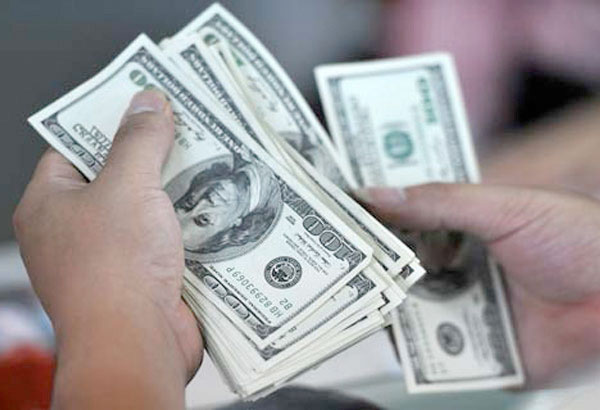 Based on the latest edition of the World Bank's Migration and Development Brief, the Philippines is expected to be the third largest recipient of cash transfers worldwide, standing to absorb $33 billion in remittances this year next to India ($65 billion) and China ($61 billion). File
Remittances seen rising 23% to $33 B this year
(The Philippine Star) - October 4, 2017 - 4:00pm
MANILA, Philippines — The flow of remittances to the Philippines is seen to further grow by 23 percent and eclipse last year's record, making it the third largest remittance volume worldwide this year, the World Bank said in a report.
Based on the latest edition of the World Bank's Migration and Development Brief, the Philippines is expected to be the third largest recipient of cash transfers worldwide, standing to absorb $33 billion in remittances this year next to India ($65 billion) and China ($61 billion).
Higher remittance inflows drive domestic demand, fueling the growth of the economy.
In 2016, remittances from overseas Filipino workers rose five percent to an all-time high $26.9 billion from $25.61 billion in 2015.
Remittances to the Philippines are expected to be stable despite declining inflows from Saudi Arabia, a major Gulf Cooperation Council (GCC) country, World Bank said.
It said the prevailing fiscal tightening and policies discouraging the recruitment of foreign workers in GCC countries are expected to weaken remittance flows to East and South Asia.
Meanwhile, World Bank said remittances to developing countries are expected to rise again this year after two years of decline on stronger recovery in the global economy.
Remittances to developing countries are expected to grow 4.8 percent to $450 billion in 2017 on the back of economic expansion in the European Union, Russian Federation and United States.
Stronger growth in these countries will encourage migrant workers to send more cash back home to Sub-Saharan Africa, Europe and Central Asia, and Latin America and the Caribbean.
Still in line with the recovery in the global economy, remittances to low- and middle-income countries are expected to grow modestly by 3.5 percent in 2018 to $466 billion, World Bank added.