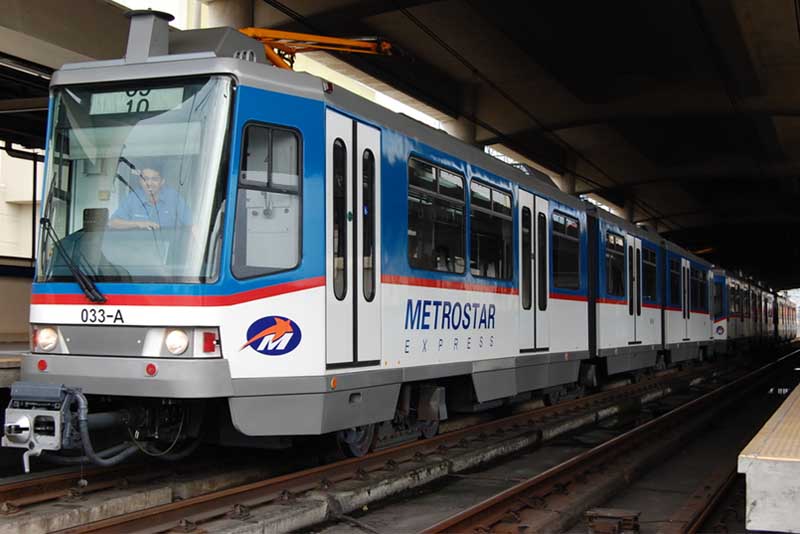 A train of the Metro Rail Transit 3 or MRT-3
MPIC-Ayala eyes MRT-3 takeover in 6 months
MANILA, Philippines — The group of Metro Pacific Investments Corp. (MPIC) and Ayala Corp. hopes to take over the operations of the Metro Rail Transit Line 3 (MRT-3) within six months.
In a press conference, Light Rail Manila Corp. (LRMC) president and chief executive officer Rogelio Singson said the group of MPIC and Ayala Corp. is hopeful it would be granted original proponent status (OPS) for its proposal to rehabilitate, operate and maintain the MRT-3.
"Once you're given OPS, government can go through a Swiss challenge. Whoever wants to offer a similar proposal, there is a period, 90 days or maybe 120 days under existing rules that they have to go through a challenge and hopefully, if there is a challenge and there is a decision, the best proposal comes out by the first quarter of next year. It could be as soon as four to six months that there would be a new operator," Singson said.
He said the group submitted the proposal for the MRT-3 to the government last July 14.
"The unsolicited proposal is the total complete package with contract provisions because we were just lifting the same provisions of the concession agreement under Line 1. In other words, instead of different operator or government as operator of MRT-3 and a different maintenance provider, our offer is lock, stock and barrel. We'll take over just like Line 1. We will operate and maintain," Singson said.
Under the proposal, the group would invest P12 billion to rehabilitate the train system, and be responsible for the operations of the train system for up to 32 years.
There would also be no increase in fares for at least two years.
Singson said the proposal also covers how to resolve issues hounding the MRT-3 including the buy out of the government's stake in the train system held by Land Bank of the Philippines and Development Bank of the Philippines, as well as other shareholders.
Should the group be awarded the concession for the MRT-3, Singson said the rehabilitation, operations and maintenance would be pursued through a separate special purpose vehicle (SPV) with likely the same ownership as LRMC.
LRMC, which operates the LRT-1 and is responsible for the extension of the train system all the way to Cavite, is composed of MPIC's Metro Pacific Light Rail Corp., Ayala Corp.'s AC Infrastructure Holdings Corp., and Macquarie Infrastructure Holdings (Philippines) PTE Ltd.
MPIC chairman Manuel V. Pangilinan has said it is necessary to give attention to the MRT-3 as the train system has been going through a series of breakdowns in the past years.
"We all know the MRT-3 has had quite a number of issues for the past many years so, we want to resolve those issues for the benefit of commuters. I am sure the government shares that objective as well," he said.