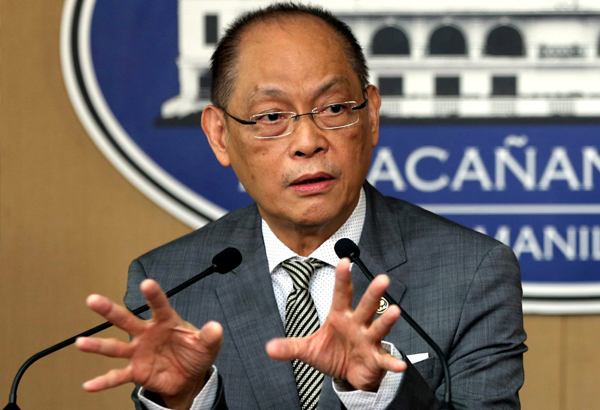 In an interview, Budget Secretary Benjamin Diokno said the DBM and the Department of Finance (DOF) are studying the introduction of amendments in the procurement process by requiring contractors to deliver 50 percent of their projects before they get paid by the government. Krizjohn Rosales/File
Government mulls new rules on procurement
MANILA, Philippines - The government is mulling changes in the procurement process, particularly in the payment of contractors, to weed out unqualified bidders and ensure that projects are swiftly implemented, the Department of Budget and Management (DBM) said.
In an interview, Budget Secretary Benjamin Diokno said the DBM and the Department of Finance (DOF) are studying the introduction of amendments in the procurement process by requiring contractors to deliver 50 percent of their projects before they get paid by the government.
"Right now, me and Sonny (Finance Secretary Carlos Dominguez) are thinking of a new rule where we will give contractors their first release after completing 50 percent of the project. Show us that you can really do it," Diokno said.
Diokno said the implementation of the proposed rule would discourage unqualified bidders from participating in government projects.
"Sometimes, a company will bid and 'dive.' It becomes the lowest bidder so it wins. It will only get the mobilization fee, which is 15 percent. For example, if you have a P100 million project, a company dives and wins. It will get the P15 million, then it will just disappear," Diokno said.
Under the amended Republic Act 9184 or the Government Procurement Reform Act, agencies are allowed to make advance payments of up to 15 percent of the contract, including the procurement of goods, provided that the transactions are secured by an irrevocable letter of credit or bank guarantee.
Diokno said the proposed 50 percent rule would also fasttrack the implementation of projects.
However, Diokno said this new rule would not be immediately applied to all government projects, yet.
Earlier, Dominguez said he is considering the revision of rules in the procurement process to ensure contractors accomplish projects swiftly and efficiently.
"We are changing our rule now in our department. We are saying, 'we do not pay you until you finish 50 percent of the work.' So you have to finance it, and if you fall behind, we'll just take your performance bond," Dominguez said.