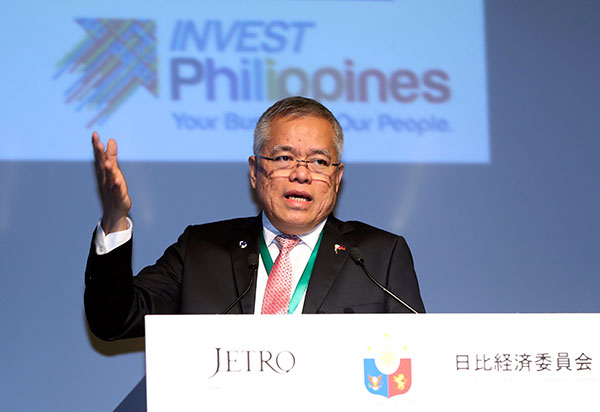 From the current range of six to 20 percent tariff, travel goods which include handbags, luggage, wallets and backpacks will now enter the US market duty-free, according to Trade Secretary Ramon Lopez. AP/Eugene Hoshiko, File
US expands Phl GSP privilege
(The Philippine Star) - June 30, 2017 - 4:00pm
MANILA, Philippines - The US has approved the Philippines' application to expand its current General System of Preferences (GSP) coverage to include travel goods.
From the current range of six to 20 percent tariff, travel goods which include handbags, luggage, wallets and backpacks will now enter the US market duty-free, according to Trade Secretary Ramon Lopez.
Lopez, who welcomed yesterday the approval of the Office of the United States Trade Representative (USTR) to include Philippine travel goods in their new and expanded GSP scheme, said the duty-free privilege takes effect today.
"All US GSP beneficiary developing countries will enjoy duty-free treatment for a number of their travel goods exports to the US. The new GSP program added 23 tariff lines, allowing travel goods such as apparel, bags, wallets and backpacks, luggage, and sport and travel bags made in the Philippines to enter the US market duty-free," he said.
"This expansion will boost the local manufacturing industry and eventually provide more employment opportunities for Filipinos, creating 70,000 new jobs and increasing our GDP to 0.5 percent," Lopez said.
The duty-free treatment is also seen to increase Philippine travel goods exports to the US by $100 million annually for the first five years.
According to the US International Trade Center, the US imported an estimated total of $232 million from the 23 tariff lines of travel goods from the Philippines in 2016, making the country the fifth largest import source of travel goods in the US.
The country has been pushing since last year for the GSP inclusion of travel goods, with Lopez consistently taking up the matter with counterparts from the USTR.
Lopez looks forward to this positive development as a much needed push for expanding employment opportunities and improving countryside development.
He said the GSP expansion would also help contribute to the Duterte administration's thrust of pursuing inclusive and sustainable growth thru job generation and entrepreneurship.
"The inclusion of travel goods into GSP will certainly provide benefits to our exporters, particularly micro, small, and medium enterprises and export-oriented agri-businesses utilizing banana and other vegetable fibers and community based industries in the various regions of the country," Trade Undersecretary Ceferino Rodolfo said separately.?
For her part, Trade Undersecretary Nora Terrado said maximizing market access opportunities from preferential agreements and arrangements such as GSPs and free-trade agreements are an important pillar of the Philippine export strategy.
The US GSP seeks to promote economic growth and development in developing countries through preferential and duty-free entry to the US market of products from 122 designated beneficiary countries and territories, including the Philippines.?
In 2016, the US was the Philippines' third major trading partner, the second biggest export market, and third top import supplier, the DTI said.
A number of US companies are currently manufacturing travel goods in the Philippines, including Coach, Tory Burch, and Michael Kors.