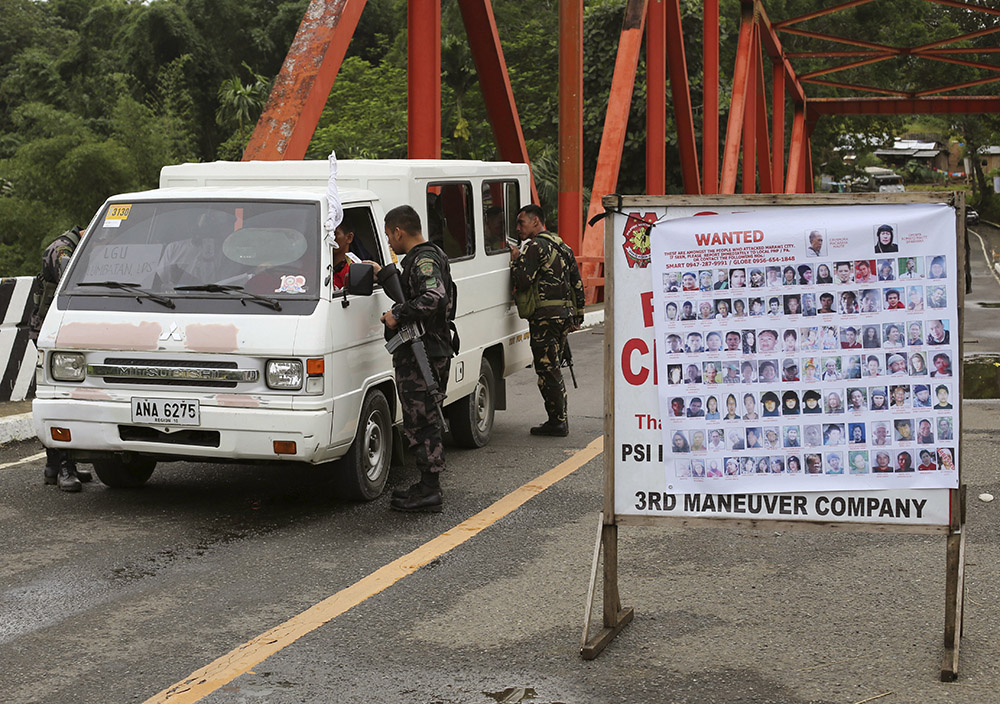 Philippine troopers man a checkpoint on the outskirts of Marawi city, southern Philippines Thursday, June 8, 2017. Fighting in Marawi between government forces and Muslim militants, led by the so-called "Maute" group, is now on its third week with casualties on both sides and civilians rising close to 200 and displacing tens of thousands of residents. AP/Aaron Favila, File photo
Supplemental budget eyed for Marawi rehab
MANILA, Philippines (Updated 2:28 p.m.) — The government is not ruling out asking Congress for a supplemental budget for rehabilitation and reconstruction of areas affected by the fighting in Mindanao, the Department of Budget and Management said on Tuesday.
"I think we will try to get that budget for rehabilitation as soon as we can, even now for 2017, even if we have to go to Congress," Budget Undersecretary Laura Pascua said in a text message.
For now however, Pascua said DBM is yet to receive estimates of damage as a result of the fighting particularly in Marawi City where government troops are running after terrorist group Maute.
A supplemental budget means the government will be asking the legislature for a new authorization to spend for a particular program since the attack in Marawi and consequent rehabilitation was not included in the 2017 budget.

But Davao City Karlo Nograles, chair of the House appropriations committee, said there should be enough funds in the 2017 budget to cover "urgent needs" for relief operations.
This, DBM data showed, included lump sum funds in the national outlay such as the calamity and contingent funds.
"I am sure we can fund available funds in the 2017 budget for the immediate needs of the people of Marawi," Nograles said in a text message.
"(But) the bulk of the expenditures needed to restoring Marawi can be done in the 2018 budget," he added.
President Rodrigo Duterte is reportedly about to sign an executive order that will allot P10 billion for rehabilitation of Marawi City and other areas in Mindanao.
It was not immediately clear where funds will be sourced, but the calamity fund, which has a P15.75-billion allocation under this year's budget, may be one of them.
As of May, DBM data showed P10.14 billion of that fund is yet to be released.
Contingent fund worth P5.5 billion, which is subject to president's approval, may also be tapped. Only 3.6 percent or P199.1 million of that had been released for the first five months.
In addition, local governments in Mindanao have also pledged to assist on rehabilitation.
Budget releases do not mean they are actually spent. It only meant agencies that have them may already enter into contracts and then, spend it by paying for those.
The Duterte administration is scheduled to submit to Congress its P3.7-trillion budget proposal for next year next month.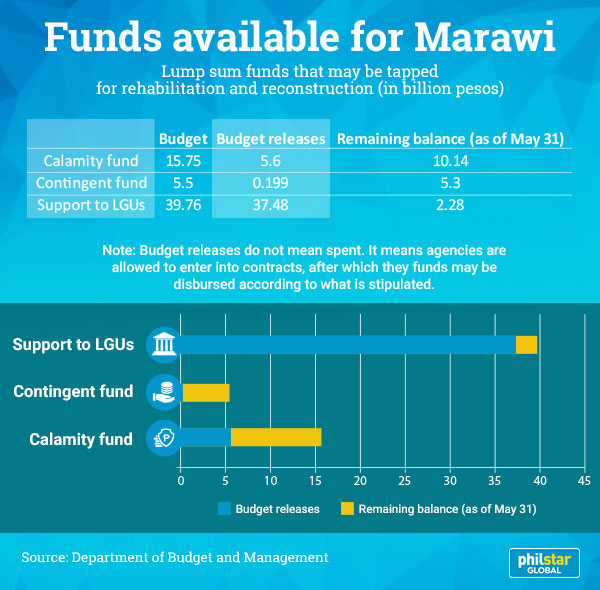 "I will ensure that the necessary funding for Marawi rehabilitation and reconstruction is included in the 2018 budget," Nograles said.
Since May 22, a total of 58 police and armed forces, 138 terrorists and 21 civilians dead. Estimates in damage and economic losses are yet to be released.
Martial law will be in effect until July 23, unless the Supreme Court, hearing petitions against it on Tuesday, nullifies it. Congressional leaders have already expressed support to the declaration.
The last big rehabilitation program by the government lasted for four years and covered areas devastated by typhoon Yolanda in November 2013.
It had a total budget of P149.82 billion but was criticized for delays and dealt a blow to the political capital of the previous administration.
Party-list rep files bill for extra rehabilitation funds
Kabayan Party-list Rep. Harry Roque, deputy minority leader, filed a bill on Tuesday proposing a P10-billion supplemental budget for the rehabilitation of Marawi City.
The bill appropriates extra funds for the Defense, Education, Education, Public Works and Social Welfare departments as well as the National Housing Authority for humanitarian assistance and for the rehabilitation of infrastructure.
The agencies will get P2 billion each from the proposed supplemental budget.
"While many efforts have been successful in properly evacuating innocent civilians from the zone of conflict, the government must plan and appropriate funds towards the rehabilitation of Marawi City and the restoration of peace and order within the area," Roque said in his explanatory note.