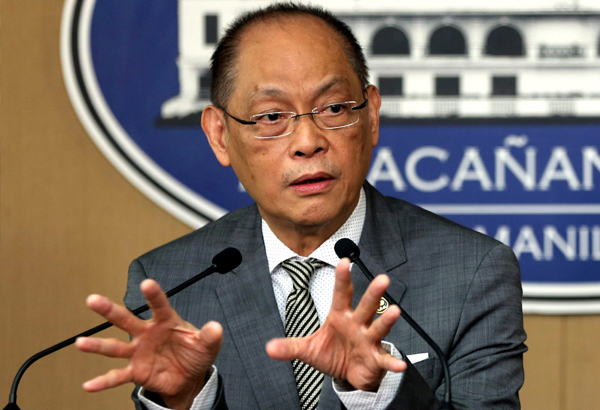 During the BusinessWorld Economic Forum in Taguig City, Budget Secretary Benjamin Diokno said he has been considering the issuance of an "infrastructure bond" to encourage OFWs to invest their money. Krizjohn Rosales/File
Government mulls dollar bonds for OFWs
MANILA, Philippines - The government may offer dollar-denominated bonds to overseas Filipino workers (OFWs) to raise funds for its massive infrastructure program, Budget Secretary Benjamin Diokno said yesterday.
During the BusinessWorld Economic Forum in Taguig City, Diokno said he has been considering the issuance of an "infrastructure bond" to encourage OFWs to invest their money.
"I have been thinking about that for a long time. We want to give the OFWs the option for them to invest. They are being criticized for not investing, so why not invest in small dollar-denominated bonds?" Diokno told reporters on the sidelines of the forum.
Diokno said such instrument would give OFWs an opportunity to build their wealth to secure their family's future, while at the same time enable them to contribute further to the country's development.
According to Diokno, the instrument is envisioned to be similar to the retail treasury bonds (RTB) occasionally offered by the Bureau of the Treasury (BTr).
Last month, the Treasury raised P181 billion from the sale of three-year fixed rate RTBs to the investing public. The bonds had a minimum denomination of P5,000.
"It's risk-free because it's a government bond. Give them a little premium rather than have them exchange the money (to peso) at whatever...exchange rate," he said.
As for infrastructure bonds with larger denominations and longer tenors, Diokno said they are also considering such financial instrument amid the strong investor confidence in the Philippines.
"We floated recently 20-year bonds. That means investors are really confident that the economy will remain strong 20 years from now," Diokno said.
The government borrows both from the local and foreign sources to plug its budget deficit.
This year the government is programmed to borrow P631.29 billion, lower than last year's borrowing program by 9.22 percent.
The bulk of credit will be peso-denominated and raised through T-bonds and T-bills at P505.03 billion.