Philippines and Japan: A new era of friendship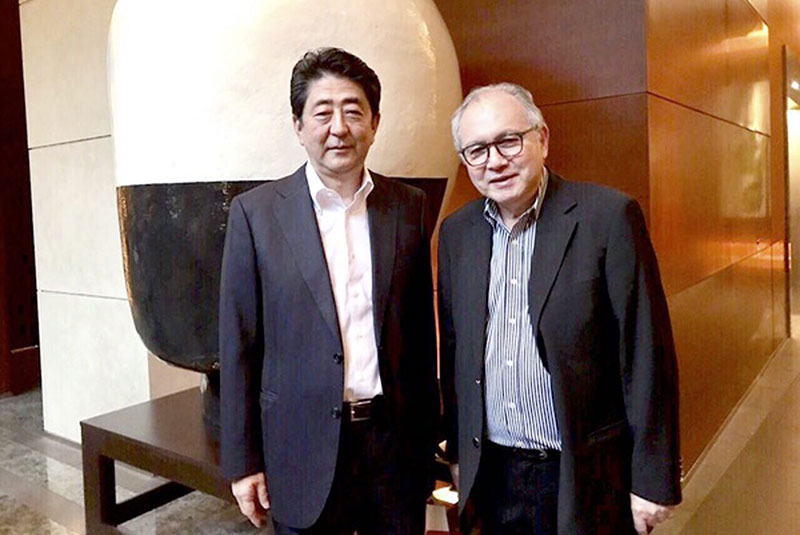 Tokyo – The joint maritime drills between members of the Philippine Coast Guard and the Japanese Coast Guard underscores the strengthening relations between the two countries. In the past few years, Japan has been increasing its role in the Asia-Pacific region, and this was evident when a couple of years ago, it set a record $42 billion budget for defense, boosted by the approval of legislation that enabled Japan's military to take on a more significant role. The prime mover in amending Japan's pacifist constitution is of course no less than Japanese Prime Minister Shinzo Abe who I met at the Grand Hyatt hotel (shown in photo).
In fact, at the state dinner hosted by Prime Minister Abe at the Akasaka Palace for then-president Noynoy Aquino in June 2015, I met the head of the Japanese Maritime Self Defense Force, Rear Admiral Hisanori Sato, who confirmed to me that Japan was indeed getting ready to play a bigger and more active role, with the alliance between the Philippines and Japan a very significant development.
Rear Admiral Sato actually led the Japanese forces that helped us during the onslaught of Typhoon Yolanda, bringing with him security personnel from the Japanese Army, Navy and Air Force to help transport evacuees to Manila. A humanitarian team composed of doctors and nurses with mobile medical facilities also provided medical help to the victims.
The fact is, everything seems to be coming full circle seven decades after the Second World War, with the erstwhile enemy nations cooperating in many aspects including the economic and security fronts. During President Duterte's state visit to Japan in October last year, Japan and the Philippines came out with a joint statement regarding the need to promote regional peace and stability, and acknowledged the importance of their network of friendship and alliances.
Aside from boosting Coast Guard capabilities to fight sea pirates and robbers particularly in the southern part of the Philippines, the joint drills – with the second one to be held early June with Davao as the base – aims to improve the speed of response and the level of coordination between Japanese and Philippine Coast Guards during pirate attacks.
Analysts say that Japan's "cutter diplomacy" – that is, providing coast guard cutters to key nations that include the Philippines – seems to be effective in bolstering cooperation with nations facing concerns regarding China's maritime activities in the South China Sea. Japan has committed 10 multirole vessels to enhance Philippine Coast Guard patrol capabilities, with the third vessel having been formally commissioned last March. The new vessel christened "BRP Malapascua" – which has a cruising speed of 46 kilometers per hour and a 2,760-kilometer range – is equipped with fire monitors, night vision camera, radio direction finder, and a bulletproof navigational bridge. Just like the two other vessels that have been previously commissioned, the BRP Malapascua was obtained through an official development assistance (ODA) loan from Japan.
Japan through Prime Minister Abe has been investing a lot more in terms of defense initiatives with Southeast Asian nations, and maritime security is a priority for obvious reasons. At the recent ASEAN-Japan Defense Ministers' Informal Meeting, Japanese Defense Minister Tomomi Inada talked about the "Vientiane Vision" – a comprehensive guide outlining Japan's initiative to advance defense cooperation with ASEAN nations through cooperation and assistance, largely anchored on the promotion of the rule of law and the strengthening of maritime security.
To this end, the Japanese Coast Guard is planning to establish a new organization dedicated to maritime security initiatives with ASEAN members, with trainings and international forums to be conducted to exchange knowledge on how to maintain rules-based maritime order, among many others.
* * *
Abaya should answer for MRT woes
By November this year, Japan and the Philippines will be formally signing the agreement for the Mega Manila Subway Project – a P227-billion, 25-kilometer underground railway project that will be funded by the Japanese government through ODA (official development assistance). This mega project can serve a maximum of 370,000 passengers on a daily basis with 13 stations covering Quezon City to Taguig.
Although the target completion of 2024 is still several years away, long-suffering MRT commuters are looking forward to the project, saying they are convinced it will not be hounded by controversies and scandals that the MRT-3 is facing.
Many are hoping that the Senate committee headed by Senator Grace Poe will be able to get to the bottom of the MRT mess, with the trains continuing to malfunction. Worse, the new trains purchased from Dalian, China are allegedly unusable because they do not have the necessary parts that can only be purchased from South Korea.
It was actually during Jun Abaya's term as Transportation secretary that the P3.8-billion China trains were purchased – driving memes and comments on social media that the trains were bought "ma-Dalian" to line somebody's pockets. Irate commuters who say they endure hell almost everyday because of the malfunctioning MRT trains want Abaya to be made accountable for their continued suffering.
* * *
Email: spybits08@gmail.com