EDITORYAL - Ang 40, mga numero lang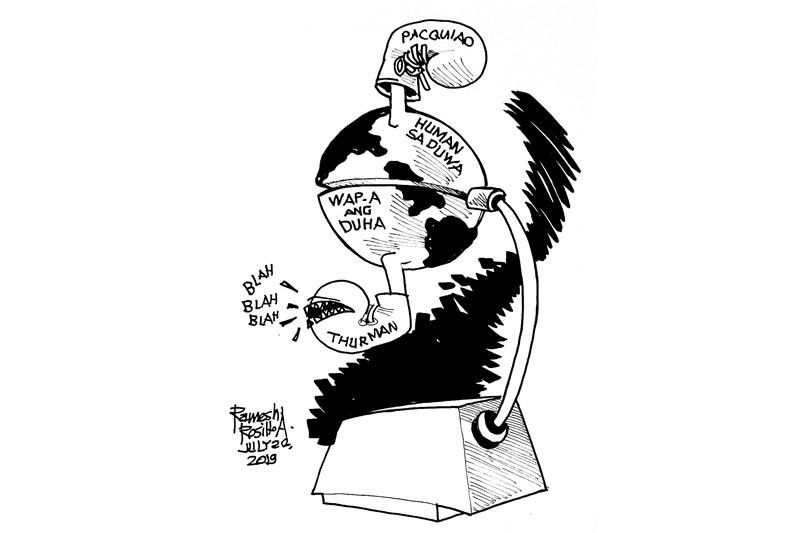 Ang 40 giisip nga numero lamang. Mao kini ang pagtan-aw ni Senador Manny Pacquiao sa iyang edad. Ug iyaha kining gipamatud-an ibabaw sa ring sa MGM Grand sa Las Vegas kagahapon dihang iyang gipildi ang mas batan-ong si Keith Thurman.
Si Pacquiao gibiay-biayan og maayo ni Thurman sa dihang naghinangat pa ang ilang sangka. Hasta ang inosenteng dinosaur nga milyones nga katuigan ng nahanaw sa kalibutan naamong pa sa paghulagway ni Thurman sa mga kamot ni Pacquiao.
Miabot pa sa puntong namahad si Thurman nga iyang paretiruhon sa pamoksing si Pacquiao. Matud pa niya nga mag-enjoy gyud siya sa maong away tungod kay mangulata siya og Senador sa Pilipinas.
Daghan ang miingon nga kabahin lang kadto sa promosyon sa ilang away aron mahalin ug daghan ang manan-aw, apan dili ikalimod nga dili gyud tinuod babag ang edad ni Pacquiao atol sa ilang sangka kagahapon.
Imbes nga makakuha og bentaha sa iyang pagbiay-biay ug pagbugalbugal kang Pacquiao nisumbalik hinuon kini kay murag gipukaw niya ang gaduka na nga kabangis sa Pambansang Kamao. Ang Amerikanong si Thurman wala pay pilde sukad, si Pacquiao maoy nakapatilaw kaniya og unang kapildihan bisan pa man sa iyang paninguha.
Giingon nga mas daghan siya og napatugpang kumo ug power shots itandi kang Pacquiao. Kang Thurman 192 sa 433 power blows (43.3%) samtang kang Pacquiao 113 lang sa 340 power blows niini (33.2%). It was the most landed on Pacquiao in 43 of his fights tracked by CompuBox.
Mao kadto ang pinakadaghang power blows nga nitugpa kang Pacquiao sud sa 43 ka sangka niini nga gigamitan og Compubox.
Apan sa kinatibuk-an sa duwa mas nakita ug nakombinsir ang mga judges kang Pacquiao gikan palang sa unang round hangtud sa kataposan.
Hinuon dili kadto angay ikauwaw ni Thurman, tungod kay ang natunol kaniya sa iyang labing unang kapildihan mao ang nag-inusarang eight-division world champion sa kalibotan sa boksing.