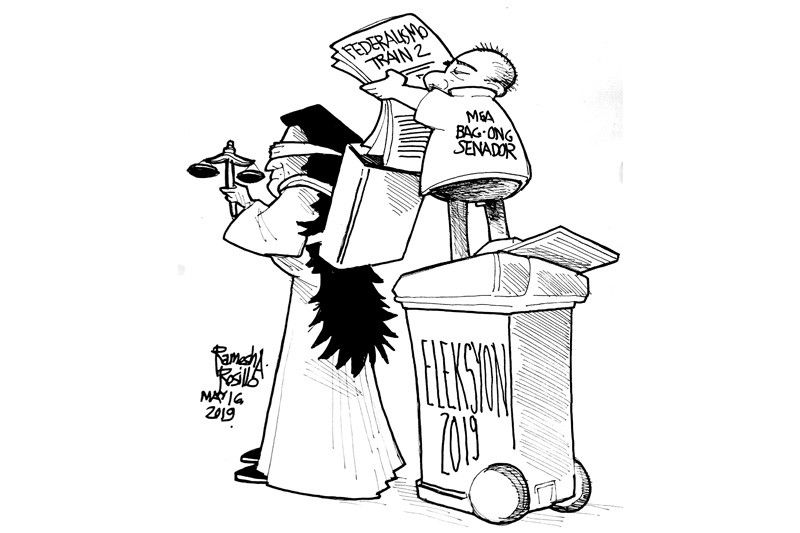 EDITORYAL - Pagsalig sa publiko
(Banat) - May 16, 2019 - 12:00am
Mahinungdanon kaayo ang kagawasan sa mga magbabalaod sa pagpanday og mga balaud ug mga patakaran alang sa mas maayong serbisyo publiko.
Subay sa Konstitusyon, ang Senado ug Ubos-Balay Balauranan gikinahanglang gawasnon sa impluwensya sa executive department. Mao usab kini ang konseho sa local government unit dili basta makabuot-buot ang mga mayor kun way pagtugot sa konseho ang iyang mga pagabuhaton.
Sa lokal nga piniliay aduna nay mga nakadaog samtang ang sa national level padayon pa ang pag-ihap sa nahibiling singko porsiyento sa mga botos. Gipaabot nga karong adlawa mahuman na ang tanan sa pag-ihap ug may maproklamar nang mga bag-ong senador. Sa dagan karon sa canvassing daghan sa mga kaalyado ni Presidente Duterte ang nag-una sa Magic 12. Gipaabot nga kining iyang mga kandidato mangusog sa iyang mga balaudnon nga gipaboran nga hangtud karon wala pa mapasar sa Senado. Nag-una niini kining Charter Change ug Federalism; Security of Tenure bill o ang balaudnon kontra kontraktuwalisasyon; National Land Use Act; Department of Disaster Management ug ang gikabalak-ang TRAIN 2.
Kining mga balaudnon nakapasar nang tanan sa Ubos Balay-Balauranan samtang ang mga bersyon niini sa Senado naabtan sa recess tungod sa eleksyon ang deliberasyon maong wala na matuki pa.
Sugod karong Hulyo, gipaabot nga matagsatagsa na kini pagtuki ug kining mga bag-ong senador ilabi na ang mga kaalyado sa presidente gipaabot nga mosuporta gyud niini. Unta dili tungod lang kay kaalyado sila sa pangulo ug gusto gyud sa naulahi nga mapasar kining tanan sa labing daling panahon, timbang-timbangon sab unta nila ang mga negatibong epekto niini sa nasud.
Hinuon sa Magic 12 dunay pipila kanila nga wala masakop sa partido sa presidente ug gipaabot nga pareho gihapon ang ilang buhaton nga labok ini og balik sa sesyon.
Dili unta kalimtan sa mga molingkod unya nga mga senador nga ang panerbisyo publiko nagkahulogan og pagsalig sa publiko. Kadto ra gyung makaayo sa kinabag-an ang angay nilang suportahan.