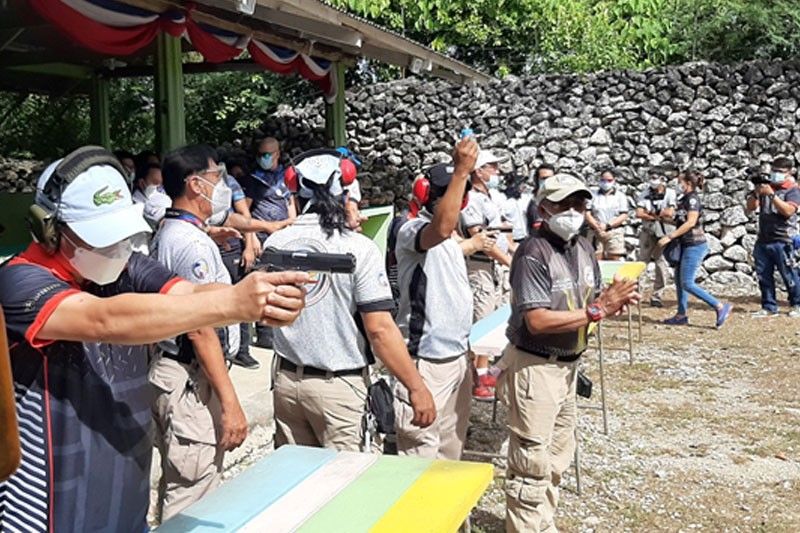 Ang gilusad nga shoot-for-a-cause sa CFBJ uban sa PNP alang sa pagtabang sa mga sakop sa media panahon sa emerhensya. Ang kalihukan gitambongan ni Mayor Junard Ahong Chan, PRO-7 Director Albert Ignatius Ferro, City Police Director Arnel Banzon.
Hulagway kuha ni Joy Torrejos
Shoot-for-a-cause himoon sa CFBJ uban ang kapolisan
CEBU, Philippines — Aron matabangan ang mga sakop sa media panahon sa emerhensiya, ang Cebu Federation of Beat Journalists (CFBJ) mopahigayon og shoot-for-a-cause uban ang Philippine National Police (PNP).
Ang ceremonial opening gipahigayon kagahapong adlawa didto sa Wonderland Shooting Range sa barangay Agus sa syudad sa Lapu-Lapu
Ang CFBJ gilangkoban kini og sobra usa ka gatos ka mga membro sa lehitimo nga media practioner sa Sugbo. Ang maong kalihokan alang ni sa emergency ug health program sa organisasyon.
"Ang tumong ug tuyo nako mao ang mahatagan sila og pagtagad hilabina nga daghan ang reporters sa Cebu nga kulang ang ilahang panudlanan hilabina sa panahon nga sila manginahanglan sa medikal nga aspeto. Ako nakita nga kinahanglan sila tabangan, nakita namo nga kami sa media maayo lang mi motabang sa ubang mga tawo apan kami angayan pud nga tabanganan" matud ni Arnold Bustamante ang Presidente CFBJ. Nagpasalamat usab si Bustamante ngadto kang Brigadier General Ignatius Ferro nga wala mag duha duha sa pag suporta sa organisasyon.
Si Ferro mao ni ang nangulo sa opening sa shoot-for-a-cause program kagahapong adlawa uban ni Lapu-Lapu City Mayor Junard "Ahong" Chan kinsa nagkanayon nga dako nga garbo alang kaniya nga mahimong tipik sa usa ka talagsaong paagi sa fund raising.
Gidayeg ni Ferro ang mga sakop sa media sa Sugbo."Never in my career that I have seen a very decent, professional journalist group of people. I'm really proud that journalists here in Cebu are very very professional and they have practice the highest form of ethics" matod ni Ferro.
Ang aktwal nga shoot-for-a-cause ipahigayon karong Disyembre 18-20, 2020. —MEL (BANATNEWS)