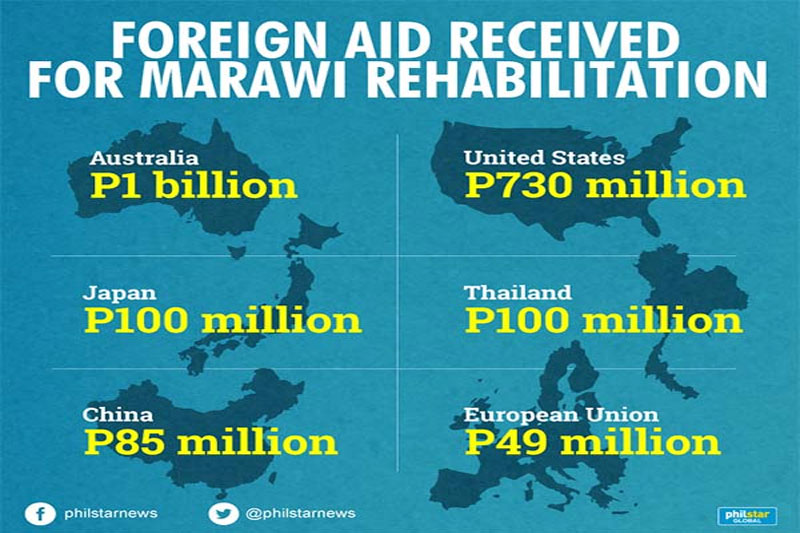 (Banat) - October 17, 2017 - 4:00pm
CEBU, Philippines — Human sa pagkapatay sa Maute top leader nga si Omarkhayam Maute ug Abu Sayyaf leader Isnilon Hapilon nga gitudlong emir sa Islamic State dinhi sa Southeast Asia mideklarar si Pres. Rodrigo Duterte kagahapon nga nakalingkawas na sa krisis ang Marawi City.
Apan gipahibalo sa tigpamaba sa AFP Brig. Gen. Restituto Padilla nga padayunon gihapon nila ang operasyon sa nahibiling mga sakop sa duha apil na ang gidudahang mga foreign fighters ug nahibiling mga hostages.
"In the small pockets where battle is ongoing, it will continue until the last element is dealt with. But the terrorists no longer have the complete control that they used to have in this particular area," si Padilla miingon sa interview kaniya sa ANC.
Hinuon matud pa nga nabantayan nga dili na kaparehas kaagresibo ug kamarunong ang nahibiling mga terorista dihang nawala ang ilang mga lider. Apil sa ilang gipangita ang matud pa unom ngadto sa walo ka foreign fighters kauban ang Malaysian financier nga si Mahmud Ahmad nga giingong maoy nag-recruit sa mga foreign fighters aron atakihon ang Marawi City niadtong Mayo 23.
"Dr. Mahmud is an academic; he's not a fighter. His experience in fighting is not as extensive as Hapilon or the Maute brothers and his ability to lead the fight is not there. Hence, we don't see this as a problem," pasalig pa ni Padilla. Si Marawi City Mayor Usman Gandamra nalipay sa deklarasyon sa presidente ug makasugod na pagbarog ang ilang siyudad masaligon kini nga bisan pa sa nahibiling mga terorista di na sila makaapektar sa rehabilitasyon.
Samtang nagabot-abot na usab ang mga foreign aid gikan sa nagkadaiyang mga nasud apil niini ang mga nasud ug kahugpongan nga kaniadto gilabtikan ni Duterte tungod sa pagsaway sa iyang war on drugs nga daghang nangamatay.
Apan bisan og na-liberate na ang Marawi City, gidid-an pa gihapon ang mga residente nga makabalik sa ilang mga lugar hangtud nga di hingpit ma-clear gikan sa peligro ang siyudad.
Gikatahong kinahanglan og P100 Bilyones hangtud P150 Bilyones ang kinahanglan aron makabarog pagbalik ang Marawi City.
Sa pagkakaron, giingong adunay gisaad nga P2 bilyones alang sa Marawi gikan sa Australia, Amerika, Japan, Thailand, China ug European Union.
Sumala pa sa AFP adunay 824 terorista ang napatay, 827 ka armas ang nasakmit, 1,771 hostages na-rescue, samtang 162 ka sundalo ug polis ang namatay ug usa ka libo ang naangol. Sunod nga target sa militar mao ang Abu Sayyaf, New People's Army ug ang Bangsamoro Islamic Freedom Fighters (BIFF). Si Abra Rep. Joseph Sto. Niño Bernos, vice chairperson of the House Committee on Public Order and Safety misugyot nga angay adto ihatag sa sundalong nakapatay kanila ni Isnilon Hapilon ug Omar Maute ihatag ang reward.
Ang gobiyerno sa US adunay patong nga $5 million sa ulo ni Hapilon samtang ang gobiyerno sa Pilipinas adunay P10 milyones nga patong sa iyang ulo ug P5 milyones kang Omar. Gikan sa Wires (BANAT NEWS)