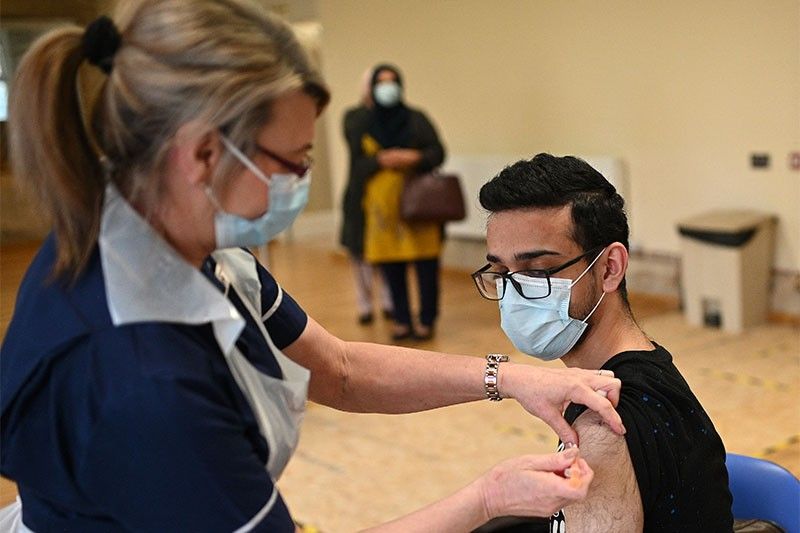 Nurse Maggie Clark administers a dose of the AstraZeneca/Oxford Covid-19 vaccine to a patient at a vaccination centre set up at the Fiveways Islamic Centre and Mosque in Nottingham, central England, on February 22, 2021. Coronavirus vaccines do not contain pork or make you infertile: a celebrity advertising pitch is striving to counter a worrying lag among certain ethnic minorities affecting Britain's otherwise impressive inoculation campaign.
AFP/Oli Scarff
Over 20 million get first dose of COVID-19 vaccine in UK
(Agence France-Presse) - March 1, 2021 - 9:19am
LONDON, United Kingdom — Britain announced Sunday that it has given more than 20 million people at least one dose of a coronavirus vaccine, with the rapid rollout providing hope in a country with Europe's highest death toll.
Prime Minister Boris Johnson called it "a huge national achievement" while praising National Health Service staff and others involved for "tireless work".
Health Secretary Matt Hancock made the announcement in a video message on Twitter, saying: "I'm absolutely delighted that over 20 million people have now been vaccinated."
A total of 20,089,551 people have received a first dose, according to government figures released Sunday.
But dampening the good news was the detection of a coronavirus strain that emerged in Brazil, which is feared to be more contagious and more resistant to vaccines.
In mid-February, the UK met a government target of 15 million of the most vulnerable people receiving first doses.
The government says it plans to offer a first jab to the whole adult population by the end of July.
Only Israel and the United Arab Emirates have vaccinated more people per head of population.
Smiling, Hancock said "I want to thank every single person who has come forward to get the jab," calling this "the route out of this for all of us."
"There's a long way to go but we're making big strides," he said.
The UK's vaccination programme has rolled out fast since its start in early December, when it became the first country in the world to begin mass inoculation with a fully trialled vaccine.
Earlier failures in contact tracing and controlling the spread of infection saw cases soar in the UK and the country's death toll of 122,705 is the highest in Europe.
The country is still under national lockdown but daily cases, hospitalisations and deaths have all fallen dramatically since late January, despite the emergence of a more infectious variant in the country.
Another variant that emerged in Manaus, northern Brazil, has been detected in six people in the UK, one of whom could not be located due to incomplete contact information, health authorities said on Sunday.
There were 6,035 new daily cases reported Sunday and 144 deaths, the lowest figures since early autumn.
On Thursday, Britain lowered the country's virus alert level down one notch from the highest possible, saying the fall in cases had reduced the threat to the state-run National Health Service.
As It Happens
LATEST UPDATE: April 16, 2021 - 5:21pm
Pharma giants Sanofi and GSK said on July 29, 2020, that they have agreed to supply Britain with up to 60 million doses of a potential COVID-19 vaccine. The agreement covers a vaccine candidate developed by France's Sanofi in partnership with the UK's GSK and is subject to a "final contract."
This thread collects some of the major developments in the search for a vaccine to ease the new coronavirus pandemic. (Main photo by AFP/Joel Saget)
April 16, 2021 - 5:21pm
The European Union is very unlikely to renew its COVID-19 vaccine contracts with pharmaceutical company AstraZeneca, a French minister says.
Denmark this week banned the use of AstraZeneca jabs over blood clot concerns, just as the EU said it was expecting 50 million Pfizer vaccine doses earlier than expected.
No final EU decision had been taken, French Industry Minister Agnes Pannier-Runacher tells RMC radio, but "it is highly probable" that no further AstraZeneca doses would be ordered. — AFP
April 16, 2021 - 1:03pm
The head of Pfizer says in an interview that people will "likely" need a third dose of his company's COVID-19 shot within six to 12 months of vaccination, while elsewhere defending the relatively higher cost of the jab.
CEO Albert Bourla also says annual vaccinations against the coronavirus may well be required.
"We need to see what would be the sequence, and for how often we need to do that, that remains to be seen," Bourla tells CNBC in an interview. — AFP
April 15, 2021 - 8:36am
A pause on all US vaccinations with the Johnson & Johnson Covid shot will continue for at least another week after members of a government-convened expert panel said Wednesday they needed more time to assess its possible links to a clotting disorder.
The Centers for Disease Control and Prevention (CDC) convened a meeting a day after authorities reported six cases of women developing brain clots along with low blood platelet counts, including one death, within two weeks of people getting the one-dose Covid-19 vaccine.
The shot has been given to some 7.2 million Americans, and participants at the meeting were told on Wednesday a seventh case involving a 28-year-old woman has been identified. — AFP
April 14, 2021 - 6:46pm
Russian President Vladimir Putin said Wednesday he has received the second dose of a vaccine against the coronavirus and said he hopes Russians follow his example.
"I want to inform you that right now, before entering this room, I also received the second vaccination," he said at a televised meeting. "I assume that you, taking care of yourself and your loved ones, will do the same and follow my example." — AFP
April 13, 2021 - 2:51pm
A leading local drugmaker says India has authorized the Sputnik V COVID-19 vaccine in a boost for the nation's inoculation drive as infection rates soar to record highs.
Russia's Sputnik V is the third vaccine to be approved by India after the Oxford-AstraZeneca vaccine and Covaxin, which was developed by Indian firm Bharat Biotech.
"We are very pleased to obtain the emergency use authorisation for Sputnik V in India," says G.V. Prasad, co-chair of pharmaceutical company Dr Reddy's Laboratories, in a statement. — AFP