Serbia-Kosovo tensions: Serbs block road, walk out of gov't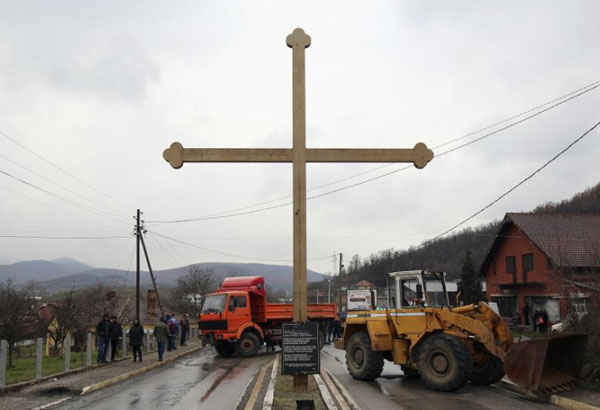 BELGRADE — Kosovo Serbs set up a roadblock in northern Kosovo and their representatives walked out of Kosovo's government yesterday a day after the arrest and expulsion of a senior Serbian government official that has refueled tensions between the Balkan foes.

European Union foreign policy chief Federica Mogherini was making an urgent trip to Belgrade for talks with Serbia's president in a bid to prevent a full-blown crisis from erupting. Mogherini earlier had called for restraint from both sides.

Meanwhile, the Russian Foreign Ministry issued a strongly-worded statement, denouncing the EU and the US of wanting "to crudely suppress" attempts by Kosovo Serbs to "safeguard their legitimate interests."

"It is nakedly clear that the Kosovars (Kosovo Albanians) follow the advice of their US and European patrons, who trample international law and act on the basis of arbitrariness," said the statement carried by Tass news agency.

While Russia supports Serbia's claims over its former province, the US and most Western states have recognized Kosovo's independence. Russia has been trying to expand its influence in the Balkans mainly through its traditional Slavic ally Serbia.

The developments came a day after Marko Djuric, the head of the Serbian government office for Kosovo, was briefly detained in the divided town of Mitrovica because he entered the country without Kosovo's official approval. Kosovo police used tear gas and stun grenades to disperse Serb protesters in Mitrovica on Monday.

Djuric said he was beaten while in detention and that his arrest was aimed at humiliating Serbs in Kosovo and as a rehearsal for a possible attempt by Kosovo police to take over northern Kosovo.

"By dragging me on the ground like a dog, pulling me by my tie, they wanted to humiliate me thinking they can humiliate the Serbian people," Djuric told a news conference yesterday.

But Kosovo President Hashim Thaci denounced the incident as a provocation by Serbia.

"Monday's events are contrary to the commitment of dialogue and building sustainable peace in Kosovo," he said in a statement on yesterday.

Politicians representing Kosovo's Serb minority met with Serbia's president, Aleksandar Vucic, in Belgrade, saying they would no longer support Kosovo's government. This could trigger a government crisis if the Serb ministers aren't quickly replaced by Kosovo Albanians.

Goran Rakic, who heads the Serbian List in Kosovo's parliament, said that Serbs would on their own form an association of Serb-dominated municipalities in Kosovo, which was envisaged in a European Union-mediated deal in 2013 but was never carried out by Kosovo authorities.

"This is not a one-sided move. This is a forced move," Rakic said. "We waited for five years for them to give us what is ours. We will form only what they signed up to, what was guaranteed five years ago."

The move could further fuel friction between Serbia and Kosovo, which declared independence against Belgrade's wishes in 2008. In 1999, NATO intervened to stop a bloody Serb crackdown against Kosovo Albanian separatists.

On yesterday, Kosovo Serbs blocked the main road leading from northern Kosovo to the capital, Pristina, by parking a bulldozer and a flatbed truck across it.

Djuric, whose hands were bandaged, appeared at the news conference with Kosovo Serb officials after talks with Vucic.

He said that Kosovo police officers "took selfies with me and pulled me down to my knees, with a gun pushed against my body."

He accused unidentified Western countries of directly or indirectly supporting Kosovo's actions.

Kosovo Prime Minister Ramush Haradinaj said in Pristina on yesterday that "yesterday's actions weren't directed against Serb citizens in Kosovo, but against those who broke the law."

"It is not good to make limitless testing of anyone's decision," Haradinaj said. "It would be good to return to the negotiating table and discuss the issues together."