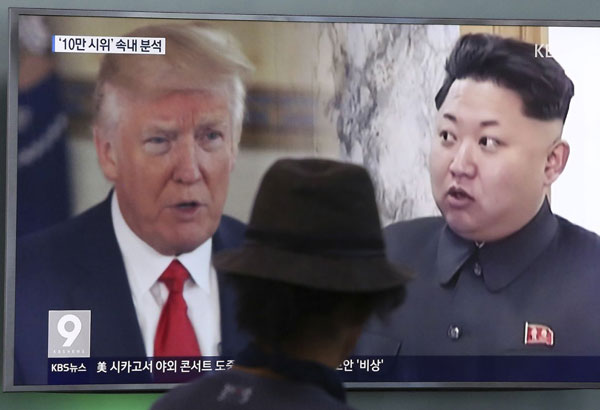 FILE - In this Thursday, Aug. 10, 2017, file photo, a man watches a television screen showing U.S. President Donald Trump, left, and North Korean leader Kim Jong Un during a news program at the Seoul Train Station in Seoul, South Korea. President Donald Trump's latest tweets on North Korea have received a muted response in South Korea, where media focused more on U.S. Secretary of State Rex Tillerson's acknowledgement that the U.S. is keeping open direct communication channels with the North. (AP Photo/Ahn Young-joon, File)
Trump's N. Korea tweets: Sowing confusion or hard reality?
SEOUL — US President Donald Trump's latest tweets on North Korea, in which he said his top diplomat is wasting his time trying to start talks, were seen by some in Asia as sowing confusion and by others as hard reality.

A South Korean newspaper condemned Trump's remarks for belittling efforts toward a peaceful resolution of the nuclear issue, while a Chinese international affairs expert saw the tweets as a message to North Korea and China. In Hong Kong, a US Navy commander reiterated Trump's "resolve to use every lever available to us to convince North Korea to alter its dangerous and aggressive behavior."

National holidays in both South Korea and China muted the reaction somewhat, with no regular media briefings by either government.

But in a yesterday afternoon editorial, South Korea's progressive Kyunghyung Shinmun newspaper said that Trump's remarks were problematic primarily because they show inconsistency in policy. "To negotiate with North Korea, consistency is the most critical element," it said.

US Secretary of State Rex Tillerson made headlines on Saturday when he said in Beijing that the Trump administration is probing North Korea's willingness to talk, though a spokeswoman later said that North Korea has shown no interest in talks on denuclearization.

On Sunday, Trump tweeted that he had told Tillerson "he is wasting his time trying to negotiate with Little Rocket Man," referring to North Korean leader Kim Jong Un. The country has conducted a series of missile and nuclear tests that have demonstrated advances in its capabilities.

South Korea's largest daily newspaper, Chosun Ilbo, warned in an editorial that any US-North Korea talks should not recognize the North as a nuclear state, or the South would be forced to seek nuclear arms too.

The South Korean president's office declined comment.

A small progressive online newspaper, Voice of People, said in an editorial that Trump's comments are signs of confusion in US policy toward North Korea, though it said the tweet is unlikely to cause a major change in Tillerson's position. "Such unstable US policy toward North Korea is entirely a burden on us," the editorial said.

It's not news that Trump and Tillerson have differing opinions on foreign policy, said Cheng Xiaohe, an associate professor at Renmin University's School of International Studies.

"In my view, Trump hopes both North Korea and China hear what he said on Twitter," he said. "His Twitter comments put greater pressure on North Korea, which is at a critical road crossing now, so it must make a choice. In the meantime, the US hopes China will continue to put pressure on North Korea."

Zhang Lifan, an independent commentator in China, said he believes Trump's latest tweets show that the US president is losing patience with North Korea. He said China and the US need to find a way to resolve the nuclear issue, because past experience shows that negotiations with the North are useless.

China's foreign ministry said in an emailed response to a request for comment on Trump's tweet that the denuclearization of the Korean Peninsula has to be achieved peacefully. "We hope that all parties concerned can make practical efforts to resolve the issues of the peninsula through dialogue and consultation," it said.

Navy Rear Admiral Marc Dalton, speaking aboard the USS Ronald Reagan carrier during a port call in Hong Kong, said the Reagan strike group has an ironclad commitment to defending US allies including Japan and South Korea.

Asked about Trump calling Tillerson's outreach a waste of time, he said to take that up with the State Department.

Dalton said the Reagan would spend four or five days in Hong Kong. He would not confirm South Korean media reports that the carrier would head to Korean Peninsula waters, giving the standard response that he would not discuss details of future operations.

South Korea's Yonhap news agency reported Sunday that the Reagan is expected to train with the South Korean navy in mid-October. It cited a South Korean defense ministry official who spoke on condition of anonymity.