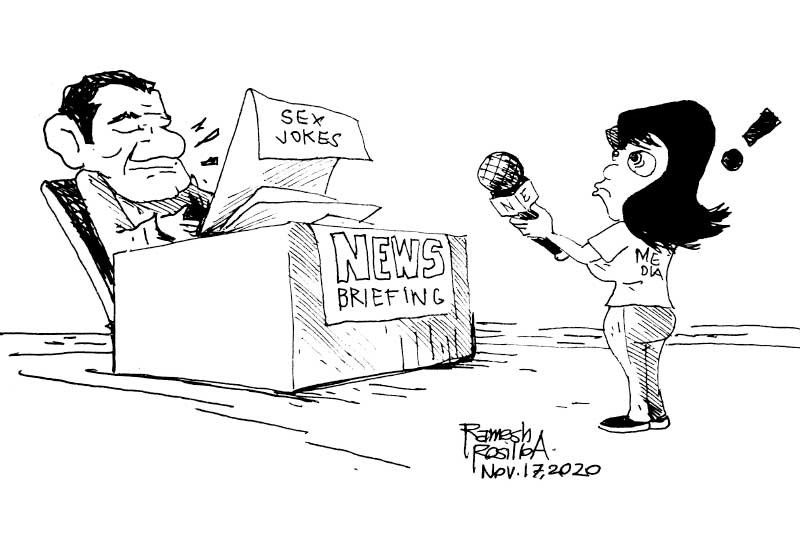 EDITORIAL - Inappropriate humor
(The Freeman) - November 17, 2020 - 12:00am
We had hoped that the president would have learned some things by now, but it seems some old habits die hard.
We are talking about the bawdy jokes he made during a situation briefing about the relief operations in Camarines Sur following typhoon Ulysses.
According to reports, he poked fun at a local official for having "plenty of women" and then at another official for not having not "enough women".
Already his behavior has drawn criticism from different women's groups as well as the vice president, who just happens to be a woman.
There is actually a proper occasion for most things. Yes, even bawdy jokes, believe it or not.
For one, we are no saints. We are all humans after all and sometimes our cruder, baser instincts can get the better of us, or our sense of humor. For another, some of us have different standards of humor. So under the right circumstances and in the presence of the right company, some jokes and remarks can be made.
However, that venue wasn't the occasion for such remarks. He was with officials who were tasked to look after public welfare, not his drinking buddies. They were not alone where other ears could not hear, in fact the entire nation was watching the situation briefing.
While it is indeed true that a little humor will always lighten even the gravest of situations, that was not the type of joke to lighten the mood.
To be fair, it wasn't only him who made the jokes, some officials in the briefing took part in the exchange as well. However, as a public official, as head of the state and leader of the nation, he is expected to adhere to certain standards.
As we mentioned in an earlier editorial --also pertaining to some of the president's acts-- when one is in high office one is expected to behave in accordance with the dignity that comes with that position.