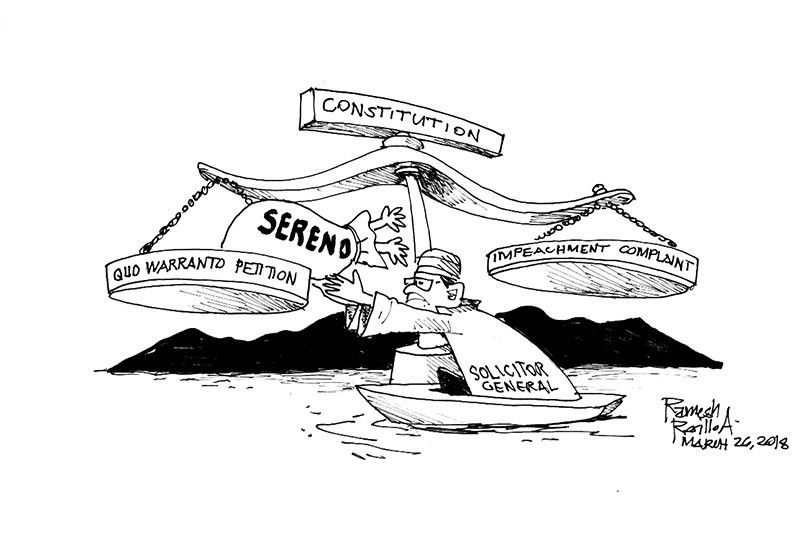 EDITORIAL - Quo warranto petition not unconstitutional
(The Freeman) - March 26, 2018 - 12:00am
There is so much debate over the quo warranto petition the solicitor general has filed before the Supreme Court against Chief Justice Maria Lourdes Sereno. But what seems to be missing entirely from the debate, or perhaps got snowed under all the acrimony, is the real reason for the petition. And because the real reason has not been factored, or at least factored properly, in the debate, then the debate itself is proceeding in completely the wrong direction.
The loudest opposition to the quo warranto petition is that it is an unconstitutional means to remove a chief justice who, according to the Constitution, can only be removed by impeachment. And that is exactly correct. Even those who support the quo warranto petition are aware of this fact and are not questioning it. What the oppositors to the petition do not see is that the petitioners are not seeking the unconstitutional removal of the chief justice.
What the quo warranto petitioners are seeking is the disqualification of the chief justice for failure to comply with certain requirements. And while removal by impeachment and disqualification from office may eventually amount to the same thing -making vacant a particular position- they are not exactly the same. A disqualification presupposes barring assumption of an office to which one is not qualified. Removal acknowledges prior qualified occupancy of an office.
Another thing, and perhaps more important. A quo warranto petition is meant to test the legal right of a person to hold an office. It is not meant to pass judgment on the performance of a person holding office. Quo warranto questions qualification prior to holding office. Impeachment is punishment for offenses made while in office. Disqualification is not removal, even if both end up with an empty office.
A quo warranto petition cannot therefore be unconstitutional because it does not seek to remove the chief justice, who can only be constitutionally removed by impeachment. Rather, the quo warranto petition against Sereno seeks to disqualify her from holding office as chief justice, based on allegations that she did not meet all the requirements for such office.
Again, while the results may be the same, they could not have been more different, if only those taking up the debate would care to shake off the cobwebs of political partisanship beclouding their mindsets. As even the pro-Sereno camp might admit, her appointment as chief justice had been most controversial to begin with. A lot of doubts and questions attended her elevation to the highest judicial office in the land. Let us seize the opportunity to address the doubts and questions now.