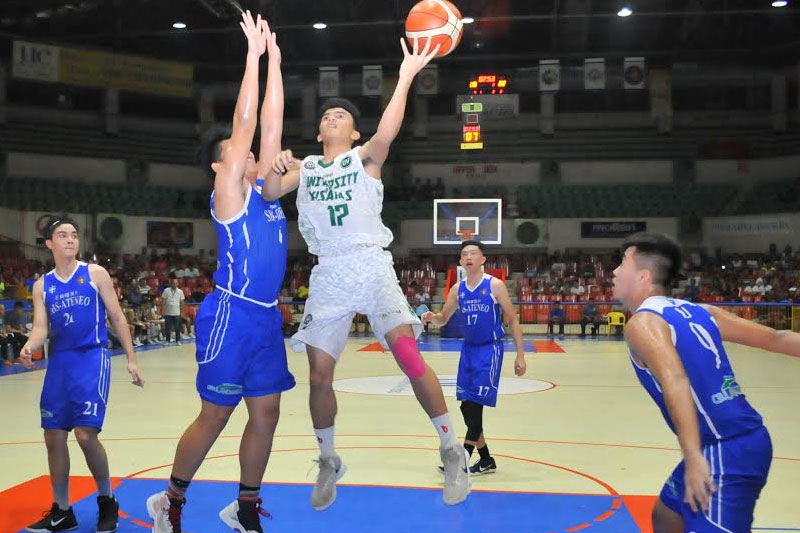 Justin Jake Rosete of UV drives past Michael Cutamora of SHS-Ateneo during Game 1 of their best-of-three CESAFI basketball finals last night at the Cebu Coliseum. UV won, 69-59. Paul Jun E. Rosaroso
Baby Lancers draw first blood
CEBU, Philippines — Biern Anthony Laurente and Jim Paul Amistoso were the smallest men on the floor but stood the biggest of them all in terms of fighting heart as the University of the Visayas (UV) Baby Lancers downed four-time champions Sacred Heart School-Ateneo de Cebu (SHS-AdC) Magis Eagles, 69-59, to draw first blood in the best-of-three juniors division finals of the 17th Cebu Schools Athletic Foundation, Inc. (CESAFI) men's basketball tournament last night at the Cebu Coliseum.
Laurente finished with 14 points on top of five rebounds and two assists, while Amistoso nailed 11 markers laced with five assists and four caroms but it was their 12 straight points at crunchtime that helped push the Baby Lancers to within a win away from ending their six-year title drought.
Joshua Yerro and Jhiey Paraldo had 21 points even as they also combined 20 rebounds for the Baby Lancers, who could practically wrap up their first crown since 2011 if they repeat over the Magis Eagles on Game 2 this Thursday.
While the Baby Lancers opened the match with a 5-0 blitz, the Magis Eagles had a lethargic start and went scoreless in the first four minutes of play.
The Magis Eagles were still in striking range, 6-9, when Froilan Maglasang and Joshua Yerro dropped three consecutive bombs in an 11-3 run that gave the Lancers a 20-9 edge at the end of the first period.
Jhiey Paraldo later joined the scoring binge with eight straight points as the Baby Lancers attempted to tear the game apart with a 30-16 advantage midway in the second quarter, but the Magis Eagles fought back with finesse to narrow down the gap to just six points at halftime, 28-34.
The Magis Eagles carried on the mometum of their spirited comeback in the third canto to eventually enjoy their first taste of the leads, 46-44, but the Baby Lancers quickly regained the upper hand, 48-47, on a buzzer-beating layup by Jim Paul Amistoso.
The Magis Eagles were in the thick of the fight for the last time at 49-50 as Laurente and Amistoso put their acts together to ease the pressure on the Baby Lancers with a 62-54 cushion at the final 3:37 mark.
In the ensuing sequence, Patrick Yu knocked in a trey but Yerro churned out five straight points before Paraldo scored on his own to wrap things up for the Baby Lancers.
Christian Manaytay finished with 13 points, 10 rebounds and two assists, while Patrick Yu also had 13 points on top of five rebounds and a pair of steals for the Magis Eagles, who suffered their first ever back-to-back loss to the Baby Lancers since they build a dynasty on 2012.
Earlier, Juan Miguel Gastador, RJ Dinolan and Nelvin Navarra connived for 45 points, 21 rebounds, seven assists and six steals as the University of San Jose-Recoletos (USJ-R) Jaguars pounded the University of San Carlos (USC) Warriors, 85-69, to lift the third place trophy in the collegiate division. (FREEMAN)