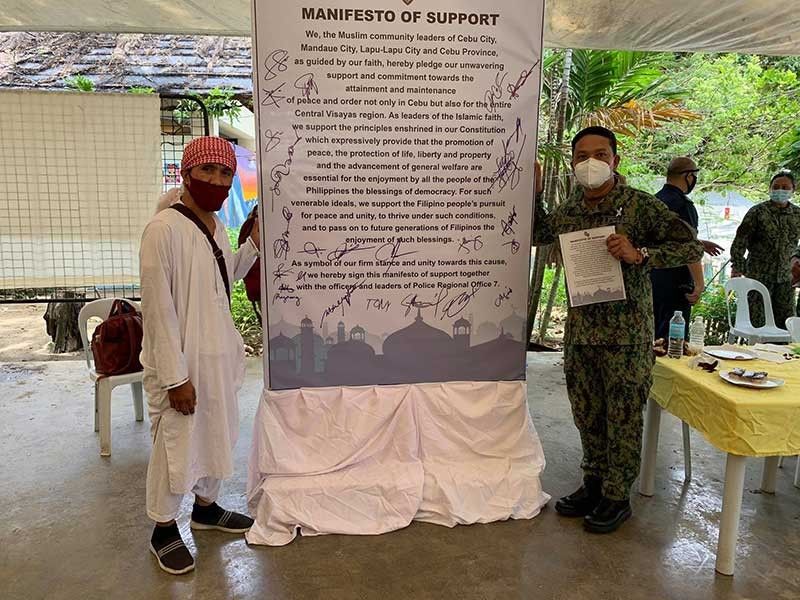 PRO-7 director B/Gen. Albert Ignatius Ferro led the peace and unity dialogue with Muslim leaders in Cebu yesterday.
Romeo D. Marantal
Cops, Muslim leaders sign peace declaration
CEBU, Philippines — Police and Muslim leaders in Cebu have signed a manifesto of cooperation to improve the peace and order situation in the island despite diversity in religious beliefs.
Police Regional Office -7 director Brigadier General Albert Ignatius Ferro and the leaders of the various Muslim communities in the cities of Mandaue and Lapu-Lapu as well as of Cebu Province led the signing of the declaration.
"We are here today so we could come up with a dialogue, this is not because we have a bombing, no, I promise you this will be a regular meeting, if we could do this once a month or maybe by the different city directors para di na mo maglisod ug byahe," Ferro told the Muslim leaders.
The top police official in the region expressed his gratitude to the Muslim communities for their signing of the manifesto because it indicates their sincerity and commitment to peace.
"Our mutual intention to maintain our community free from violence and intimidation is in the same direction to protect the citizen in Central Visayas," Ferro said.
He said the dialogue between them symbolizes a partnership and urged the Muslim leaders to closely coordinate with the police for any information of the presence of possible terrorist in their respective community.
The Muslim leaders also expressed their full support to the police and vowed cooperation with them. They asked the police to stop the discrimination and show reciprocity of respect.
"In the past your cooperation in information have saved the people from harm, and I was one of your witnesses...I am really an advocate of anti-terrorism and an advocate of respect for our Muslim brothers, ayaw natin ng discrimination," Ferro assured them.
The initiative came on the heels of the terror attacks in Jolo, Sulu over a week ago killing 14 people, mostly government security forces, and injured 75 others, including innocent civilians.
The military has blamed the twin explosions to extremist group Abu Sayyaf, which has pledged allegiance to the Islamic State group. The attacks were allegedly carried out by two female Indonesian suicide bombers. — FPL (FREEMAN)