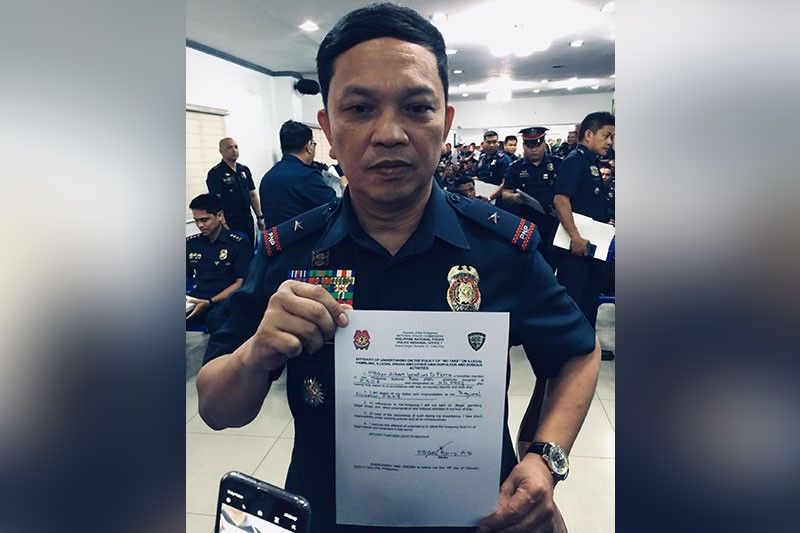 PRO-7 director Albert Ignatius Ferro shows an undertaking that he and other police officials signed yesterday.
Romeo Marantal
New PRO-7 chief to cut cops' work shift from 12 hrs to 8 hrs
CEBU, Philippines — The new chief of Police Regional Office in Central Visayas is eyeing to implement a three-shift scheme among police, wherein every cop will have to render eight hours of work instead of the current 12 hours.
"Yun ang aaralin natin, kung talagang sobrang pagod ng police, we will try to have that three-shift," said PRO-7 Director Brigadier General Albert Ignatius Ferro.
"Nakikita ko kasi na yung economy of force, meaning kailangan yung ating mga pwersa is relatively healthy and strong. Ngayon pag sinobrahan sila at sobrang pagod na sila, hindi na sila magiging effective," Ferro added.
However, Ferro said the shifting will be adjusted accordingly for police units that are understaffed
Meanwhile, police officials in Central Visayas yesterday signed an oath of undertaking in adherence to the "No take" policy directive of the national headquarters.
Among those who signed were city directors, provincial directors, and chiefs of police in the region. Ferro led the signing at the PRO-7 headquarters.
"The Police Regional Office-7, in unison and as one, will sign an affidavit. It is in support of our Chief PNP, Police General Archie Francisco Gamboa's policy on the 'No-take' Policy," Ferro said.
The policy prohibits PNP personnel from taking money from any form illegal activities such as illegal gambling and illegal drugs.
Ferro said the ultimate consequence for any police personnel and officers who will violate the undertaking is relief from their post and administrative investigation.
Ferro refused to give the identity of the person-in-charge on the campaign who will closely monitor and check compliance of his men. (FREEMAN)