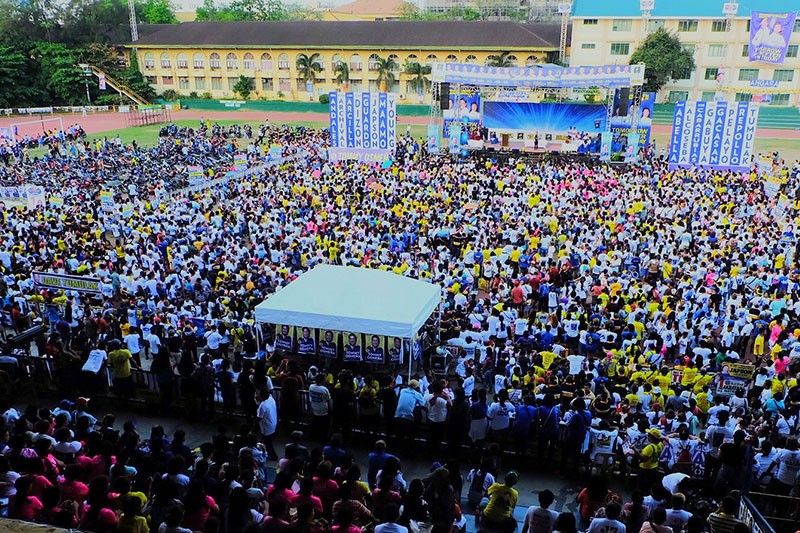 : A mammoth crowd of supporters attends the miting de avance of Bando Osmeña Pundok Kauswagan at the Cebu City Sports Center yesterday.
Joy Torrejos
BOPK shows force in miting de avance
CEBU, Philippines — About 22,000 supporters showed up in the miting de avance of the Bando Osmeña Pundok Kauswagan (BOPK) camp led by Cebu City Mayor Tomas Osmeña at the Cebu City Sports Center (CCSC) yesterday.
Before they flocked to the CCSC, they came from three assembly areas such as Fuente Osmeña, Barangay Pahina Central gymnasium and in front of a shopping center in Colon St.
These supporters walked together on their way to CCSC to attend the miting de avance.
Aside from Osmeña and vice mayoral candidate Mary Ann de los Santos, those who joined them are south district councilor candidates David Tumulak, Raul Alcoseba, Eugenio Gabuya Jr., Roberto Cabarrubias, Michael Gacasan, Bryan Kirk Repollo, Marie Velle Abella, and Rengelle Pelayo.
North district councilor candidates include Nestor Archival, Alvin Arcilla, Alvin Dizon, Jerry Guardo, Joy Augustus Young, Lea Japson, Sisinio Andales and Marlo Maamo.
Incumbent congressmen Raul Del Mar and Rodrigo Abellanosa were also present.
Before the mass that was officiated by Rev. Fr. Eric Osorio started, an audio visual presentation (AVP) was showed to the public detailing the series of strafing incidents against BOPK barangay captains and supporters.
Barangay Captains Gremar Barete of Buhisan and Victor Quijano of Calamaba and others had expressed their support to the local party of the incumbent mayor amid the incidents happened.
All of them were hopeful that it will be stopped since they only want 'fair and clean" elections.
"I don't want the people to protect me, I am going to protect the people," Osmeña said.
He also told the people how the opposition blocked the P18-billion casino and restaurant project in Kawit Island.
He said his team fought for it since it offers 5,000 job opportunities to Cebuanos.
His runningmate, Delos Santos asked the supporters to take revenge through casting their votes to all BOPK candidates.
She said numerous BOPK barangay captains and supporters experienced harassment from the police.
That is why she asked people's help in the upcoming May 13 polls.
Senatorial candidate Serge Osmeña has advised public not to be afraid since those behind the series of strafing incidents in Cebu City will be "gone after the election." (FREEMAN)