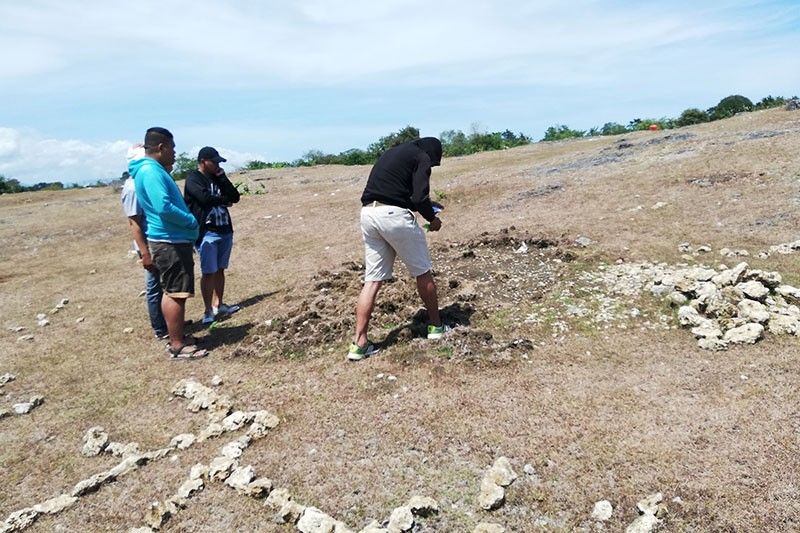 Homicide investigators look for possible evidence at an area where Christine Silawan was found dead in Sitio Mahayahay, Barangay Bankal , Lapu-Lapu City yesterday morning.
Joy Torrejos
Face damaged, undergarments removed: Girl, 16, brutally killed
CEBU, Philippines — She would have turned 17 years old in two weeks.
But Christine Lee Silawan, a Grade 9 student of Maribago National High School, will not make it to her birthday after her young life was snapped out of her.
Early yesterday morning, authorities recovered Christine's body from a vacant lot in Sitio Mahayahay, Barangay Bankal, Lapu-Lapu City.
Christine was barely recognizable as the skin on half of her face was ripped off and her neck was damaged badly that her esophagus was already exposed.
Her mother, Lourdes, identified her daughter's remains only from what was left of the clothes Christine wore at the time she left their house. Christine was no longer wearing undergarments when her body was found.
As of yesterday, it was unclear how Christine died exactly but Lapu-Lapu City Police Office Director Lemuel Obon said they are not discounting the possibility that she was raped, considering the absence of her undergarments.
Obon said they are eyeing at three possible suspects.
"Naa tay witness karon nga nakakita og tulo ka suspects (We have a witness who saw three suspects)," he said.
He also said it is possible that the suspects may have been high on drugs – granting that they were the ones who ripped the skin off Christine's face and injured her neck.
"Dako na nga posibilidad nga ingon ana (That's a big possibility)," Obon said.
Initial investigation revealed that residents of Sitio Mahayahay heard dogs bark at the vacant lot as early as 1:50 a.m. yesterday. Hours later, at around 5 a.m., a resident reported the body to Station 5 of the Lapu-Lapu City Police.
Lourdes told The Freeman she started becoming uneasy at past 8 p.m. Sunday night when Christine did not return home from church service.
She looked for her and did not stop calling friends and relatives until 1 a.m. yesterday. Before daybreak, she decided to go to the church in Barangay Pajac to check if Christine was really there.
"Pag alas-singko, nisayo ko dire sa Pajac kay naa ma'y misa. Ako gikastorya ang minister. Naa man silay logbook. Naka pirma man siya pag-alas kwatro. Ni serve jud siya (At 5 a.m., I went to Pajac and talked to the church minister. She was able to sign the logbook at 4 p.m.)," Lourdes said.
Christine reportedly went with a church mate to eat "balut" after the church service but the church mate left her momentarily to go back to church. When the church mate returned to the "balut" place, Christine was no longer there.
"Mao kuno kauban niya nangaon sila. Iya daw gipalingkod ang ako anak sa may table nga naay bangko kay mubalik kuno siya sa church. Pagbalik kuno niya, wala na kuno (The churchmate was with my daughter to eat balut. The church mate left her at the table because the church mate had to return to the church. When the church mate went back , my daughter was no longer there)," Lourdes said. - Jahzeel Willow S. Coquico (FREEMAN)