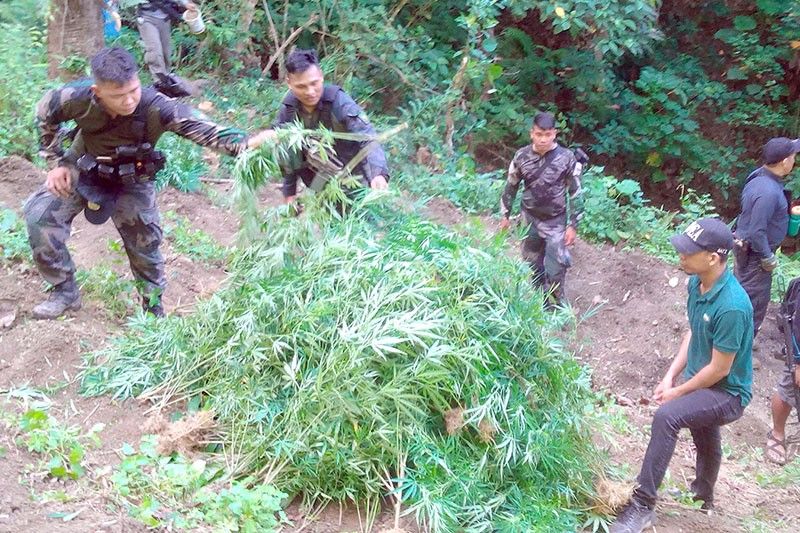 Joint operatives of Philippine Drug Enforcement Agency-7 and Provincial Intelligence Branch (PIB) of Cebu Provincial Police Office uprooted at least P2.5 million worth of marijuana plants in Balamban, Cebu.
Contributed Photo
P2.5M marijuana uprooted, burned
CEBU, Philippines — A total of 5,460 of fully grown Marijuana plants were uprooted by authorities in Sitio Mapa, Barangay Tagbao, Cebu City yesterday dawn.
They also seized 8,010 seedlings and the total haul is estimated to worth more than P2.5 million.
Police Superintendent Tim Alam, chief of City Mobile Force Company (CMFC), said that the operation was conducted after citizens reported about the presence of a marijuana plantation in the area which was also confirmed by their intelligence unit.
Operatives of CMFC in joint operation with Provincial Intelligence Branch (PIB), Philippine Drug Enforcement Agency (PDEA) -7 and Naval Intel Security Group Central (NISG-C) scoured the area and found two areas with marijuana plants.
Alam said that the area is almost not accessible because of steep slopes and it's covered with thick wild plants.
"Kung dili gyod siya nimo tuyuon kay dili na mailhan sa layo. Kung adunay baga nga tanom nga nagpalibot niya hallow sa tunga posible nga plantation kay ang kanang mga isip kadaplin kay pabag-on na nila kay para lisod sa pag-ila sa awtoridad," said Alam in a phone interview with The FREEMAN.
Authorities failed to arrest the cultivators but their identities are now being verified.
The uprooted marijuana stalks were burned in the area.
SHABU SEIZED
Meanwhile, police arrested a newly-identified drug suspect during an anti-illegal drug operation in Barangay Suba, Cebu City last Monday night.
Police seized P23,000 worth of shabu from suspect Ronald Quijano, 31, of Belgium Street.
Personnel of the City Intelligence Branch (CIB) acted on a complaint from a resident against Quijano.
Quijano was caught red-handed having in his possession of 43 small sachets of shabu weighing 2.15 grams worth P23,370.
On the other hand, the prosecutor's office has recommended the filing of charges against a man and his minor girlfriend for allegedly helping each other in selling drugs.
Prosecutor III Gandhi Truya found probable cause in the complaint filed against John Kenneth Tañajura and girlfriend, both residents of Barangay Suba, Cebu City, for violation of Section 5 (selling of dangerous drugs), Article II of Republic Act 9165 or Comprehensive Dangerous Drugs Act.
In an inquest proceeding, both chose not to file a counter-affidavit. Instead, they manifested to face the charges in court.
Truya recommended no bail for their temporary liberty.
In their joint-affidavit, operatives of the Philippine Drug Enforcement Agency (PDEA)-7 alleged that on April 3, 2018, they conducted a buy-bust operation against the two that resulted in the confiscation of one large and two medium packs of shabu weighing 72.6755 grams. —/MBG (FREEMAN)