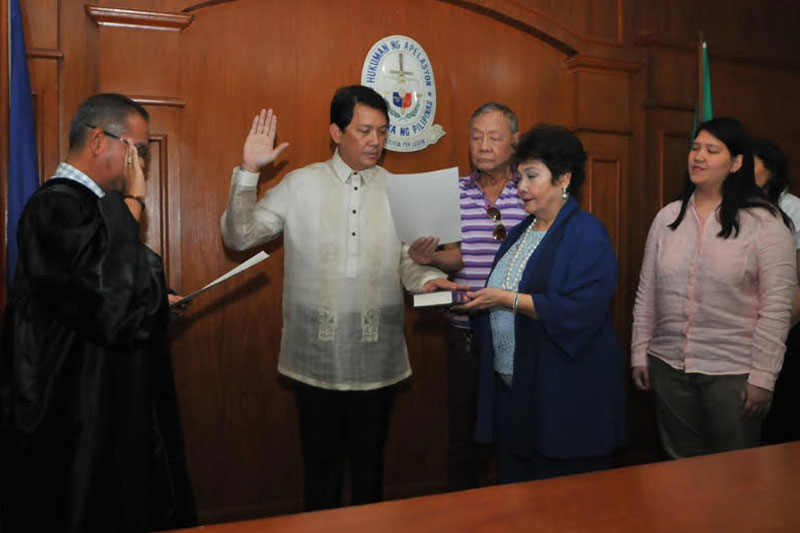 Newly appointed Councilor Renato Osmeña Jr. takes his oath before Court of Appeals Associate Justice Gabriel Ingles. Paul Jun E. Rosaroso
Junjun takes office as new city councilor
(The Freeman) - December 7, 2017 - 4:00pm
CEBU, Philippines — Renato "Junjun" Osmeña Jr. formally assumed office yesterday as councilor in Cebu City after taking his oath before Court of Appeals Associate Justice Gabriel Ingles.
Upon his assumption, Junjun expressed his intention to head the committees previously held by his father, the late vice mayor Renato Osmeña Sr. According to him, he wants the committees on peace and order and transportation.
"Why? Because that's the committee that people hate to do and no one wants to accept on how difficult it is. I want that challenge; you know I am the person that sees something, that's why I am here right now. I have to do something, dili ko sige yawyaw wala tay mahimo ana. I am here to come up with the solution," Junjun said.
The two committees are currently chaired by Councilor David Tumulak, a former ally in the Team Rama but had shifted allegiance to Bando Osmeña Pundok Kauswagan (BOPK). However, for Junjun to get the committees, a reorganization of the City Council is necessary. And for it to succeed, the opposition needs majority of the members.
Under the present composition, however, the Team Rama has an upper hand because the presiding officer, Vice Mayor Edgardo Labella, is an ally. Both the BOPK and the Team Rama have eight members each and Labella will be compelled as presiding officer to exercise his voting power to break the tie in case a voting occurs.
The other Barug Team Rama councilors are Jocelyn Pesquera, Jose Daluz III, Raymund Alvin Garcia, Joel Garganera, Pastor "Jun" Alcover, Eduardo Rama, and Phillip Zafra.
BOPK members, on the other hand, are Tumulak, Margarita "Margot" Osmeña, Sisinio Andales, Joy Augustus Young, Mary Ann Delos Santos, Eugenio Gabuya Jr., Alvin Arcilla, and Jerry Guardo.
Barug Team Rama councilors said they have yet to discuss the issue of reorganization.
"If you ask my personal opinion, ako okay ra, let's just reorganize when the time comes which is on July. As I have said I am a good partymate to my party, well we have to discuss this with the party leaders as well," Garcia said.
Labella said earlier that he does not also want to preempt the decision of the members.
Junjun was appointed by President Rodrigo Duterte upon the recommendation of Barug Team Rama to replace Councilor Nendell Hanz Abella, who was also appointed commissioner of the National Labor Relations Commission.
He received his appointment paper Wednesday evening.
Although he belongs to the other political fence, Junjun said he maintains a good relationship with his uncle, Mayor Tomas Osmeña.
"My relationship with him is very nice because he calls me when he needs me, I call him when I need them and we keep it to that level," he said.
He said he is also willing to work with the other members in the council regardless of their political affiliations saying, he does not want to politicize everything.
The neophyte councilor said he would prioritize and concentrate on housing projects and hospitals that would benefit the poor.
"I would put away intrigues that they would throw in me because I am here to function, just one councilor to join in with other councilors to function as councilor and to do the mandates that we are told to do for the improvement and benefit of Cebu City," Junjun said.
He also dispels speculations that he would eventually join BOPK being a nephew of the mayor. Junjun said he is loyal to Barug Team Rama and was thankful to the party for helping him out in his appointment.
"I am so much loyal to the party that chose me and I would do anything for this party to grow… I am honored and happy to accept this appointment with all grace and blessings from Him," Junjun added. (FREEMAN)