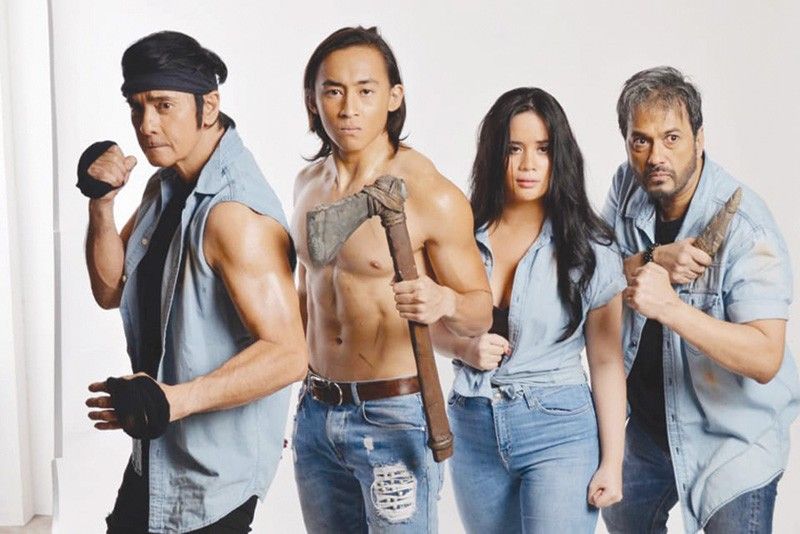 Ronnie Ricketts returns in action film 'Exit Point'
Therese "Teri" Malvar, one of the most talented and competent young actresses of her generation, gets a plum role in the new GMA-7 afternoon drama "Inagaw na Bituin."
It's not only her first lead role but it's also the first time that she is playing kontrabida opposite promising GMA artist Kyline Alcantara.
Teri is both excited and grateful with the break given to her by the Kapuso network.
Describing her role, the multi-awarded actress said, "Ariella is a girl who has connections and who believes in what she can do. She is proud of herself and she will do whatever it takes to take the spotlight, even if it means competing with her own blood."
Teri promised to make her portrayal as natural as possible. "I want the audience to be able to relate to my character. Like they will realize they know a similar person who they hate but they can sympathize with her for the things she needs to do because of what her mom forces her to do."
"Hopefully, though she has flaws and she is very narcissistic and naive, she will still be loved for the intention she has, which is to make her family proud with her reaching her dreams, just like any other child."
She is ready to be bashed because of her role. "Ever since articles were posted about 'Inagaw na Bituin,' I had been ready. It will be flattering to see if they would really get annoyed with my character. Sana mainis sila sa akin pero hindi sa mismong personality ko po. When that happens, I won't be affected by the bashing because when I believe in myself, the flaws thrown at me won't falter my foundation of self-love. And I won't give them the attention."
Teri knows singing is not one of her core strengths so she is still working on that aspect of her career. "I think I will forever be working on it just like acting. I really do need the confidence seeing as Ariella is feelingera at proud na proud sa talent niya. So hopefully through this teleserye and promotions, I would gain the confidence and learn proper techniques on singing and be good at it."
Asked Kyline is as co-actress and as a person, she said, "Kyline is a lady mature beyond her years. Hindi siya mababaw na tao at katrabaho. I like that we both love what we do and we both continue to learn and are passionate about our craft. We are both in the getting-to-know stage and it's nice that we're naturally vibes with one another."
"We've known each other for quite some time but we have yet to do a scene together. I'm sure the writers would play with our characters and since this is an afternoon series, expect the confrontation scenes to be more dramatic because that's what the audience wants. I am really looking forward sa mga sampalan, iritan, irapan, and all other scenes na mala-aksyon na drama. And of course, the dramatic lines."
***
"Just to see all you again really makes me happy," a beaming Ronnie Ricketts told the press invited to the media conference of his comeback action film, "Exit Point," which he wrote, directed and produced for his very own Rockets Productions.
The action star has not done a movie in five years but he believes this is the right time for him to make a screen comeback. He missed doing action films and he was inspired to direct "Exit Point" which had long been in the planning stage.
Ronnie left no stone unturned just to make sure he is giving action fans the kind of movie they deserve. The film's budget may have skyrocketed, but Ronnie and his wife Mariz (who has a short role in the film) are happy with the finished product.
For a change, the movie was shot on location in a forest which suited the concept of the film. Ronnie hopes "Exit Point" will do well at the box-office so they can do another movie.
"Exit Point" also stars Jackie Lou Blanco, Alvin Anson, Raechelle Ricketts, Jerico Estregan, Mandy Ochoa, Renzo Cruz, Neil Perez, Luigi Fernando and Sung Joon Park, among others. It will have a premiere night on Sunday, Feb. 17, at Southmall Alabang.