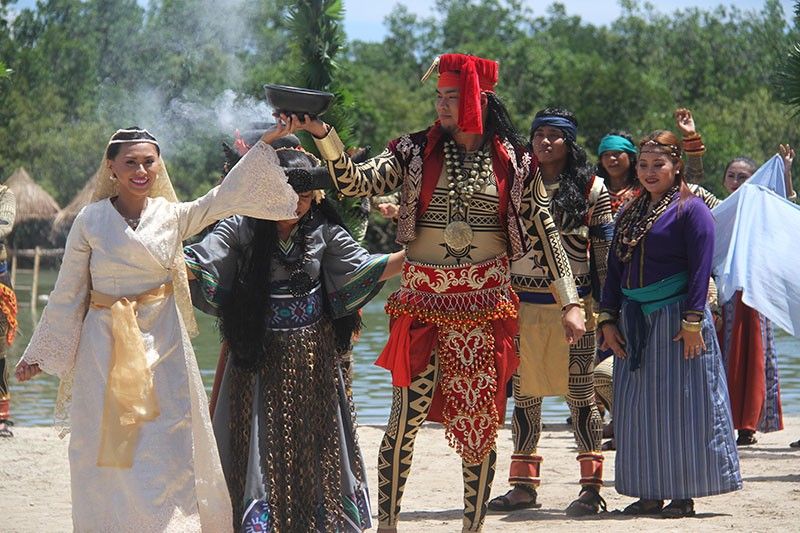 Dionne Monsanto
Photos by Joy Torrejos & Yasunari Ramon Taguchi
Dionne Monsanto: From Kadaugan spectator to performer
CEBU, Philippines — Versatile Cebauna actress Dionne Monsanto recently returned to home base, participating as Reyna Bulakna in the annual Battle of Mactan re-enactment in Lapu-Lapu City which commemorates the courage of the Philippine's earliest heroes.
The event, held at the morning of April 27 at the shores of the Liberty Shrine, was in line with the recent celebration of Kadaugan sa Mactan, a weeklong festival celebrating the victory of Datu Lapu-Lapu against the invasion attempts of the Spaniards at the command of Ferdinand Magellan.
With cultural and entertainment events lined up from April 14-28, the re-enactment of the historical battle is a highlight, if not a foundation of the celebration, with audiences awaiting the announcement of actors taking part in the event year after year for the roles of Datu Lapu-Lapu, Reyna Bulakna, and Portugese explorer Ferdinand Magellan.
It was a special year for the festival. Apart from having a homegrown Cebuana portray the wife of Datu Lapu-Lapu, the 497th anniversary also highlighted the character of Reyna Bulakna, showing her as more than just a character on the sidelines.
For the very first time, the re-enactment was also a musical performance with live singing and voice-overs. Alongside Dionne were actors Derrick Hubalde as Datu Lapu-Lapu and Adrian Luis Alandy as Ferdinand Magellan.
Miss Earth 2014 Jamie Herrell, a resident of Lapu-Lapu City, was the last native to portray Bulakna in 2015. The Kadaugan sa Mactan re-enactment has always featured Manila-based talents for their drawing power. In 2016, ABS-CBN stars Ejay Falcon and Bela Padilla portrayed Lapu-Lapu and Bulakna, respectively, while Matt Evans was Ferdinand Magellan. Last year, none in the main cast were natives as well with Tony Labrusca and Kris Bernal as Lapu-Lapu and Bulakna, while James Ryan Cesena portrayed Magellan.
"I'm very proud and very honored to be one of the very few people [in the re-enactment] that are from Cebu. I'm very happy," says Dionne.
"Anything that I can do as a Cebuana whether internally or outside, I always carry it with me."
Starting off in dance, theatre, local films, and ABS-CBN Cebu teleseryes and variety shows, the former Pinoy Big Brother housemate eventually hit the mainstream and was well received for her intense role in the series "Tubig at Langis" wherein she was christened "Bida ng Sampalan."
Dionne did not hesitate to say yes to the gig, having a background in theatre and dance. However, she was rather surprised with this year's storytelling.
She saw the performance last year when she was filming a Brillante Mendoza made-for-TV film aptly entitled "Kadaugan." From spectator to performer in a span of a year, Dionne saw the differences in this year's retelling, which included how Bulakna was married into the Mactan elite, and how she urged Lapu-Lapu to help the displaced citizens of neighboring tribes who were suffering at the hands of foreigners.
"I was very surprised during rehearsals. I was shocked with the flow of the script and how Bulakna has so many parts," quips Dionne, noting how last year's Bulakna was more into dancing and was not mostly part of the action.
"I learned that they courted each other. We showed how they were married, the ceremonies, how they prepared for the battle. It was really nice, and a really fresh take on Kadaugan because it gives importance on the role of Bulakna in Lapu-Lapu's life: how she was able to convince him that we need to help these people. It's true behind every strong and successful man, there's a woman behind him. It's so rare. I was just glad that there was that aspect," she shares.
Dionne recently announced her freelance status early April, but that doesn't mean that she hasn't kept busy. The actress, who loves challenging and complex roles, whether be it the antagonist or the heroine, shot a movie last year in Japan. Based off a manga written 20 years ago about Filipina GROs (guest relations officers), the Filipino-Japanese project demanded a few pounds on Dionne – something she was not apprehensive to put on. In fact, she's more likely to take roles that require transformations.
The 32-year-old also shared having a cameo for a film based on a true story and shot in Barili, Cebu. She also revealed that she will be working on a digital series for a '90s show remake.
"I can't say much. I'm working with younger stars here also. Ang hirap!," she laughs. "Parang ang tanda ko!"