A world-class Pinoy visual artist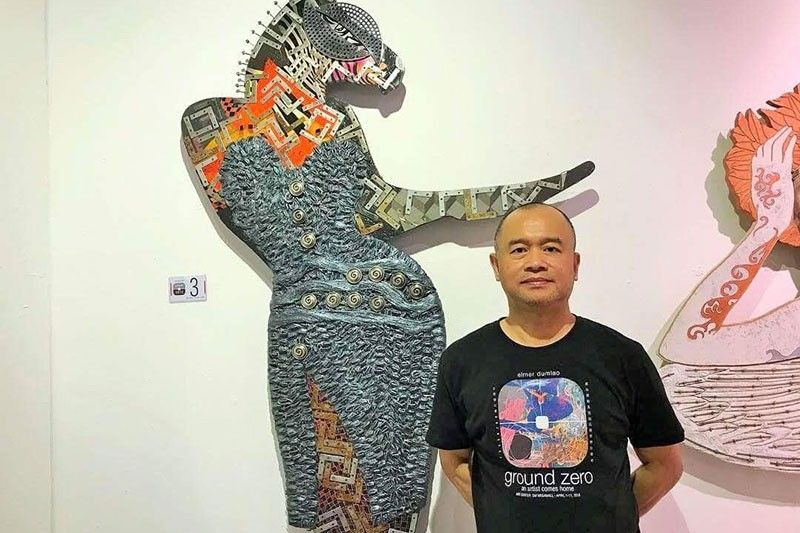 For a change, instead of a celebrity, Star Circuit is featuring a Jordan-based visual artist named Elmer Dumlao, a graduate of the University of Sto. Tomas.
He recently held his first retrospective show of masterworks of eight years of deliberating his studied journey through time, space, and media entitled "Ground Zero" subtitled as "An Artist Comes Home" mounted at the Art Center of SM Megamall from April 1to 11, symbolizing rebirth quite timely on Easter Sunday.
Dumlao's first ever exhibit in his home country for the benefit of the UST Atelier Alumni Association, Inc., with Marissa Pe Yang as President, this homecoming show is a major component of the Balik UST Atelier Homecoming on April 14.
The boy from Mandaluyong who showed an early curiosity for life was encouraged by his father, Elpidio, to pursue his genius. He pushed him to enroll in Fine Arts in Advertising at UST once he determined he wanted to be a professional artist.
He describes his trials and triumphs in a tribute poem "Nagbabagang Butas ng Karayom" dedicated to his mentor-mother Leticia, who passed away two months ago: "Tulad mo, sabay din kami ng aking ina na dumaan sa butas ng karayom habang ako ay kanyang isinisilang. Mainit na yakap sa hubad na katawan. Iyak ng sanggol ay hudyat ng buhay. Salamat ina, mahal kitang tunay."
From Batch 81, Dumlao's Filipino-themed artworks were featured in the UST Publication "Vision Magazine." Opting for overseas employment in 1994, he was recruited creative department head of the newly organized McCann Ericson Jordan. Dumlao became a multi-awarded creative director for advertising. Mark Verheul of Netherland encouraged his global orientation as an artist.
Holding groundbreaking exhibits in exotic and esoteric kingdoms, Dumlao was honored as Bagong Bayani in 2011 and was declared as UST Outstanding Atelier Alumni in 2016.
Because of his experience in advertising, before he does any art work, he just thinks about it first. If a concept dawns on him, even in his sleep, he wakes up and writes it down.
"I always have pieces of paper within reach. When I think of a concept, I just write it but once I concentrate on doing it, everything comes easy," said Dumlao.
He not only uses oil or acrylic to create an artwork. Sometimes he uses a saw or a hammer. Once he had thought of the concept, he starts his sketch. Then he decides what material to use.
The opportunities to travel to many places gave him the chance to visit many museums that exposed him more to the arts. That also influenced and gave him more vision in looking at art.
Dumlao said his homecoming exhibit is his "pasalubong" to his kababayans. And he was glad that the people who came to his exhibit were able to relate to his art.
"Kahit bata, teenager, millennial, lahat sila naka-relate. Hindi masasabing hindi nila nagustuhan ang art ko. Full package siya. It caters to everybody. Naka-relate sila sa iba't-ibang klase ng art, depende sa character ng tumitingin," he said.
When it comes to his art, he described himself as "consistently inconsistent." He is consistent in the process of painting and in the quality of his work but he is inconsistent when it comes to subject and ideas.
We saw a painting of a horse in his exhibit and we asked if it indeed was inspired by Vice Ganda.
"Oh, that's not true. The Filipinos who saw the painting in 2012 just gave it that name. I had some visitors from TFC. That time, 'It's Showtime' had a show abroad. Pinoys who saw that painting gave it the name of Vice Ganda kasi tinutuksong mukhang kabayo si Vice."
"I know Vice Ganda but I didn't dedicate that painting to him. It just became a byword so I sort of called it also as Vice Ganda. In every exhibit that I do, that painting is always there even if it is not part of the theme. It is like a special guest of honor."
"Vice Ganda was already popular at that time so that's probably why they associated the painting with him. But my concept was the horse was born with minus one arm and one leg. The idea is, may karapatan kang maging maganda kahit na ano pa ang character mo, kahit na hindi ka kumpleto," said Dumlao.